In her new book recounting the 2016 presidential campaign, former Secretary of State Hillary Clinton shares a story from an earlier period of her life: One of her visits to the Harriet Tubman Home in Auburn. 
Clinton's book, "What Happened," was released Tuesday. On the page before the author's note she wrote is a quote that's attributed to Tubman. 
"If you are tired, keep going. If you are scared, keep going. If you are hungry, keep going. If you want to taste freedom, keep going." 
While there's no evidence Tubman actually uttered those words, the quote served as a lead-in to Clinton's explanation why she wrote the book. 
At the conclusion of the note, she recalled her visit to the historic Tubman property in Cayuga County. 
"Twenty years ago, I watched a group of children perform a play about her life at (Tubman's) former homestead in Auburn, New York," Clinton wrote. "They were so excited about this courageous, determined woman who led slaves to freedom against all odds. Despite everything she faced, she never lost her faith in a simple but powerful motto: Keep going. That's what we have to do now, too."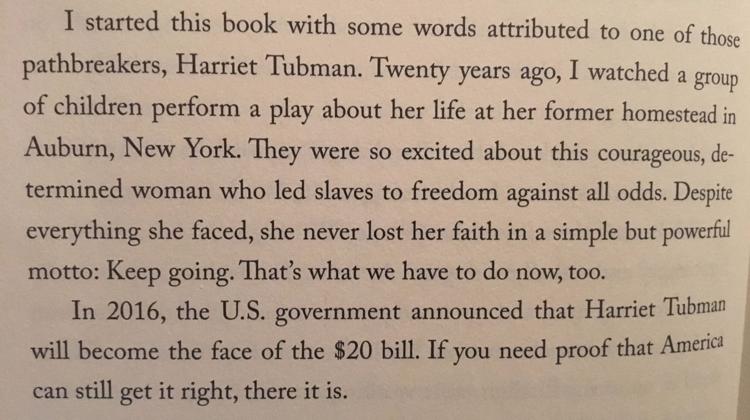 According to The Citizen's archive, Clinton visited the Tubman home in 1998 when she embarked on a four-day "Save America's Treasures" tour, which included several stops in upstate New York. 
The play she referenced in "What Happened" was performed by a group of Tubman's descendants. 
"This is a special place indeed," Clinton said in July 1998. "Harriet Tubman's story is one of personal triumph and extraordinary courage ... Once torn from her own home, she spent the last years of her life establishing this home for others — the old, the poor, the destitute. She spoke for all of them and she continues to speak to all of us because above all, Harriet Tubman is a symbol of the enduring story of this nation." 
Clinton also visited the Tubman home in 1999 when her family vacationed in central New York. She was a leading advocate for the landmark during her tenure as one of New York's U.S. senators from 2001 to 2009. She visited the Tubman property again in September 2004, according to The Citizen's archive. 
In 2008, Clinton helped introduce legislation that would establish the Harriet Tubman National Historical Park in Auburn and another park honoring the abolitionist in Maryland. 
She wasn't in the Senate when the bill eventually passed as part of an annual defense bill in December 2014. The Tubman park in Auburn was formally established at a ceremony in January. 
The final paragraph of Clinton's author's note mentions the announcement made in 2016 that Tubman would be the face of a newly designed $20 bill. The process would take years to complete, but the civil rights icon would eventually appear on U.S. paper currency. 
"If you need proof that America can still get it right, there it is," Clinton wrote. 
The book was printed before current Treasury Secretary Steven Mnuchin wouldn't commit to adding Tubman's likeness to the new $20 bill. His comments were made during an interview earlier this month on CNBC.