Buffalo Bills Week 9 Report Card: Tyrod Taylor with 3 TDs, but Bills lose to Jets 34-21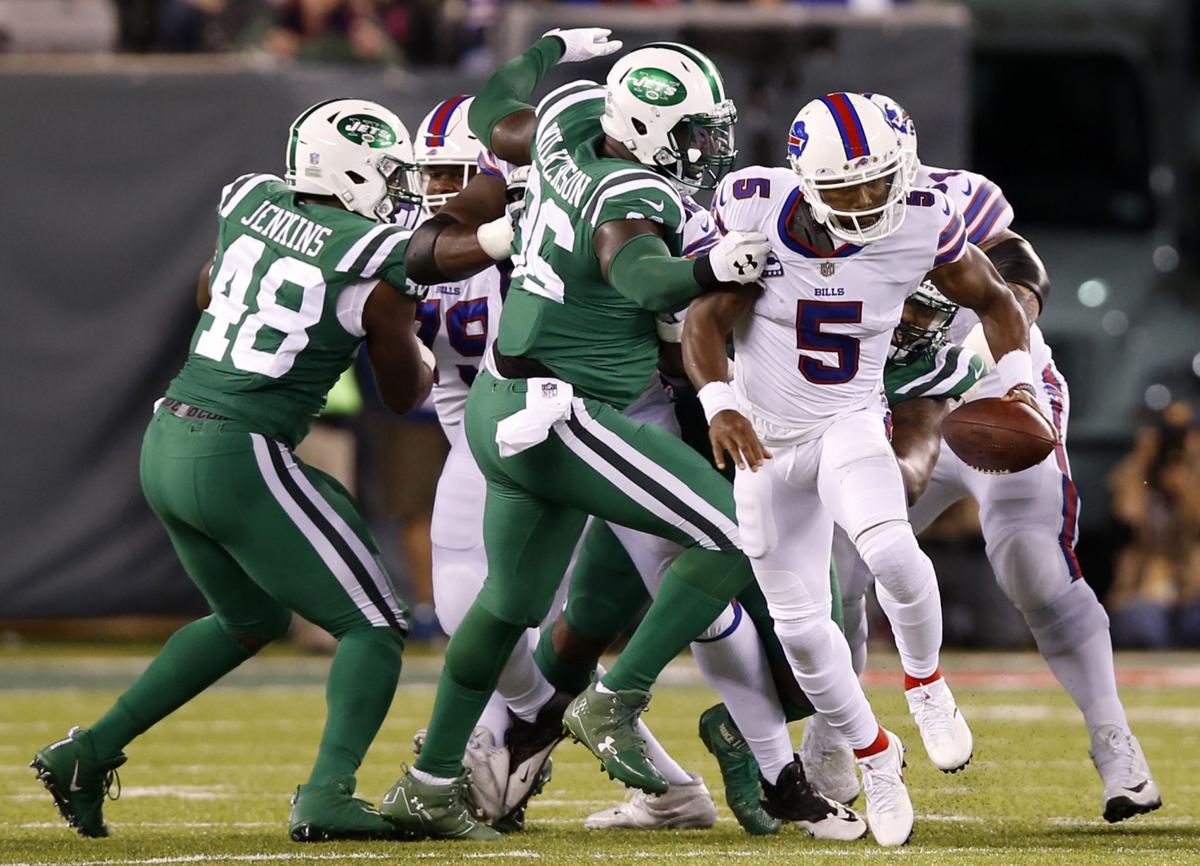 The Buffalo Bills entered Thursday night's game with a 5-2 record. But they sure didn't play like it. 
The Bills had three turnovers and allowed 194 rushing yards in a 34-21 loss to the New York Jets. 
Tyrod Taylor had 285 passing yards, 35 rushing yards and three total touchdowns in the losing effort. Zay Jones had his best game, with six catches for 53 yards and a touchdown. 
The Jets defense was the story. Taylor was sacked seven times and the Jets forced three turnovers. The Bills only managed 63 rushing yards against the Jets and averaged 2.9 yards per carry. 
On defense, the Bills were atrocious. The Jets had 194 rushing yards. Matt Forte finished with 77 rushing yards and two touchdowns. Bilal Powell had 74 yards, including a 51-yard run. 
The Bills fall to 5-3. The Jets improve to 4-5. 
Here is the Buffalo Bills Week 9 report card: 
Tyrod Taylor had a great game against the Jets. He threw for 285 yards and two touchdowns. He added 35 rushing yards and a touchdown. His offensive line didn't do him any favors. He was sacked seven times and lost a fumble. But he made some good throws and did his best to keep the Bills in this game. Unfortunately for him, the defense didn't play well and the offense couldn't get anything going due to the offensive line's struggles. Taylor, though, impressed. Even though the Bills lost, it was one of his best efforts as the starting quarterback. 
The offensive line's woes prevented the running backs from doing anything against this stout Jets defense. LeSean McCoy wasn't a factor. He had a 13-yard run early, but couldn't get anything going after that. The Bills need a better No. 2 option other than Mike Tolbert. He is a good short yardage back, but the Bills need someone who is more versatile. Jonathan Williams was that guy. Tolbert isn't. 
Zay Jones was a bright spot in the loss. He caught six passes for 53 yards and a touchdown before leaving with a knee injury. After his early season struggles, he's shown improvement over the last two weeks. Hopefully his injury won't keep him out of action for an extended period of time. 
Nick O'Leary had four catches for 51 yards, but lost a fumble. Jordan Matthews had six catches for 46 yards. He, too, lost a fumble. 
Deonte Thompson caught seven passes for 81 yards and had a late touchdown. The receiving corps is improving and should get better with the addition of Kelvin Benjamin, who didn't play Thursday. 
This quintet was atrocious. The Bills need to run the ball to win. They couldn't run the ball because the offensive line was dominated by the Jets' defensive linemen. And Tyrod Taylor, who had a good game against the Jets despite his offensive line's poor play, was sacked seven times. 
DEFENSE
There wasn't much of a pass rush (again) and the Jets plowed through the defensive line on the ground. Cedric Thornton had one sack and could've had another, but he was called for a face mask penalty. Missed tackles were a problem for the entire defense and it started with the defensive line. Whether it was Matt Forte or Bilal Powell, the Jets' running backs found holes and were able to break tackles to pick up yards. 
The tackling was bad. The Jets ran the ball at will and the Bills didn't do much to stop them. On Powell's 51-yard run, several Bills players had a chance to bring him down within a few yards of the line of scrimmage, but they didn't. 
Defensive backs - F

Missed tackles and poor coverage. The secondary has been key in the Bills' wins this season. This wasn't their best effort. Tre'Davious White got beat on Josh McCown's touchdown pass to Robby Anderson. 
SPECIAL TEAMS
Steven Hauschka converted all three of his extra point attempts but didn't have a field goal try. 
Punter Colton Schmidt averaged 46.3 yards per punt on six punts. He had one inside the 20 and his longest was a 53-yard punt. 
With Brandon Tate inactive, the Bills' return game was limited. Micah Hyde handled punt return duties. He had two returns for 18 yards. Taiwan Jones was the kick returner, but he didn't bring a single kick out of the end zone. 
The Bills were outclassed and outcoached. You can criticize Jets coach Todd Bowles, but his team came prepared to play. The Jets offense was efficient and the defense contained the Bills offense. This was the ultimate letdown game for Sean McDermott's staff. Their team didn't look prepared to take on the Jets. It was the team's worst game of the year. 
The Bills had an opportunity to put on a show in prime-time, but they blew it. They came out flat and played poorly on defense. The offensive line had its worst game of the year. The Bills were unable to run the ball and had to rely on Tyrod Taylor's arm. Taylor is good, but he can't do it alone. 
OFFENSE: Tyrod Taylor. There was one Bill who had a good night and it was Taylor. He had 285 passing yards and two touchdowns. He also had 35 rushing yards and a touchdown. He was sacked seven times and lost a fumble. 
DEFENSE: None. The Bills defense played that bad. 
Offensive line. It has been an inconsistent season for the offensive line. Thursday night was no exception. The Jets defensive line stuffed the Bills' rushing attack and dominated pass blockers. It was painful to watch. 
194. The Bills allowed 194 rushing yards Thursday night. Usually it's the Bills that are successful running the ball against their opponents. The tables turned against the Jets. 
3. The Bills lost three fumbles against the Jets. Two were on fluke plays, but they still count as turnovers. Those are costly mistakes to make. 
The Bills (5-3) will play at 1 p.m. Sunday, Nov. 12 against the New Orleans Saints. The game will be televised on FOX.