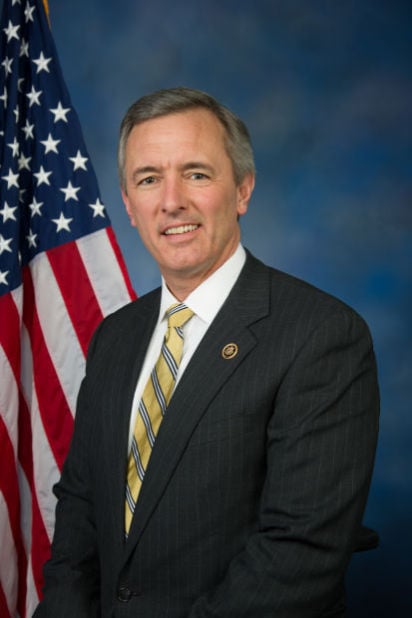 U.S. Rep. John Katko told constituents during a telephone town hall meeting Tuesday that he is "leaning towards" supporting the House tax reform bill.
The announcement was the first indication that Katko, R-Camillus, will vote for the tax bill. The House is expected to consider the measure Thursday.
"I'm cautiously excited about it. I'm leaning towards supporting," he said. "I'm not 100 percent there yet, but I do want to hear from my constituents."
The Tax Cuts and Jobs Act would reduce the number of tax brackets from seven to four and double the standard deduction from $6,350 to $12,000 for individuals and $12,700 to $24,000 for married couples. It would repeal the alternative minimum tax and phase out the estate tax over a six-year period.
The child tax credit would increase from $1,000 to $1,600 and a new family credit of $300 would be available for parents and non-child dependents.
Katko said the median salary in his district is $55,000. Under the GOP tax plan, he said the average family would save at least $1,000.
"That's a lot of money for a family living paycheck to paycheck," he said.
One concern for Katko was the elimination of the state and local tax deduction. Initial versions of the bill called for the complete elimination of the deduction, which was opposed by some Republicans from New York and other high-tax states.
Last month, Katko opposed the GOP budget proposal because it would serve as a vehicle for the plan that included the provision eliminating state and local tax deductibility.
Katko and other New York Republicans urged House leadership to maintain deductions for state and local income, property and sales taxes. The compromise: Homeowners will be able to deduct state and local property taxes up to $10,000.
The House bill also would lower taxes for businesses. It would cut the corporate tax rate from 35 to 20 percent.
Katko believes reducing the corporate tax rate will boost employment in his district. He met with IBM executives who told him that the company will bring 25,000 more jobs to the U.S. if the tax reform legislation is adopted.
"It gives central New York the best chance in a long time to get jobs back, especially jobs that lift people out of poverty," he said.
There were skeptics of the plan on the call with Katko and rallies have been held outside of his district offices opposing the tax bill.
On Monday, a group of Cayuga County residents gathered outside his Auburn office to protest the tax legislation. Dana Balter, one of two Democrats seeking the party's nomination to challenge Katko in 2018, spoke at the event.
Balter, D-Syracuse, criticized several provisions in the bill, including the lower tax rate for corporations.
"Republicans will tell us that if we cut corporate taxes, that money ends up in the pocket of the workers, that they get better salaries and more jobs. But we know that's not true," she said. "We've seen it happen before. It doesn't work."
Katko noted that the House vote is part of a legislative process that could take weeks. The Senate is drafting its own version of the bill, which must pass to allow for the formation of a conference committee.
The joint panel, which would consist of members from the House and Senate, will negotiate a final bill.
Although it's unlikely, Katko hopes to secure a seat on the conference committee. In that role, he said he would support provisions to ensure companies reinvest money brought back from overseas.
"Since I started running for office in 2014, I've advocated strongly for bringing that money home," he said. "I'm hoping that is going to happen because central New York needs a shot in the arm, and we're not getting it from Albany."