Court filing: Security increased for Rep. John Katko after death threat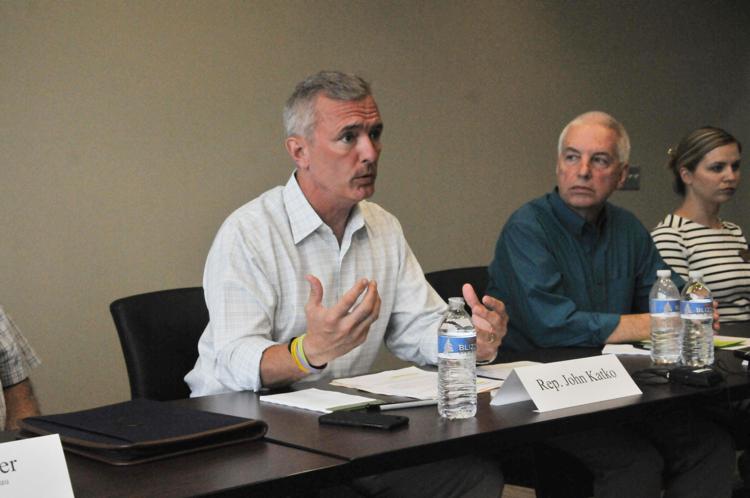 A Syracuse man accused of threatening to kill U.S. Rep. John Katko and his family shared his knowledge of net neutrality with FBI agents and admitted to making a phone call "that could be construed as a threat," according to a criminal complaint filed in federal court. 
The four-page document details the allegations against Patrick Angelo, a 28-year-old who has been charged with interstate communication of a threat and threatening a federal official. If convicted, he faces up to 10 years in prison and a $250,000 fine. 
The call in question was received at approximately 7:50 p.m. Thursday, Oct. 19 at Katko's Washington office. However, due to the volume of calls his office receives, the voicemail message wasn't reviewed until Monday, Oct. 23. 
After Katko's staff received the message, it was referred to the U.S. Capitol Police's Threat Assessment Section. The agency launched an investigation in coordination with the FBI. 
A check of public records revealed that the call originated from a Verizon Wireless phone number belonging to Angelo. On Nov. 1, FBI agents spoke to a family member to establish contact with Angelo. 
According to the criminal complaint, when Angelo contacted the agents, he called them from the same phone number used to make the threatening call. He didn't provide his address to the agents, but agreed to meet in a public location. 
Angelo met FBI agents at a McDonald's in Syracuse. He denied making a threatening call to Katko's office and claimed he "doesn't involve himself in politics." He responded to a question about net neutrality by describing it as "all about telecom companies tiering internet service providers to provide faster service to certain companies." 
After the question about net neutrality, Angelo told the FBI agents he left a voice mail and was "upset about net neutrality." He expressed his support for net neutrality and admitted that "I used strong language, probably something that could be construed as a threat." 
Federal prosecutors released the text of the voice mail message Wednesday. The caller stated, "Listen Mr. Katko, if you support net neutrality, I will support you. But if you don't support net neutrality, I will find you and your family and I will kill ... you ... all. Do you understand? I will literally find all ... of ... you and your progeny and t- just wipe you from the face of the earth."
The message continued: "Net neutrality is more important than the defense of the United States. Net neutrality is more important than free speech. Net neutrality is more important than health care. Net neutrality is literally the basis of the new society. That even if you don't understand, how important it is, net neutrality is literally the basis of the new ... free ... society. So if you don't support it, I am willing to lay down my li-." The recording ended before the caller could finish the statement. 
After the threatening message was received, court documents indicate that the U.S. Capitol Police increased security for Katko while he was in Washington. FBI agents coordinated with the New York State Police, Onondaga County Sheriff's Office, Syracuse Police Department and Camillus Police Department to provide security for the congressman's appearances in central New York. 
"All threats are reported to the U.S. Capitol Police in order to ensure the safety of Rep. Katko, his family and staff," said Erin O'Connor, Katko's spokesperson. "The congressman and his family appreciate the diligent work of our local, state and federal law enforcement in monitoring these threats and taking appropriate action." 
Angelo appeared in federal court Wednesday afternoon. He is being held at an undisclosed site pending a detention hearing at 2 p.m. Friday. 
The case is being prosecuted by the U.S. attorney's office for the Western District of New York. While the criminal complaint was initially filed in the Northern District of New York, which covers the Syracuse area, the case was moved because of Katko's past ties to the U.S. attorney's office in Syracuse.
Katko is a former federal prosecutor. Before being elected to Congress, he was an assistant U.S. attorney in the Northern District of New York. 
The threat against Katko has received additional attention because of the caller's net neutrality position. The Federal Communications Commission will vote Dec. 14 on a proposal to repeal the net neutrality rules that were established by the agency during the Obama administration. 
FCC Chairman Ajit Pai released a statement Thursday condemning the threat against Katko. 
"I would also like to express my sympathy to Congressman Katko and his family and thank law enforcement officials for taking this matter seriously," he said.