Rep. John Katko eyes solutions to mass shootings, warms to raising age for gun sales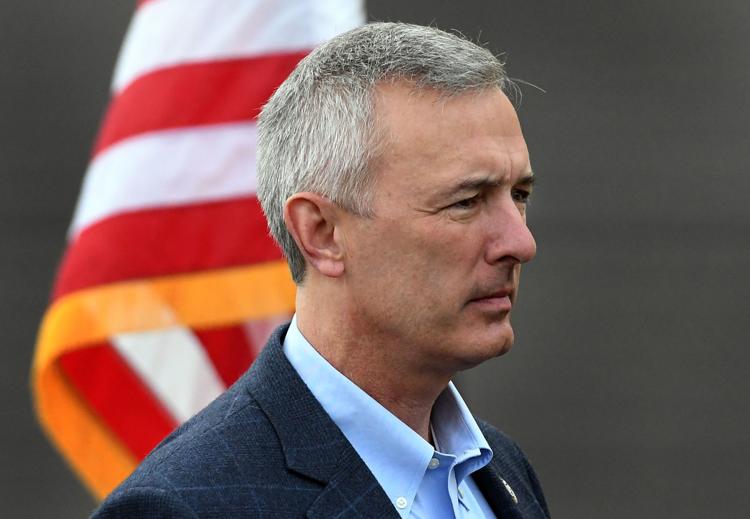 More than a week after the latest school shooting left 17 people dead, U.S. Rep. John Katko announced Friday that he's supporting or considering several proposals to address gun violence. 
Katko, R-Camillus, said in an interview with The Citizen that one of the proposals he is considering is raising the minimum age for gun sales. Under current federal law, you must be at least 18 years old to buy a shotgun or a rifle from licensed dealers and 21 to buy handguns. 
However, there are loopholes that allow those under the age of 18 or 21 to buy and possess firearms. 
Katko hasn't determined whether the federal age limit should be raised for the purchase of all long guns or if it would be limited to AR-15s and other so-called "assault rifles." 
"I want to study that issue more and get feedback from people, but that's something I want to look at," he said. 
One reason he could support raising the minimum age for gun purchases is the violence young people are exposed to in society, especially in movies and video games. 
"I'm not sure kids are understanding the consequences," he said. 
Another proposal he may support is adopting universal background checks for gun purchases. He said New York already has a "very detailed" background check for gun buyers. 
Katko's position on other gun-related issues is firm. He signed a letter to House Speaker Paul Ryan requesting a vote on legislation to strengthen the existing national background check system. The legislation was first proposed after a mass shooting at a church in Texas that killed 26 people and injured 20 others. 
The gunman in that shooting had a prior domestic violence conviction while serving in the Air Force that should have prevented him from buying a gun. But the Air Force failed to report the conviction to the FBI and it wasn't listed in the background check system. 
The bipartisan bill Katko supports would encourage federal agencies and states to "accurately and promptly submit information and records" for inclusion in the background check database. 
Katko also favors banning bump stocks, which are devices that can be attached to semiautomatic rifles, such as an AR-15. Bump stocks increase the weapon's firing rate. 
Bump stocks received attention in the aftermath of the Las Vegas mass shooting, which killed 58 people and injured more than 800 others. The gunman used bump stocks to carry out his attack. 
Specific to schools, Katko believes that there should be armed officers for every school. Some schools in his district, such as the Auburn and West Genesee school districts, already have school resource officers. But funding has been a challenge for local police departments and school districts to retain the officers. 
There are some federal grants available, Katko said. His staff is reviewing whether the grants are adequate and if they aren't, what would need to be done to meet the demand. 
One of the main issues Katko wants to address as it relates to gun violence is mental health. He mentioned mental health as a priority last week when he issued a statement after the Florida high school shooting. 
"No one ever talks about it in connection with these crimes," he said. "I think that's the big thing that's not being addressed. There's a lot of undertreatment and lack of treatment for individuals with mental health issues." 
Katko is exploring whether the federal government should adopt "red flag laws." A handful of states, including California, have red flag laws that allow police to confiscate guns from people if a judge determines they pose a threat. 
New York doesn't have a red flag law, but the SAFE Act signed in 2013 requires mental health professionals to report if an individual is a threat to harm others. This can result in the individual losing or being prevented from obtaining a gun permit. 
There is one proposal floated by President Donald Trump that Katko is leaning toward not supporting. Trump suggested this week that teachers should be allowed to carry concealed firearms. It was one of several school safety proposals he endorsed after meeting with survivors of the Florida shooting and past mass shootings. 
But Katko said he has heard from teachers who are "vehemently opposed" to allowing educators to carry firearms. 
"I want this to be teacher-driven," he said. "I don't want something to be forced upon them." 
Gun safety will likely be added to an already packed legislative agenda when Katko and his House colleagues return to Washington next week. This was an in-district work week for House members. 
Session resumes Monday in Washington. 
A factor in what, if any, gun safety measures will be considered by Congress is the National Rifle Association. The NRA is a leading gun rights group and has supported many Republican members of Congress, including Katko. 
Katko has an "A" rating from the group and received nearly $12,000 in campaign contributions from the organization's political action committee. 
Some of the proposals mentioned by Katko are opposed by the NRA. The group doesn't believe raising the age for gun sales is a solution. They also oppose universal background checks for gun purchases. 
Katko said he received campaign donations from groups representing the business community, labor and other interests. But he doesn't believe it impacts how he approaches his job as a legislator. 
"I'm not beholden to them at all and I think the facts speak for themselves and what I just outlined for you is probably the best example of that," he said.