Cayuga County 2018 budget proposal includes tax increase, more funding for roads, staffing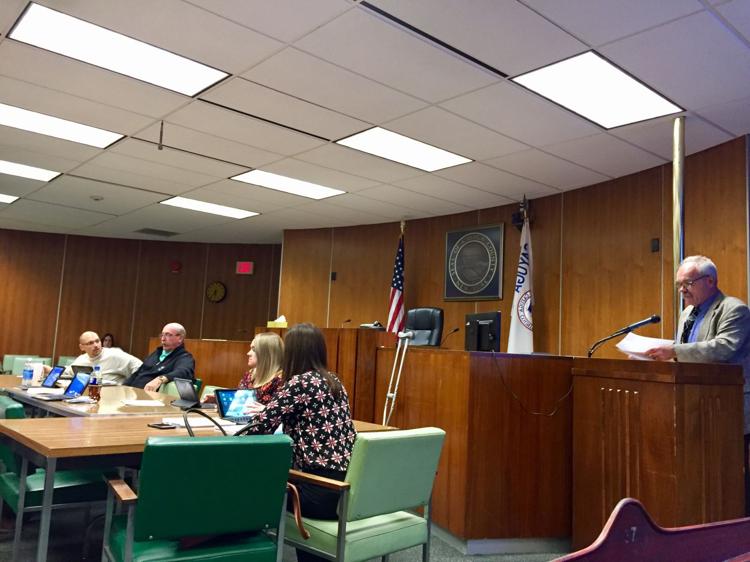 AUBURN — Cayuga County residents might see an increase in their property taxes next year, but the total will be under the state tax cap.
Cayuga County Legislature Chairman Keith Batman presented a draft of the 2018 budget to legislators at a special Ways and Means Committee meeting Monday night, proposing a 2 percent increase in the tax levy. It was not yet clear what the state tax cap would be, but Batman and county budget director Lynn Marinelli said the tax levy increase was below that.
The total budget for next year is expected to be about $146 million, up 2 percent from 2017. About $545,752 will be used from the county's fund balance toward the budget. 
No programs or services have been cut so far, but four county highway positions are proposed for the chopping block. Those positions, however, have been vacant for the past two or more years, Batman said, and contingency plans are in place in case they are needed again. 
Overall, the budget includes new positions, programs and reserves, mostly to address the county's deteriorating roads and buildings, and to address a shortage in staff among some departments.
Batman proposed restoring funds to the highway department and adding $200,000 to the budget's bottom line. He also suggested creating a highway reserve of $1.5 million. As a reserve, anything proposed with that funding would require a super majority vote by the full Legislature. Pointing to the massive amount of damage the towns of Niles, Moravia, Sempronius and New Hope suffered following July storms, Batman said there's a lot of work to be done. 
"Our roads need attention, and we need to focus there," he said.
The probation department has not been in staffing compliance with the state Division of Criminal Justice Services, so the county plans to add a new officer. The office of aging may also get a part-time position to help recruit and retain volunteers for the Meals on Wheels program, which has seen a shortage. Also, the information technologies department is significantly understaffed based on staffing ratios of surrounding counties. To help remedy that, Batman proposed either one new position or hiring via contract. 
The future of the Cayuga County Office Building, too, was part of the budget discussion. Batman proposed a building reserve of $2.5 million. While he said that would in no way touch the amount required for a new building or renovations, it would provide something similar to a home buyer's down payment. 
To address a few other initiatives, Batman proposed some smaller amounts of money for Cayuga Lake, the newly recombined county fair and an arts and culture grant program. Concerned with the apparent lack of water quality testing on Cayuga Lake versus Owasco, Batman said he'd like to devote $18,000 for lab testing. He'd also like to invest $5,000 in an arts and culture seed fund, giving out grants to help new or already established programs in the community.
Addressing the Cayuga County Agricultural Society and the Remember the Big 6 Picnic and 4-H Youth Country Fair's request for restoring funds to the organizations, Batman suggested giving the county park's department $15,000 to go toward the fair, which is set to merge in 2018. He did not want to designate dollars to either organization separately. 
Without a county administrator, Batman marked that this year's budget process worked differently. He took the lead with Marinelli and the county management team, which also includes Ways and Means Chair Aileen McNabb-Coleman and Deputy Chairman Ben Vitale. In past years, he said, the process working with department heads had been more of a negotiation. He felt that this year it was more of a discussion.
The first stab at the budget, Batman said, had the draw on the fund balance much higher at about $1.6 million. However, department heads made a "remarkable contribution," finding revenues or making cuts on their own.
"I was incredibly pleased and impressed with the way departments put together their budgets," Batman said.
While the fund balance fluctuates often, it's expected to be about $21.9 million at the end of 2017. Batman cautioned while that looks like a good number, he believes it's the minimum the county should have. Considering the county needs between $11 and 12 million for cash flow, $2 million for unexpected disasters, about $3 million as a cushion based on the unpredictability of sales tax revenue and state mandates, $2.5 million for the building reserve and $1.5 million for the highway reserve, the fund balance will just be covering those things. 
The committee will meet again on Nov. 7 to make adjustments to the budget.