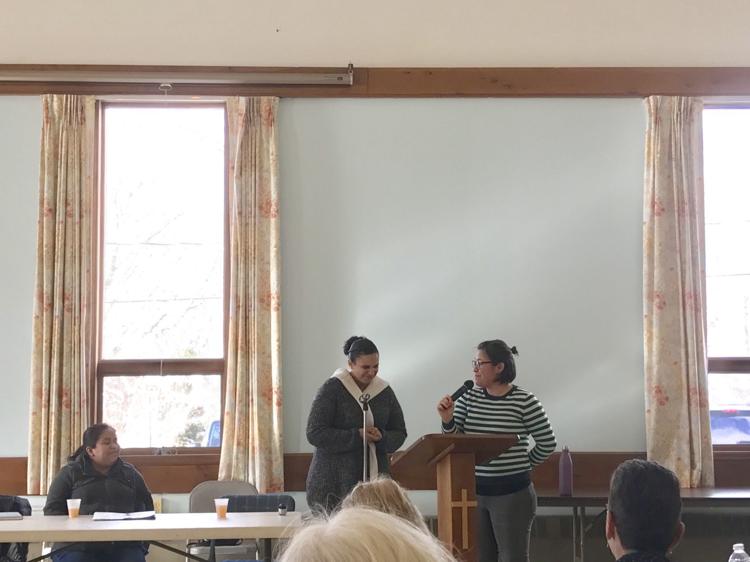 SENNETT — The Sennett Federated Church held an immigration panel discussion on Sunday with the presence of the New York Immigration Coalition, Workers' Center of Central New York and two immigrants who shared their stories of struggle.
Pastor George Huffsmith said he put the event together because he realized there was a lot more to the immigration discussion than he understood, and he wanted to create a space for people to come together to learn, discuss, and hear from those who have lived and experienced it.
"We believe that no human being is illegal. We believe that calling people illegals is wrong, and it's a hate word," said Fabiola Ortiz Valdez, who once immigrated to America and now works as manager of member engagement for the New York Immigration Coalition.
Valdez said there are over 50 million immigrants in the United States, and New York is home to 4.5 million of them. Approximately 11 million immigrants are undocumented, and about 8 percent of them call New York home.
Valdez explained that immigrants contribute heavily to New York's economy, particularly in the dairy industry. She referenced the recent case of an Owasco farm's living quarters being shut down for health and safety issues, and said that "studies have proven that immigrants, particularly undocumented immigrants, tend be be more exposed to bad working and living conditions than U.S. born workers."
Valdez said immigrants come to America for three main reasons: to work, to be reunited with family, and to escape dangerous situations in their home country. She said that people are often "pushed" from their own countries. She said immigrating the "right way" is near impossible, and not an option for a lot of people.
The difficulties with immigration are not new, Valdez said. "This problem was not started with this administration, but the reality is it has become more inhumane because now we're talking about ending family reunification."
A woman identified as Elizabeth, a current Deferred Action for Childhood Arrivals program recipient and member of the Workers' Center, who came to the United States at the age of 14, was a panel member and shared parts of her story.
In 2013, Elizabeth was able to get into DACA and get a work permit which helped her have a better job with higher wages. "Thanks to having DACA I can drive, I can take my kids to school. ... I can have more freedom and have a better life," she said with some translation help from Valdez.
DACA officially ends on Monday and Elizabeth said she and her three kids are now "in limbo," with "fear we will be deported." Although DACA helped Elizabeth significantly, it still was not cheap. She had to apply every two years and the application alone cost $500, not to mention paying an attorney and other hidden fees.
Elizabeth is aware that DACA can be taken away from her at any moment, and she expressed that she just wants to be here with her kids. Ideally she would love to be a citizen, but "it's just too big, it's too hard to get citizenship," she said.
Another immigrant at the forum, Arely, is also a member of the center, and her husband was recently detained by U.S. Immigration and Customs Enforcement. One day in December, he returned to their apartment to find ICE cars waiting for him. He was detained at once, and was unable to spend the holidays with Arely and their three kids. He was released on Feb. 20, and the family had to pay $5,000 in bail.
Back in 2013, Arely was also detained by immigration control for nine days. She then had to go in for regular check-ins at the immigration office, and starting in 2017 she had to go in once a month or even more frequently at times.
"Since then I've been fighting really hard to stay here with my family," Arely said with translation help from Valdez.
While her husband is still waiting on a court date, Arely has her own scheduled for the end of March.
"That is our struggle, families staying together," Arely said. "We want a better future for our kids, and they have a lot of better schools here in this country, because in our own country there is a lot of poverty. There are many families like mine who are going through the same thing.
"I really want to stay in this country, but I don't have any options," Arely said, explaining that there is no pathway for her to gain citizenship to be able to stay. She explained that her family came here to work, not to live off the system, and to raise a family just like anyone else.
One of the myths about undocumented immigrants that Valdez addressed was the rumor that immigrants don't pay taxes. She said it is estimated that immigrants have added $13 billion of payroll taxes for services that they will never get access to because they don't qualify for them.
"They need us, their allies, to speak with politicians, employers, or anyone who tries to get ahead on the backs of brothers and sisters. But they also need for us to educate ourselves," Valdez said.
Rebecca Fuentes of Workers' Center of Central New York said support is especially important in rural areas. "Everything gets stopped by Legislature  upstate," she said.
"A lot of people right now just want safety and protection," Fuentes said. "It is not extreme to say you just want to be here with your family and your kids."
Fuentes suggested, in addition to speaking with politicians and employers, to "get to know your neighbors." She said many of them are working on farms next door and may need a safe way to get to the grocery store, a doctor appointment, or need help getting connected to services and organizations.
"There are no quick easy simple answers to any of this. ... But just because it's not easy, doesn't mean we ignore it or pretend it doesn't exist. It means we work harder because we need to get it right, and it needs to be right and it needs to be fair and it needs to keep families together," Huffsmith said as he closed the panel.