Remembering the Dansville telephone lineman who brought back New York's bald eagles
About 53 years ago, Tom Rauber saw something he never expected to see.
It was 1965 and the lineman with the Rochester Telephone Corporation would sometimes escape the city to eat his lunch in his truck parked near Hemlock Lake in Livingston County. He always loved the outdoors and wildlife, said his daughter Shelly Rauber Mistretta, but perhaps no one knew how much until he discovered the last pair of bald eagles in New York state. 
They were in a shagbark hickory tree, Mistretta said laughing, sitting in a coffee shop in Skaneateles Tuesday, pictures of her father holding juvenile bald eagles sprawled on the table top. 
"He just watched them quietly for I think the first four or five years, and we knew he was watching a bird, but it was weird," she said, recalling her elementary school-age memories of that time. "It was like we were in a secret society. We couldn't talk about it."
Rauber would keep a canoe hidden in the cattails on the lake to check on his endangered birds. Between the 1940s and 1960s, New York's nesting bald eagle pairs went from about 70 to just one. The devastating trend was seen across the country, except for Alaska, as hunters, habitat loss and a pesticide called DDT threatened the very existence of the eagle. Rauber, ecstatic about coming across this special pair, contacted the Albany branch of the U.S. Fish and Wildlife Service, where he was asked to monitor the birds and keep the agency updated. 
More than three decades later, Rauber was still keeping bird journals. The telephone lineman turned wildlife rehabilitator became one of the most instrumental players in bringing the nation's bird back from the brink of extinction, along with the state Department of Environmental Conservation wildlife technician Mike Allen.
Both men died within about two months of each other last year — Allen on Oct. 28 and Rauber on Dec. 27.
In January, a Mid Winter Bald Eagle Survey held at the Montezuma National Wildlife Refuge, the original site of the bald eagle recovery program, counted a record-breaking 81 eagles. For Mistretta, Allen and her father's spirits live on.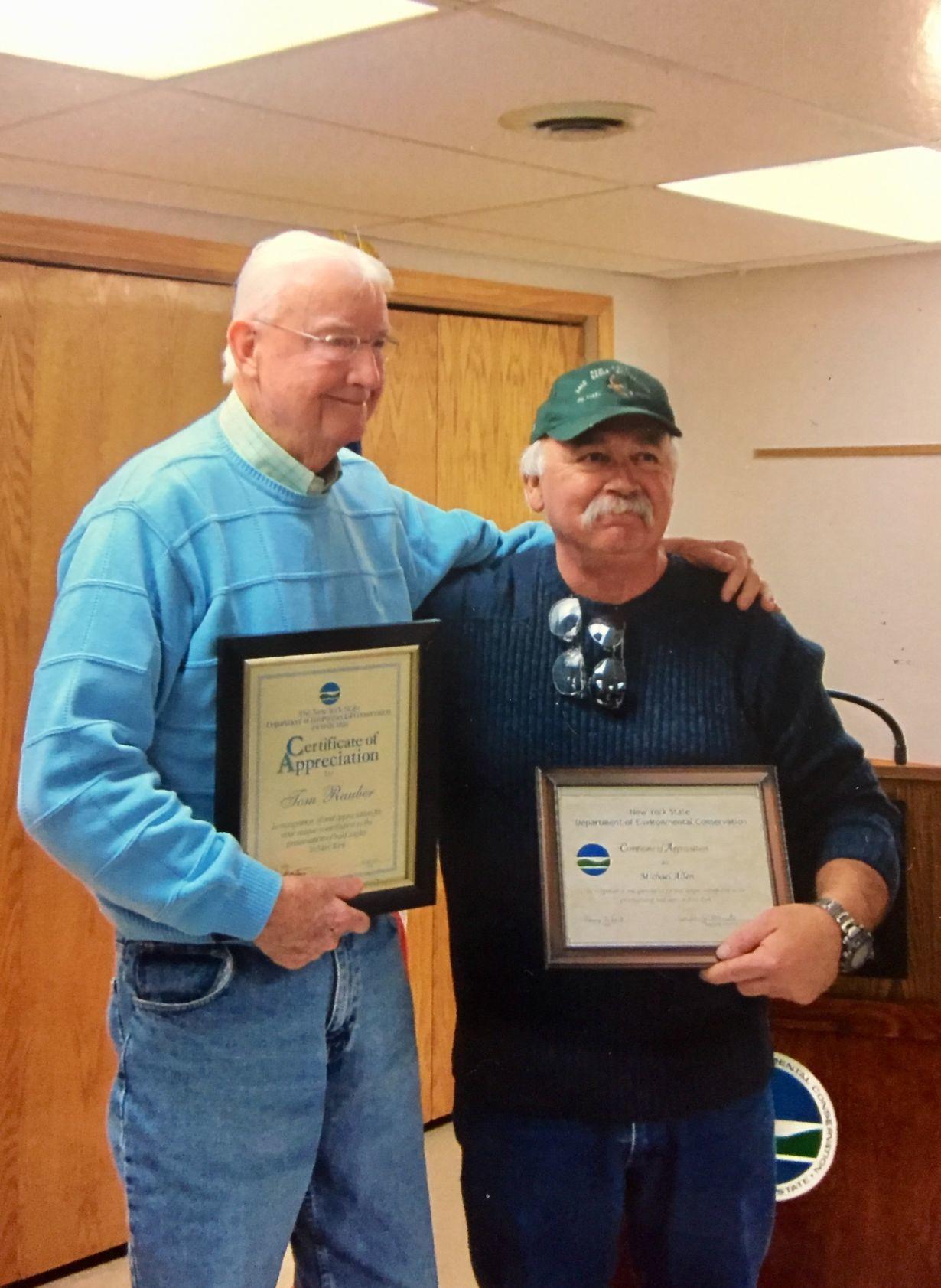 "We see that bird, and your heart just melts," she said. "It's like, 'Thanks, Dad.'"
It's hard to imagine the state and federal government putting the fate of an endangered species in the hands of an amateur bird enthusiast from Dansville. For a while, however, that's exactly what happened. Rauber's accounts of this time live on in a book he published in 2014, "Bald Eagles Soar Again: One Man's Quest to Prevent the Extinction of the Bald Eagle in the U.S."
Rauber even had permission to use his lineman gear to climb up to the pair's nest and retrieve an egg, which after 34 days of observing became clear it would not hatch. He sent it to the Patuxent Research Center in Maryland, where it was analyzed and found to have no embryonic development. Traces of DDT were found in the egg, too.
Two years later in 1973, Rauber had better news. The couple hatched its first egg. Their eaglet survived and by August, about four months after it hatched, Rauber said in his journals that he did not see it again. It likely soared off to new beginnings.
After more than a decade of bird watching, Rauber worked with friend Dean Amadon, the Lamont Curator of Ornithology at the Museum of Natural History in New York, to draft a state Bald Eagle Restoration Program. He submitted it to the U.S. Fish and Wildlife Service and the DEC, and in 1976 the program began. Though Allen and DEC partner Peter Nye were the leads on the program, Rauber continued monitoring nesting pairs, and even became a federally permitted eagle bander and wildlife rehabilitator. Using his lineman equipment, he also taught Allen to climb trees. 
Mistretta remembers as a child sitting still on the edge of Hemlock Lake, watching the eagles for hours. She also remembers her father showing dinner guests hawks and other birds he was rehabilitating, and feeding deer from a baby bottle. 
Meanwhile at Montezuma, a hacking tower was erected on Clarks Ridge where Allen and others helped foster baby eagles. Eggs and eagles were transported from Alaska, Minnesota and other states out west to the site. Staff would feed the birds, careful to remain hidden behind a mirror or wall, with a gloved hand or avian disguise of some kind. When the eagles were old enough to fledge, the hacking tower cages would open and off the prospects would go.
On Jan. 1, 1981, Rauber received some sad news. A fisherman found an eagle body, the male of the very last wild pair in New York that Rauber had observed for so many years. But on March 13, 1981, he observed a miraculous thing: the widow had a new mate. On March 19, Rauber got a closer look at this new fella, and a yellow tag on his wing indicated that he was a product of the eagle hacking tower at Montezuma. 
"This eagle originally came from Minnesota in June 1977 and was raised and released at the Montezuma hack site that same summer," Rauber wrote in his journal. "Were it not for the hacking project, there is a good possibility this eyrie would be inactive. Contemplating on these events it is comforting to note in a relatively short period of time this female and male were able to find one another and return to this excellent habitat which, in my opinion, offers everything to satisfy the eagles' needs."
Mistretta said her family had a cottage on Skaneateles Lake, and if she ended up driving there with her dad, there were always pit stops at Allen's house and at the Montezuma refuge along the way. The Montezuma pit stops were more of a crawl, as Rauber would scout out eagles.
By 1989, 198 nesting bald eagles from the west had been released in New York, and the hacking program ended. By 2010, according to the DEC, the state had 173 breeding pairs and fledged 244 young. Mistretta said there are now more than 300 pairs. There are over 9,700 nesting pairs in the lower 48 states as of June 2007, according to the U.S. Fish and Wildlife Service. The bald eagle is no longer endangered, and now scientists and volunteers are monitoring populations and the location of nests.
In October 2016, the Montezuma National Wildlife Refuge celebrated the 40th anniversary of the eagle restoration program. Allen, who had been in his 20s during the hacking tower days and had never seen a bald eagle the day Rauber showed him the pair on Hemlock Lake, appeared incredulous at how well the eagles have thrived. He attended the anniversary event in 2016.

"It was one of those things," he had told The Citizen. "It was a once-in-a-lifetime chance — I guess, not a chance. It was destined to be, and I'm eternally grateful."
With six or seven active eagle nests on the Montezuma Wetlands Complex, down the road in Dansville Mistretta has observed several nests around her parents' home, too. 
Before Rauber passed at 93, Mistretta said, they found a new eagle nest to add to the list, continuing the legacy of her father's birds.
"Truly, every time we see a bird, it's like the coolest thing," she said.