Lockdown drill at Auburn school sparks discussion about communication with parents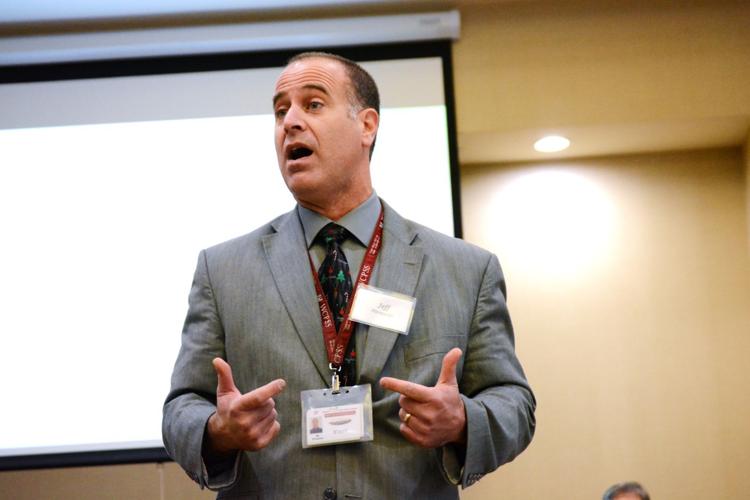 Tony Ranauro's world froze when he received frenzied texts from his daughter, McKenzie, about a lockdown at Auburn Junior High School on Dec. 12.
Ranauro said McKenzie, 12, initially thought the lockdown was a real scenario with a credible threat in the building. It was actually a drill. Forty-five minutes away from the school at the time, he told her to remain calm. But the counter-terrorism training he received with the U.S. Department of Defense didn't stop his mind from racing. 
Getting a call from his daughter saying she was fine and the situation had been a drill was "like a car taken off my chest," Ranauro said.
"I never really understood what a heart attack felt like until that morning," Ranauro said. 
Later that day, wanting to get the perspective of other parents, Ranuaro posted his concerns about how the drill was handled on an Auburn-focused Facebook page, saying he was appreciative of the Auburn Enlarged City School District and the Auburn Police Department for the drills, but wished the district would have informed parents beforehand. His post swiftly garnered a number of comments with various opinions — ranging from saying they were also confused about whether the lockdown was a real situation to saying the district and the APD made the right call.
State law passed last year mandates four lockdown drills be conducted at each school building a year. The district operates three announced drills conducted by the district in which staff are made aware of when the drills will be happening. Another one, though, is unannounced.
Sgt. Greg Dann of the APD, who runs the Auburn school district's student resource officer program, said the Auburn Police Department conducts a drill — like the Dec. 12 drill — in which police notify the school a lockdown is about to happen shortly before the drill commences. The district is not given any additional advance notice.
Dann said unannounced drills have been conducted in the district since 2008. When the APD contacts the school about the drill, a lockdown is immediately announced at the school without any indication that it isn't a real scenario.
Dann said the Dec. 12 drill wasn't done differently than any other unannounced drill. The call to the school about the lockdown happened at 9:50 a.m., while the end of the drill was announced at 10:30 a.m., Dann said. He said drills in most of the other buildings take around 30 to 45 minutes. He said APD always meets with administrators after each drill to talk about how the school did. Dann said the Dec. 12 drill went well.
While complaints after a drill aren't unusual, Dann said, he believes the social media comments on this particular drill caused more of a stir. Auburn Enlarged City School District Superintendent Jeff Pirozzolo said the district received complaints from parents about the Dec. 12 drill, with many wanting to know why they weren't informed beforehand. 
Pirozzolo said the principal of a building with a lockdown have sent out automated calls to parents about drills afterward. Going forward, he has decided that principals will make prerecorded messages that will go out quickly after a lockdown to avoid potential delays in parents getting the information.
Pirozzolo plans on writing about the district's intention to continue the drills in the district's next monthly newsletter. Auburn has run 17 lockdowns since September, he said. He said the safety of children and staff is the district's "No. 1 priority."
While some parents have requested advanced notification, giving an indication of a drill in advance would not be as effective, Dann said. He believes students would not take the situation as seriously. He said there had been past situations in which word leaked about a drill, and students didn't commit to those scenarios.
"They don't know and they shouldn't; (students and staff) should just follow the procedure they would if there was a real lockdown," Dann said.
Ranauro said while he understands the argument of why staff and students wouldn't be informed that the drill wasn't real, he remembers a drill at Auburn Community Hospital — where he works security — in the summer. He said everyone in the hospital was informed that it was an "active shooter" scenario and that the situation was a drill. He said the drill still went well and that drills have occurred before, but people were still taking the matter seriously.
"All they heard was 'active shooter,' they didn't care it was a drill," Ranauro said.
Ranauro said he understands why the district wouldn't contact parents in the middle of an actual threat, but he said he wished the school would have contacted parents about the drill as it was unfolding. That being said, Ranauro said he appreciates how seriously the district and the APD take child safety. Ranauro said he can't recall his daughter mentioning other lockdowns before.
Dann suggested that when talking about lockdowns with their child, parents should say the drills are necessary due to various emergencies in other schools that have occurred across the country, and that students should follow the procedures they have been taught.
Kenneth Trump, president of the National School Safety and Security Services consulting firm, said parents should broach the topic using the language most appropriate for that child, though parents shouldn't "sugar coat" the topic's seriousness. He said students should be reminded that just as with a fire drill, a lockdown is meant to get students and staff out of harm's way.
Trump said the best way to mitigate stress about lockdowns is through parents and children to talk about schools and for districts to communicate with parents about the drills in place and how the district will communicate with schools in case of emergencies.
"While you can't predict every scenario, what (districts) can do is to reassure parents that they have reasonable plans in place to protect children," Trump said.
Pirozzolo said that as a parent and a school administrator, he understands concerns about wanting children to be safe. He lamented the "unfortunate" need for lockdown drills but said he views them as necessary. 
"We have got to be prepared under any circumstances for any emergency," Pirozzolo said.