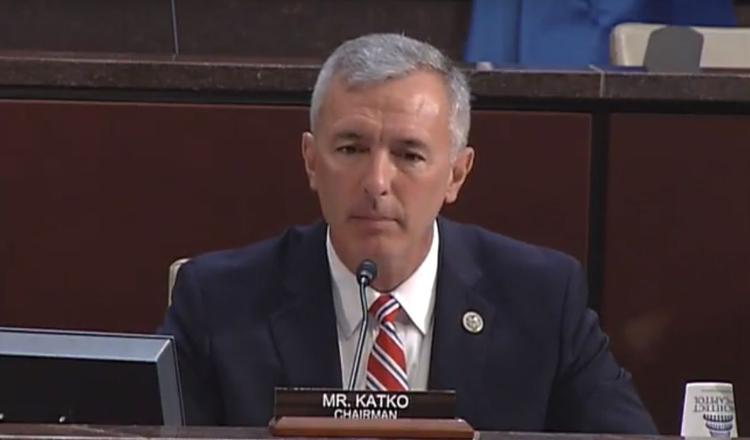 After a terrorist bomb plot was foiled in Australia, U.S. Rep. John Katko wants to know which international airports with flights to the United States are struggling to meet security standards. 
Katko, R-Camillus, has asked federal officials to provide a ranking of the 10 worst last point of departure airports that aren't meeting International Civil Aviation Organization security guidelines. The request was made at the conclusion of a House Subcommittee on Transportation and Protective Security hearing Tuesday. 
During the hour-long meeting, Katko quizzed three experts on the aviation security standards and whether the guidelines should be raised to address new vulnerabilities. 
Jennifer Grover, director of homeland security and justice for the U.S. Government Accountability Office, acknowledged that the international standards are comprehensive and provide a baseline for airports. She explained that Transportation Security Administration inspectors assess each airport's implementation of the regulations. 
She also noted that aviation security isn't just the airports' responsibility. 
"Even if there's vulnerabilities at an airport, that doesn't necessarily mean the flight departing that airport is not secure because the air carriers can fill in as a backstop," Grover said. 
That comment concerned Katko, who acknowledged that airlines have an incentive to maintain strict security guidelines. He cited recent plots that have been foiled or carried out at airports, especially in the Middle East. One incident was the MetroJet bombing in 2015. 
ISIS, a Middle Eastern terrorist group, carried out the attack that brought down the MetroJet airliner. Authorities said employees at the Egyptian airport the plane originated from smuggled a bomb onto the aircraft. 
With the existing security threats and potential for another devastating attack, Katko asked Grover if the international aviation security standards should be bolstered. 
"Given that there are airports that are currently not meeting the ICAO standards regularly that are in place now, I'm not sure that raising them across the board would necessarily help lift up those airports," she said. 
Grover added that TSA is working with the last point of departure airports to "enhance efforts to meet current ICAO standards." 
But Katko disagreed with Grover's position. 
"I don't think we should be in a situation of just simply saying they can't meet the ICAO standards as they are now so there's no sense of raising them," he said. "That's not what we should do." 
Katko said that security vulnerabilities are becoming more difficult to detect. One reason for Tuesday's hearing was the recent terrorist plot that was foiled in Australia. ISIS operatives attempted to smuggle an improvised explosive device onto a plane departing from Sydney. 
The Australian plot highlights the need for increased security measures, Katko said in his opening remarks. 
"We must always strive to lead because raising the aviation security standard around the globe will ultimately keep America safe," he said.