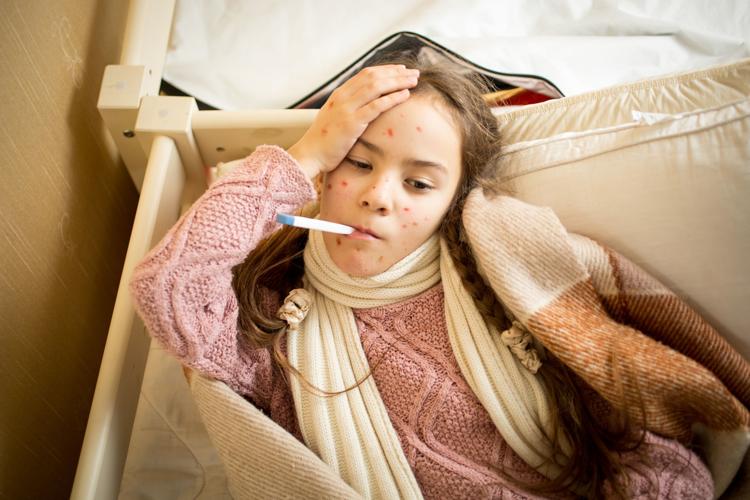 A Cato-Meridian High School student was determined to have a probable case of chickenpox, the district has announced.
A letter explaining the situation was posted Friday on the Cato-Meridian Central School District's website. The illness was not confirmed through laboratory analysis, but was diagnosed by the unnamed student's medical doctor. The letter, from district Superintendent Terry Ward and Cayuga County Health Department Public Health Director Kathleen Cuddy, said the student has had the chickenpox vaccine.
In a telephone interview Wednesday, Ward said he heard about the case from Kathy Nodine, the high school's nurse, on the afternoon of Jan. 25. He praised Nodine, saying she suggested contacting the health department that same day. Ward said the student can return once they don't have chickenpox anymore and their chickenpox blisters have dried and crusted; as they can no longer spread the disease.
Cuddy said Nodine contacted people in the school community she was aware of who could experience severe effects from the disease if they were to contract it — such as those who are pregnant or have immunodeficiency. Cuddy said she isn't aware of other probable chickenpox cases in the county. She doesn't recall hearing about another case during her 17 years as a department employee.
Ward used the district's new emergency phone system on Friday to send a pre-recorded message telling parents about the case. There have been no new cases reported, he said. Over the past couple weeks, Ward said, the district has been "vigilant" during flu season, wiping down surfaces such as desktops, door knobs, keyboards and drinking fountains.
Ward thanked the health department for its cooperation.
Cuddy praised the cooperation among the department, the district, Nodine, the student's health care provider and family.
"Everybody was on board with doing all of the ideal actions," Cuddy said.
According to the district's letter, chickenpox can be transmitted through people touching the saliva, blisters and mucus of an infected person and through the air by sneezing and coughing. Touching a newly contaminated item, such as clothing, can spread it as well. Touching the blisters of someone with shingles can also cause chickenpox in someone who has not been vaccinated and has never had the disease.
Someone with chickenpox can spread it one to two days before getting the rash, until all of the person's blisters scab over, typically from five to seven days. It normally takes a person up to three weeks to develop chickenpox after being exposed to someone with it.
Initial symptoms can include a sudden slight fever and feeling weak, with an itchy blaster-like rah following afterward. Chickenpox blisters are more commonly found on body parts typically covered as opposed to exposed parts.
It is recommended that those who have never been vaccinated for chickenpox or were vaccinated once, consult their health care provider about additional appropriate vaccination.