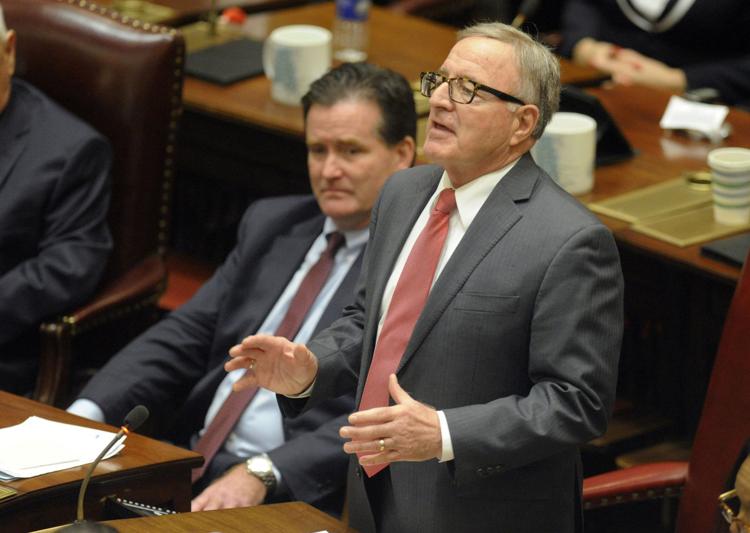 As two Republicans announced this week they will not seek the party's nomination to challenge Democratic Gov. Andrew Cuomo this year, state Sen. John DeFrancisco said he will soon decide whether to launch a gubernatorial campaign. 
DeFrancisco, R-DeWitt, has been exploring a run for governor since the summer. He has visited nearly three dozen New York counties and engaged in numerous conversations with Republican leaders. The discussions continued in Albany last week when lawmakers returned to Albany for the opening of the 2018 legislative session. 
"Decision time is rapidly approaching," DeFrancisco said in a phone interview with The Citizen. "It's gotta be sooner than later because I can't wait much longer if I'm going to do it. I've gotta feel confident in my mind that this is something that I can do." 
Republicans were dealt a blow when Harry Wilson, a corporate restructuring expert who many believed was the favorite to secure the GOP nomination, announced on New Year's Day that he would not be a candidate for governor this year. Wilson was willing to spend $10 million of his own money on the race and could have been a formidable opponent for Cuomo despite the Democrats' voter enrollment advantage in the state. 
The announcement didn't surprise DeFrancisco, who said he recently spoke with Wilson while the two were in New York City. During that conversation, Wilson didn't reveal whether he would run or not, but DeFrancisco came away feeling that he wasn't going to run. 
Wilson cited personal reasons for the decision. He has four young daughters and didn't want to miss spending time with them, especially his two oldest daughters who are now in high school. 
Another Republican, Dutchess County Executive Marc Molinaro, also announced he will not run for governor this year. 
With Molinaro and Wilson out of the race, DeFrancisco said his decision-making process hasn't changed. 
"My position points are still the same: Do I have enough support to get the nomination and number two, do I have a reasonable opportunity to win this?" he said. "It's going to be an uphill battle. No one will say differently, including myself." 
One reason DeFrancisco feels it will be an uphill battle is Cuomo's fundraising advantage. While the Syracuse-area Republican has been a successful fundraiser as a state senator, it pales in comparison to the governor's haul. 
As of July, Cuomo had more than $25.6 million in his campaign account. The latest campaign finance filings are due soon. The governor's war chest could increase as he prepares for his second re-election bid. 
The fundraising disadvantage won't be enough to scare away DeFrancisco. He has already conceded he won't raise as much money as Cuomo. His final decision will rest on whether he believes he can mount a competitive campaign and defeat Cuomo, who is seeking a third term. 
"I'm still in that phase," DeFrancisco said. 
If DeFrancisco jumps into the race, he will join two other upstate Republicans vying for the nomination. Assembly Minority Leader Brian Kolb launched his campaign in December. Former Erie County Executive Joel Giambra entered the race for the GOP nomination last week. 
Republican leaders are scheduled to meet Monday in Albany to discuss the 2018 ticket. The party needs candidates for other statewide races, including a challenger to face U.S. Sen. Kirsten Gillibrand as she seeks a second six-year term.