The Auburn Police Department is investigating the death of a 39-year-old man who was involved in a fight early Sunday morning. 
The APD and Auburn Fire Department were called to a house at 59 N. Fulton St. around 7:30 a.m. Sunday after a passerby discovered the body of Joshua Taro on the front lawn, according to a press release from the APD. 
A subsequent investigation determined that Taro — a longtime resident of Auburn — had suffered injuries consistent with an assault, police said. Later, police discovered Taro has been involved in a fight earlier that morning at Jitz's Tavern, located at 65 Franklin St. Subsequent interviews and surveillance images confirmed witness accounts, according to the APD's release.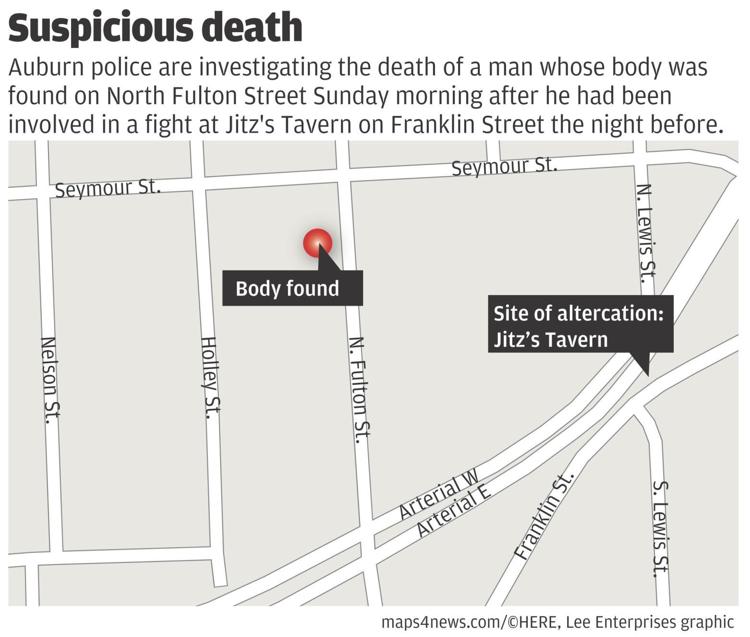 The cause and manner of Taro's death has not been officially determined, police said. However, a preliminary autopsy from the Onondaga County Medical Examiners Officer indicated that Taro's injuries did not result in his death. Police said further testing is being conducted.
"(Taro) did have some facial injuries, but the medical examiner was able to confidently tell us that those injuries were not the cause of death," Capt. James Moore said. "We have verified that he was in an altercation or two earlier that day." 
Moore said Taro was a patron at Jitz's Tavern sometime late Saturday or early Sunday. The altercations allegedly occurred outside the bar overnight.
The APD is requesting that anyone who has information regarding this incident, or who may have been in the area of Jitz's Tavern or 59 N. Fulton St. Sunday between midnight and 7:30 a.m. and witnessed the fight or anything suspicious, contact the APD Detective Bureau, Detective Bryant Bergenstock, at (315) 258-9880 or (315) 253-3231. Callers may remain anonymous.