AUBURN — Most high school students fill their after-school hours with an extracurricular activity.
So does 15-year-old Aaron Lesch, but it's not the kind of extracurricular one would normally think of.
Lesch, a sophomore at Manlius Pebble Hill School in Syracuse, now runs his own streetwear shop called Kick it Back, where he sells new and used name-brand shoes and vintage clothing. The shop, located in newly renovated space at 147 State St. in Auburn, is owned by Lesch's parents, but they let him run his store out of the building's first floor. 
Lesch said he has wanted to run his own store since the summer before he went into eighth grade, when he bought his first pair of sneakers as a way to individualize his school uniform of button-up shirts and khaki pants. 
"I came to the conclusion that I really needed something to make myself an individual," Lesch said. "I've always liked to be an individual."
By the beginning of that school year, Lesch had turned one pair of shoes into almost 30 different pairs. 
"That's when my reselling and streetwear addiction became strong," Lesch wrote on his store's website, kickitbackny.com. 
Lesch said the biggest challenge he has faced during the month his shop has been open is coming up with a way to describe it to people. 
"A lot of people ask what my business is and when I say it's a sneaker shop, they think of Foot Locker or something like that," Lesch said. "This business is so unique, especially for this location, that it's almost hard to have a specific name, but I like to call it a streetwear shop." 
Streetwear is typically described as casual, comfortable attire with vintage, skater or hip-hop elements. 
Along one wall in Lesch's Auburn store are racks of sneakers from brands such as Air Jordan, Yeezy and Nike. He has a rack of shoes for $100 and under, but other shoes come with a hefty price tag. Lesch has a pair of used Adidas Yeezy Boost 350 sneakers on sale for $700.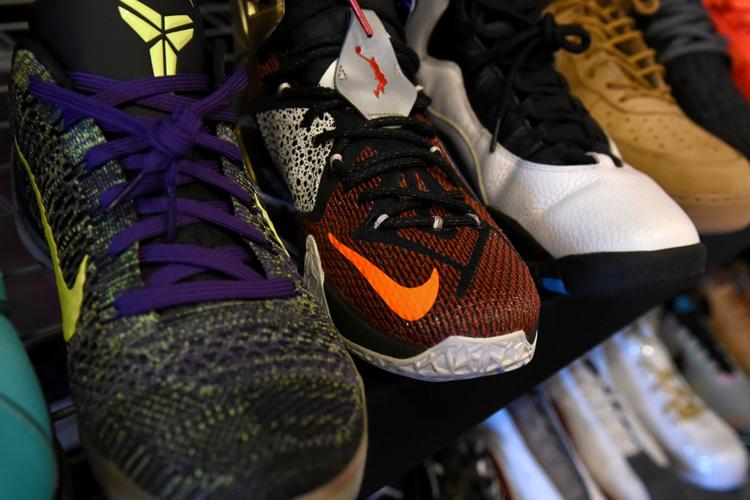 "In my opinion, I have some of the best prices I've ever seen for most of these shoes," Lesch said. "But of course, I still need to make money. It's not like I'm just giving them away."
Lesch said the clothing selection at Kick it Back is "pretty diverse." He carries brands such as Supreme, Screen Stars, Polo, Tommy Hilfiger and Nautica. Lesch also has an entire rack of vintage jerseys and sports T-shirts. 
"Anyone that appreciates vintage culture or streetwear culture or any sports history, this spot pretty encompasses all of that," Lesch said of his shop. 
Lesch's merchandise is available to purchase online. He ships around the county and internationally as well. 
Most of the store's selection is catered to men, but Lesch said he is working on getting more products for women as well. He purchases his merchandise from online shops like eBay, from going to sneaker events and from people bringing him stuff to sell.  
"Within this type of culture, new and used don't really matter," Lesch said, adding that customers like getting a good deal on unique items.
Another aspect that makes Lesch's store unique is its name. Lesch said he wanted a name that could be shortened into an acronym — stylized as KiB — and could also have multiple different meanings. 
Kick it Back refers to the store's laid-back and comfortable style. It is also a reference to the shop's vintage items, which have made some people nostalgic about the past.     
"A lot of people come in and say, 'Wow, I remember all of this stuff from when I was growing up or from my childhood,'" Lesch said. "For a lot of people, that's a special feeling."