AUBURN — In an unexpected move Tuesday night, the Cayuga County Legislature passed the 2018 budget, although not unanimously.
The budget, which is typically passed in December, includes a 2 percent increase in the tax levy, though that's under the state tax cap. The county will use approximately $580,000 of its fund balance to balance the $146,430,725 budget.  The tally was 10-4 in favor with one legislator absent.
Legislators Mike Didio, Joe Bennett, Andy Dennison and Tucker Whitman voted against passing the budget, and Legislator Ryan Foley was absent. 
Bennett said he could not support a tax increase when the county's "coffers" seemed to be full. He wanted to see taxes kept at a flat line.
"I'd like to go on the record that I will be voting, 'no,' on the budget because I don't believe that the taxpayers of Cayuga County deserve any kind of a tax increase," he said. 
No members of the public spoke at the budget hearing Tuesday night, despite Chairman Keith Batman's multiple breaks in the Legislature meeting to see if anyone wanted to address the body. Prior to the final vote, Whitman asked Batman about the special Legislature meeting to be held on Dec. 5. He wondered if the public would want an opportunity to speak on the budget then.
"To be clear the Dec. 5 meeting was not a public hearing," Batman said. "Anyone who wanted to speak on the budget would have come tonight, or should have come tonight. The Dec. 5 would have had a public to be heard, but there would not be a public hearing."
Batman said that meeting could be canceled and would be advertised as such.
Some notable aspects of this upcoming year's financial plan include a 1.9 percent salary increase for all non-bargaining and elected positions in the county. Raises for elected and appointed officials will be voted on as a separate resolution likely in December or January, said Budget Director Lynn Marinelli. 
The budget also includes two special reserve accounts of $2 million each. One will be specifically for county highways and the other will be for county buildings. 
There will be an $18,000 line item, too, devoted to water quality testing for Cayuga Lake. Didio tried Tuesday night to create a $1 million reserve using fund balance monies for water quality issues, but Batman suggested that idea go through the Legislature's committee process first instead of the budget.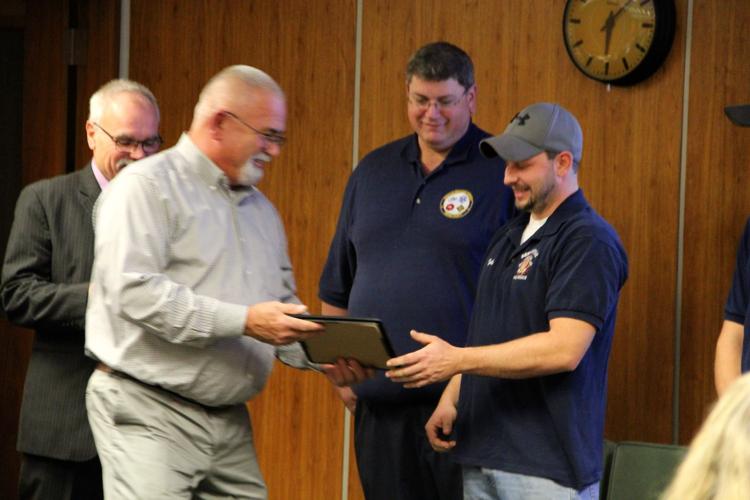 • Two Cayuga County groups were honored with proclamations Tuesday night for their work in the community. The Sempronius Volunteer Fire Department received accolades for their training and work amidst some of the worst flooding the southern portion of the county has ever seen.