MORAVIA — Tim Lozier gets up each morning in the summer and between 7 and 8 a.m., hops on his 52-feet-long, 21-feet-wide mower. But it's not grass he's cutting.
Around 11 a.m. Wednesday, Lozier, a motor equipment operator for the Cayuga County Soil and Water Conservation District, revved up the engines for the third time that day and took the FX11 Harvester out on the southern end of Owasco Lake. The machine cuts thousands of pounds of weeds each day, and once Lozier hits his approximately 15-ton capacity, a transporter will meet him to offload the latest round's catch.
"It's just like mowing on the highway," Lozier said. "You cut it, and in three weeks, you got to cut it again."
The Cayuga County Aquatic Vegetation Control program, which is funded by the county and the Finger Lakes Lake Ontario Watershed Protection Alliance, helps fend off invasive species and excess nutrients that choke off the lakes. Fewer weeds also makes for better boating and swimming. 
With one harvester and one transporter for all of the water bodies in the county, Doug Kierst, executive director of the district, said it's likely that only Owasco Lake and the 12 miles of the eastern shore of Cayuga Lake will be cut this year. 
"Unfortunately, our budget got cut over the years," Kierst said. "Last year, we didn't cut Owasco Lake. I don't think we're going to have any money left for Otter Lake, Sodus Bay or Lake Como. You can only spend the money you have."
Another challenge the weed harvesting program is tackling is the weather. Drought conditions have made offloading the weeds to shore nearly impossible in many of the areas they traditionally have used because the water is so shallow. Lozier said Owasco Lake's level is about 16 to 18 inches lower than usual, making it difficult or impossible for him to get to some people's docks and shores to cut.
It's slow work, too. The harvester moves at a maximum 5 mph, but usually runs about 3 mph when carrying a heavy load. The transporter travels a whopping 3 mph faster at about 8 mph.
Lozier looked out toward the opposite end of the lake.
"It'll take 3 1/2 hours to get to Emerson Park, so you better pack a lunch," he said, laughing.
So far Lozier has cut most of the northern part of the lake from Emerson Park to Widewaters in Niles on the eastern shore and from Emerson Park to Ensenore Road in Moravia on the western shore.
On Wednesday, the harvester meandered about 3/4 of a mile from the South Shore Marina in Moravia, picking up curly-leaf pondweed, coontail, elodea, eel grass and a new form of vegetation, which Kierst said he hopes to identify soon. The new weed is either a native plant, a water marigold, or it's an invasive species called fanwort.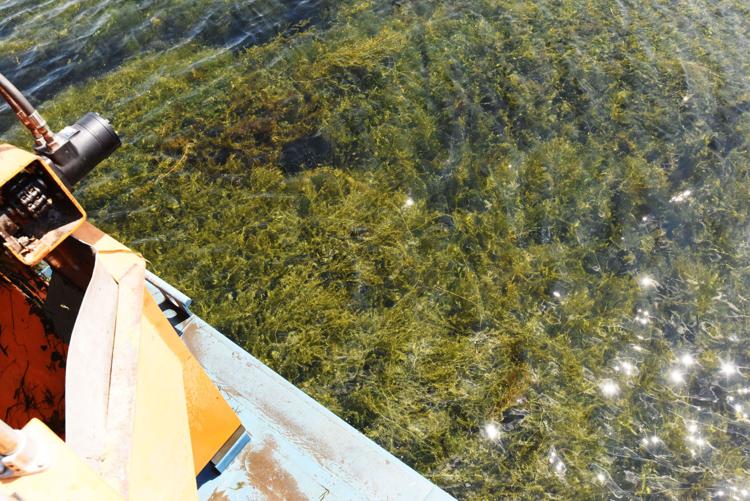 Lozier said he's collected between 175 and 200 tons of weeds from Owasco Lake since he started at the end of June. 
Wearing polarized sunglasses to see the weeds in the water, Lozier can spot where he's already been and where he needs to go. 
A family walked along their dock, preparing to take out their motor boat and enjoy the high 70s weather. Lozier gingerly pulled up to their dock, collecting a mat of green, with the occasional mud puppy wiggling its way down the conveyor belt and back into the water. The family waved to Lozier.
"I'm a celebrity," he said, laughing. "Everyone knows me and waves to me. In 21 years, I've never touched a boat. I've come four feet within a $1 million yacht."
He surveyed the family's dock on the south western shore. 
"I consider that dock cut, but I got a lot more to go," he said. "That's my job. If I see a couple of kids swimming, or rafters, I try to cut a pathway for them. Usually everyone's clapping."
When Lozier's cutter is filled to the brim, he calls his partner on his cell phone to bring out the transporter.
"This is the fun part," Lozier said. He grinned.
The two meet in open water, and like the game Barrel of Monkeys, they maneuver the machines until they hook together. Lozier offloads the approximately 15 tons through a conveyor belt system onto the transporter. The transporter goes back to shore and loads the weeds onto a truck, which Lozier said drops off the catch to various composting farms in the area.
Kierst and Lozier said they plan to have Owasco Lake finished up by the end of July. Then it's onto Cayuga Lake, where floating weeds tend to be the main source of problems.
For now, Lozier takes it one day at a time.
"It depends on how far away I am, and how thick the weeds are," he said about his day-to-day coverage of the lake. "I either go miles, or make piles. There's just not enough hours in the day at 5 mph."