Sempronius Fire Chief Tyler Bloodgood is also a town medium-equipment operator for the highway department. So when Mitchell Road washed out — the road crumbling away into a ditch about 10 feet deep, trees fallen across and what road bed is left, softened and unreliable — he knew what that meant for the town.
"With that really being closed, it's give or take an extra seven to 10 minutes for an ambulance to get to us if there's an emergency on that side of town," he told The Citizen in a phone interview Wednesday. "My main concern fire-wise is that it's a delayed response for coming and going units."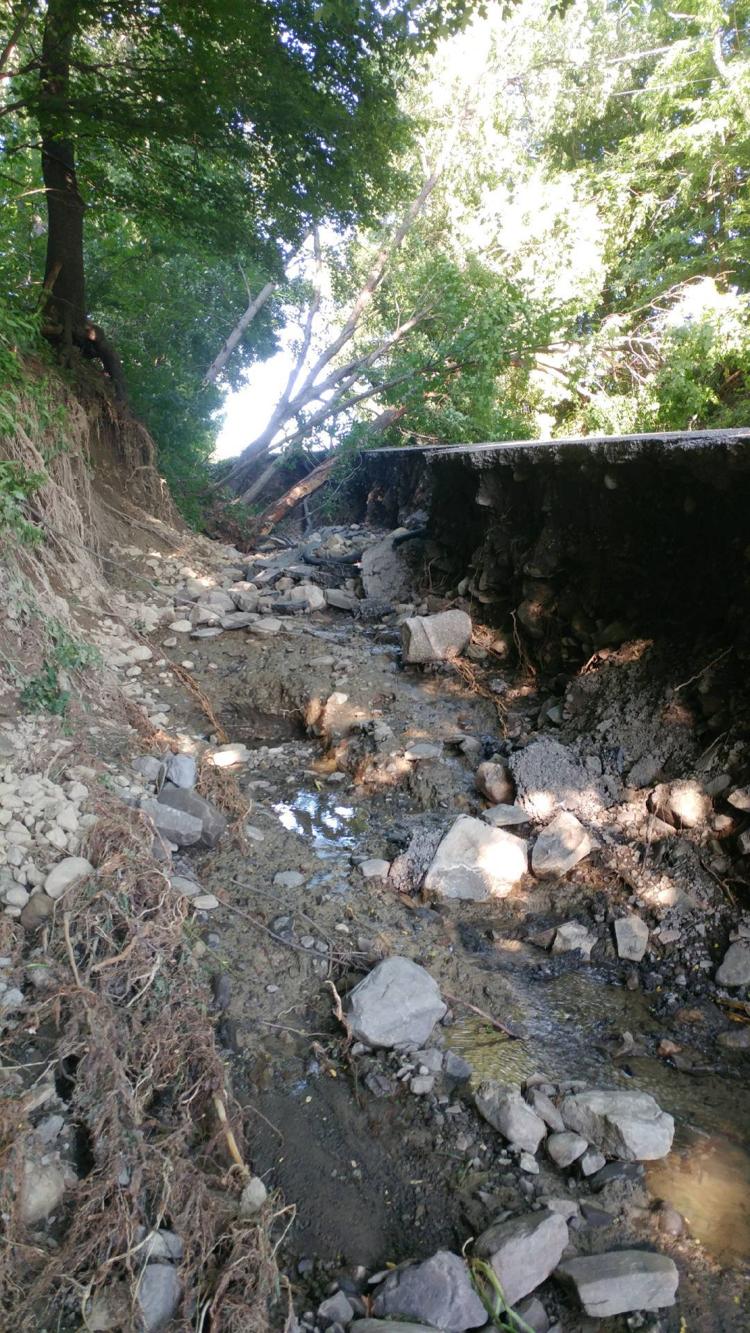 And that delay happened Wednesday when a call came in, he said. Crews now have to take Dresserville Road or Sayles Corners Road, but not all responding mutual aid departments know to do so. Bloodgood said he has to make sure departments know not to come down Mitchell so it doesn't add even more time to the response.
Besides not having the equipment to fix that size of a project, the cost to do so is well beyond a small-town budget.
"Even if we started fresh, we wouldn't have the money to fix that road, so we're looking for help from outside, the state, and if we get to that FEMA (Federal Emergency Management Agency) mark, I know it's slow, but anything would help," Bloodgood said.
Niel Rivenburgh, deputy director of the Cayuga County Office of Emergency Services, said the cost to fix Mitchell Road is about $200,000. Sempronius' town roads in general are creeping up to $500,000 in damage, not including county roads, Bloodgood said. 
Between the village and town of Moravia, Sempronius and the town of Niles, the state Office of Homeland Security and Emergency Services is estimating upward of $1.5 million in damages to infrastructure, Rivenburgh told county legislators at the Judicial and Public Safety Committee meeting in Auburn Wednesday night. That does not include assessments of individual homes and small businesses.
To pay for everything, he said, would bankrupt the towns and village.
Cayuga County Highway Superintendent George Wethey told legislators at a Public Works Committee meeting Tuesday night that the damage to county roads at the southern end is approaching $600,000, though he thinks that estimate may be conservative. Paving has been at a standstill while highway crews in Venice and Auburn help with cleaning up culverts, washed out roads and landslides. 
"At this point I'm quite concerned," Wethey told legislators. "I am buying riprap (loose stone) and stuff I did not budget for. If FEMA doesn't come through, good, bad or indifferent, I can't complete some of my paving."
Rivenburgh said he thinks between the five to six counties affected by the storm, that the state will reach the financial threshold to qualify for FEMA funding. The village of Fair Haven qualifies already following heavy Lake Ontario flooding, though Rivenburgh said they're still waiting for FEMA's approval. Rivenburgh said if both ends of the county are approved, it will be the first time in his approximately 10 years working for Cayuga County that there will be two FEMA disaster zones.
In the meantime, Bloodgood and Rivenburgh are looking to the skies, concerned about rain in the forecast. 
"There's no place for it to go," Rivenburgh said. "There's so much damage to culverts and roadways. Half (of Mitchell) Road is gone now, but if you add another torrential rain, it will just be gone."