The state Office of Emergency Management has plans to bring a sandbagger stationed in the Fair Haven area to Locke within the next day or two to help southern Cayuga County with its severe flooding.
Niel Rivenburgh, deputy director of the Cayuga County Office of Emergency Services, said the county highway department brought about 500 already filled sandbags from Fair Haven Thursday to help residents prepare for the aftermath of the constant rain bursts. 
Damage to county roads has doubled, Rivenburgh added, with a projected price tag of about $1 million to repair roads. County Highway Superintendent George Wethey had said earlier this week that the flood damage was about $600,000 following a July 1 storm, but Rivenburgh said Thursday's rain washed out all the fixes that had been made. 
"Every culvert was flooded, and every roadway that had been flooded was flooded again, and all of it was running into Moravia," he said Thursday evening. "It really didn't have a huge impact in Moravia, and I think that's because the city of Auburn has been super responsive to keeping the floodgates open and letting the water go out."
The Owasco Lake Inlet in Moravia was measuring minor to moderate flooding levels at about 8.96 feet as of about 3:30 p.m. Thursday. Flood stage is at 8.5 feet. 
Bolstering up Millstream Court Apartments in Moravia is a priority for emergency responders at this time, Rivenburgh said. The building was evacuated July 1 due to flooding, and responders hope they can get enough sandbags ready to keep it inhabitable throughout the next batch of rain expected between Thursday into Friday.
This year's rain is breaking records, too. The National Weather Service reported the average precipitation for a normal year in Auburn is about 20.86 inches. Auburn is at its record highest this year since 1897 with 29.77 inches as of July 13. The total precipitation this month is reaching a record, too, coming in at 4.17 inches, nearly 2.5 inches more than normal months. The record monthly high was in 1968 at 4.56 inches.
Cayuga County 911 Dispatch reported about 31 calls as of 3 p.m. Thursday due to the flooding. Most were flooded basements and homes, though Sempronius Fire Chief Tyler Bloodgood reported new flooding to roads. Thursday morning Bloodgood found Scott Gulf Road a rushing river of water, though the road did not need to be closed for cleanup. 
Rivenburgh said several roads were closed temporarily while crews cleaned up debris, but he did not know of any new ones that had been permanently closed.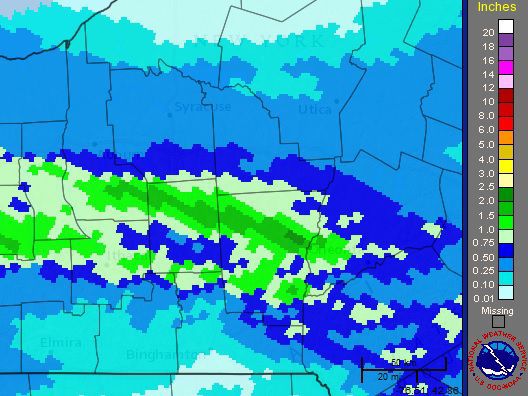 The National Weather Service issued a flash flood warning until 4:45 p.m. Thursday for southern Cayuga County. The service said the flood crest near the Moravia stream gauge was expected to occur by 6 p.m. Flood levels could reach 11 feet, which the service said is slightly worse than the flooding on July 1.
The Cayuga County Office of Emergency Services is still collecting information from residents about flooding damage as part of a state assessment. Details can be emailed to damage@cayugacounty.us.