Driving down North Glen Haven Road in the town of Niles Wednesday, "for sale" signs dotted the southern part of the road, sandwiching a crew of Cayuga County Highway Department workers as they replaced a washed out culvert.
With the road bank caved in, and trees hanging precariously on the hillside up above, Doug and Kathy Sage walked up their driveway to see how the roadwork was going. The Sages live in Maryland, but they had been warned prior to coming that their vacation home on Skaneateles Lake had been involved in multiple problematic rainstorms. 
The ditches along their driveway were about two feet deeper than usual, and there was about six inches of silt and sediment on their stairs and deck when they arrived. There's a new silt peninsula not far from their dock stretching into the lake. Other than that, they said, their biggest concern is the main roadway.
"We've been pretty lucky," Doug Sage said. "Our story was fairly low drama."
For many, the story was much worse, and that includes local municipalities who are crippling under large-scale, costly road projects. 
Bruce Nodine, superintendent of the Sempronius town highway department, said the constant rain is washing out all of his crew's temporary fixes.
"You fix, and you go back, and fix again," he said. "It's the only thing you can do."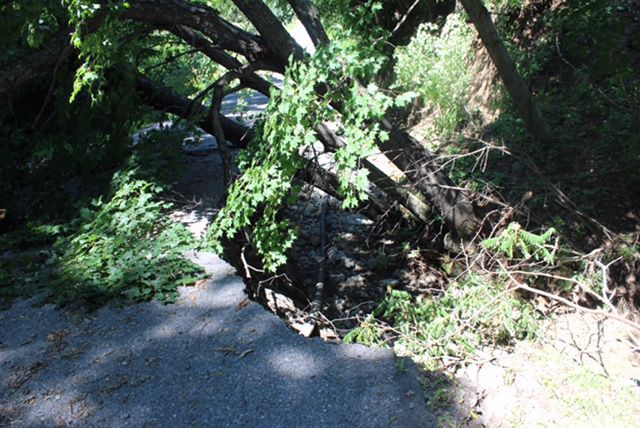 Following an emergency request Rivenburgh and his office put in with the state Department of Transportation, DOT crews came in and worked with Sempronius, Summerhill, Niles and Sennett highway departments to get the ditches filled, the trees cleared and the road safe enough to open. Nodine added that he was amazed to have crews as far away from Sennett come to help, after they had reached out to him through the Highway Superintendents Association of Cayuga County. 
The work, which Nodine estimated would have taken his four-man crew six weeks to complete, was finished in just three days. And what would have been an approximately $90,000 bill, at least, in materials for the town is looking to be about $15,000 to $20,000 due to the assistance. 
Not only that, but the third storm to hit Moravia proved to be an odd blessing for Sempronius. Silt and sediment that needed to be removed from the Moravia cleanup was hauled to Mitchell Road and used to fill the ditches.
"It was shared services at its finest," Nodine said. "It's not finished, but it's passable. In my mind, that in itself was huge.
"We're a long ways from done," he added "The biggest thing on our minds is, winter is coming. We're trying to get things addressed before snowfall. That's what's driving our priorities."
Snow, Rivenburgh said, is usually not on the general public's mind in July, and so occasionally highway departments get criticized for the projects they are working on first. Rivenburgh is uncertain whether the state will reach Federal Emergency Management Agency disaster thresholds for this flooding event, but, he said, his office, local officials, local highway departments and fire departments are championing for their communities. 
"FEMA's not coming until FEMA decides they're coming," Rivenburgh said. "What we know is there are tens of thousands of people impacted in Cayuga County and other areas of the state. Everyone's doing the best they can. We don't know what the outcome is going to be until they decide to be here. When they engage, things move quickly. When they don't engage, things move at a snail's pace."
The lack of funding help right now is slowing down regular work for highway crews, too. Cayuga County Highway Superintendent George Wethey has told legislators at committee meetings that his regularly scheduled summer paving is not getting done because crews are fixing roads down south. Legislator Terry Baxter had said at the full Legislature's meeting Tuesday night that he'd like the body to consider moving around money into the highway account since Wethey said his paving funds are being spent on cleanup materials. Rivenburgh added Wednesday that the damage could upset highway work for the next two or three years.
Another sector that Nodine said has been affected and not getting a lot of attention is the agricultural industry. Darren Reynolds sees the damage from both worlds. A medium equipment operator for Sempronius and a farmer at his father's crop farm, he said there isn't enough time in the day to get everything done.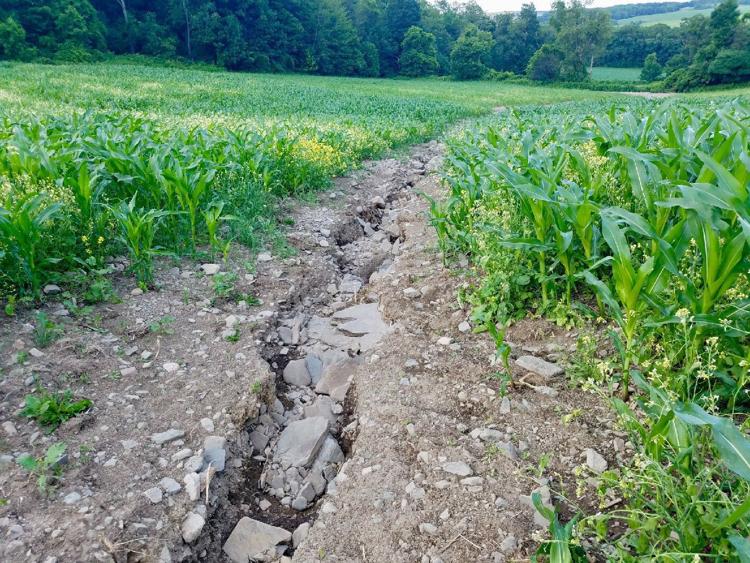 While the rain is making the corn look healthy and abundant, the stalks cover the mud and erosion that some fields have underneath. Rivenburgh said the U.S. Department of Agriculture has disaster relief funds, too, and he's assisting some farmers through his office's call for damage reports.
Reynolds said that unless things dry out quickly, harvesting on his fields will be difficult.
"Mother Nature is going to see we're going to earn it," he said about this season's harvest. "We just struggle through it."