AUBURN — Thursday night thunderstorms were just the drum rolls to a beautiful sunrise Friday when about 50 Cayuga County veterans gathered at the New York Army National Guard Armory in Auburn before embarking on their weekend trip to Washington D.C.
In a small ceremony to kick-off the second Operation Enduring Gratitude, Master Sgt. Travis Muhlnichel welcomed veterans to the base and thanked them for their service. With veterans spanning three wars — World War II, the Korean War and the Vietnam War, Muhinichel addressed his predecessors.
"We live in a great nation, a great state, a great country, a great city and a great county," Muhnichel said. "I'm proud to work in this city and to be a resident of Cayuga County. The kindness of individuals and organizations show that a trip like this one does not go unnoticed."
Congressman John Katko appeared at the armory, too, thanking the dozens of men and women for their service. He said because of the individuals before him, freedom and democracy have been preserved. 
"You don't understand the great impact you've had on our country," he said. "We will never forget what you were able to do for us and have done for us and what you represent, because what you represent is probably some of the greatest aspects of this country."
For many of the veterans, it will be the first time they see the nation's tributes. Steven Rhodes, of Auburn, accompanied his father, John G. Rhodes. They said they never would have gone to the capital if it hadn't been for the trip. Steven Rhodes was overjoyed, he said, to be able to experience such a journey with his father and so many others who served the country.
John G. Rhodes, of Fleming, served in the U.S. Navy during the Korean War. Recently turned 85, he said he was excited to see D.C., especially looking forward to the Lincoln Memorial.
"I've wanted to see that all my life, and this is my chance," he said.
Following the ceremony at the armory, the veterans got onto two coach buses. A Cayuga County Sheriff's Office escort led the buses down South Street, with sheriff vehicles and Auburn Police Department vehicles blocking off side streets. As the buses approached Memorial City Hall, veterans could see a large American flag perched high above the street, and members of the Fleming Fire Department, Auburn Fire Department and the Cayuga County Sheriff's Office and honor guard lined both sides of the street in salute. Family and friends gathered under a second large flag hanging from city hall. People clapped, waved and took photos.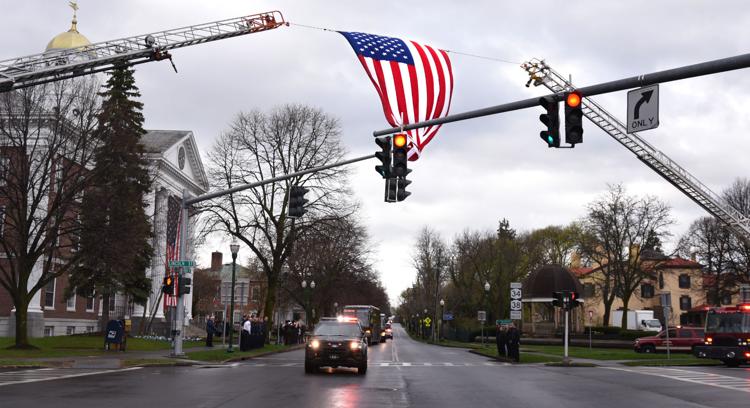 Michael Emperato gazed out the bus window at the spectacle. 
"You know, you live in a city all of your life, and you say, 'Where did all these people come from?'" the Korean War veteran from Auburn said. 
His son, Darrin Emperato, sat next to him. It was his idea to take his dad on the trip. A member of the Knights of Columbus, Darrin Emperato said they've never gone on a trip together.
As buses got ready to leave, Auburn Mayor Michael Quill and Cayuga County Legislature Chairman Keith Batman saw the veterans off following a fly over from Onondaga County's Air 1 helicopter. The theme of gratefulness to the veterans only continued throughout the day.
Upon learning about Operation Enduring Gratitude, Peter Puhalla Sr., commander of the Veterans of Foreign Wars Shopa-Davey Post 6082 in Peckville, Pennsylvania wanted to show his appreciation to the Cayuga County service members rolling through.
About 10 post members fixed up a hot lunch for the approximately 100 people, a welcome rest stop along the way. Even the mayor of Blakely Borough, Pennsylvania, Jeanette Mariani, attended the gathering of strangers, related in country, service and dedication.
"Thank you for coming here," Puhalla said. "It's our highest honor to do this for you. Anything we can do for the veterans, we do."
Gallery: Operation Enduring Gratitude sends Cayuga County veterans to Washington
Cayuga County veterans traveling to Washington to visit the memorials and monuments on the National Mall as part of Operation Enduring Gratitude.
Follow Gwendolyn Craig's live blog as she travels with the veterans.