WATERLOO — Windy days are better than stagnant days at Seneca Meadows landfill. Kyle Black, district manager, said the breeze swirls around the garbage smell, diluting it, rather than letting it hang heavy in the air. 
To keep the dust down, a truck drives back and forth on the working landfill, sprinkling water and keeping the sand moist. Every night, workers cover the average day's 6,000 tons of new garbage with sand, helping cut down on the smell and keeping debris from escaping the landfill's footprint.
Of the approximately 2,500 acres that Progressive Waste Solutions owns in Seneca County, the footprint of the landfill itself is about 540 acres — or about 405 football fields.
Standing on top of one of the covered mounds, Black looked down at the currently active 36-acre cell. Between 300 and 400 trucks a day carry the trash to the site, where machines crush it down with their large spiked wheels.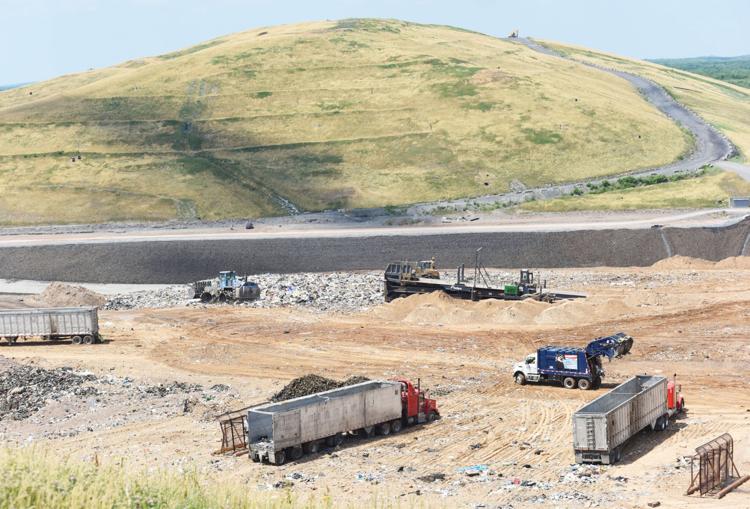 From a birds-eye view, it looks like a child's sandbox.
It's just a few of the communities the landfill serves — whether they hate or tolerate its presence.
With Seneca Meadows up for its 10-year permit renewal with the state Department of Environmental Conservation next year, protests have ramped up. People are calling for the permit to be denied, and for the landfill to shut down before it has reach capacity.
But the reality — for private waste haulers and municipalities alike — is that trash has to go somewhere, and in 2015, 28,274 tons of Cayuga County's trash went to Seneca Meadows.
The town of Owasco is one of those county municipalities that haul through the private contractor, We Care Waste and Recycling, to Seneca Meadows. Though the city of Auburn's municipal landfill may be closer, Town Supervisor Ed Wagner said Seneca Meadows was ultimately cheaper. If Seneca Meadows were to close, Wagner said it could be quite costly for taxpayers.
"Look at New York City," Wagner said. "They're transporting it all the way up to Seneca Meadows. We may have to take it out of state if that place closes. It's got to go someplace."
Jeff Goodell, the assistant supervisor for the town of Weedsport's Department of Public Works, said that community also transports trash to Seneca Meadows. He said the town brings about one load per week there, weighing between 12 and 14 tons.
Several private contractors that pick up trash from various municipalities — including Casella Waste Services, We Care and Feher Rubbish Removal — use Seneca Meadows and the Auburn landfill, depending on where the trash is picked up. Amer-I-Can Container generally uses the Auburn landfill, unless its haulers pick up materials not accepted by the city.
John Montgomery, sanitation supervisor for Auburn's landfill, said the city, some private contractors, and the state and county transportation departments bring their trash there. Currently the plot takes up about 10 acres, and Superintendent of Public Works Mike Talbot said in about five years they expect to be full.
Talbot said at the current rate, the Auburn landfill takes about 60,000 tons a year. Seneca Meadows takes that amount in about 10 days.
"We're a small landfill," Talbot said. "We're not even in the same league as those to the west of us. They rely on tremendous amounts of outside-the-area garbage. We're more of a local landfill, and once we're at capacity, we're not, at this time, going to pursue any other space."
And that brings the question of what would happen should protesters be successful in securing a denial of Seneca Meadows' 10-year permit renewal, which currently expires in 2017? The DEC has not yet issued a permit renewal, according to a spokesperson, because additional information was requested from the applicant. The deadline for the permit renewal has been extended to Aug. 24. Should the DEC think the application is adequate, a public hearing will be scheduled prior to making a decision.
Talbot said they do not want to collect any more garbage at the Auburn landfill than they currently are. Ontario County has a landfill about half the size of Seneca Meadows. Some local towns and villages use their own stopover, or transfer, station. Aurora, for example, uses a station in Ledyard.
The DEC said when a landfill closes, waste generators must direct their waste to another permitted solid waste management facility, but the state is not involved and not currently aware of any new landfills being proposed.
Black said one of the advantages of having the third largest private waste management company in North America operating a landfill on your doorstep is a combination of saving money and protecting the environment. Because of its size and financial backing, Black said they are able to implement many recycling efforts that the average landfill may not be able to do.
For example, Seneca Meadows collects and recycles about two million tires per year. Many of the tires get ground up and used as part of the landfill liner parfait. There's a layer of clay, typically harvested from on site, a layer of plastic, and then a drainage layer — stone or tire, but at Seneca Meadows it's typically tires. It costs about $500,000 per one acre of liner, something Black said would be difficult for smaller towns and villages to afford.
"If there were more landfills, you'd have that many more environmental liabilities," Black said. "Just for every municipality to have their own landfill, that doesn't make any sense."
At its current collection rate, Seneca Meadows is expected to reach capacity between 2023 and 2025. Currently, the site they are working on now is good for another two to three years, and they're working on mining soils at an area adjacent.
Black said they are not looking to expand across Route 414, despite some rumors. He did say, however, that the original Tantalo landfill, which started as a 30-acre landfill for a local construction business in the 1950s, could potentially be permitted for a new expansion site. The Tantolo landfill is a smaller mound, compared to its surrounding landfill mountains, and it sits in the middle of the Seneca Meadows' footprint. 
DEC was involved with remediating the Tantolo site, and a spokesperson confirmed that project has been completed. The DEC said it has not received an application for expansion, but said should Seneca Meadows wish to use that site, it would require a new landfill application subject to full procedural and technical requirements of applicable regulations.
Wagner said as long as the landfill is following the DEC's guidelines, using best practices and protecting the environment around it, he does not have a problem with Seneca Meadows expanding, either. 
"My concern is the affects on the environment," Wagner said. "As long as they do it in a way that guarantees it's not going to leak into the aquifer and pollute lakes and natural resources, I don't have a problem with it. Trash has to go somewhere, and as long as they do it in a respectable way, it might as well be there. It generates a lot of revenue and tax dollars for that county."
According to the DEC, Seneca Meadows has not had any violations of its permits to operate in over 15 years. A spokesperson did say the landfill has been dealing with odor issues, but it has not been cited for any DEC air program violations. A DEC environmental monitor is on site every day to conduct and document about 100 compliance inspections per year.
When the day does come that the landfill shuts its gates, the DEC said a final cover consisting of impermeable barriers and soil layers will be installed on waste cells not already closed. Monitoring of the groundwater, collection and treatment of leachate, management of landfill gas and final cover is inspected and maintained for years after.
"That's the art part of the science," Black said. "It's all in intake. If we didn't take 6,000 tons a day, and we cut back to say, 4,000 tons a day, well then obviously the space would last longer. Or, more importantly, if recycling were to pick up and instead of 10 percent recycling the state was dong 20 percent, well, then in theory, there would be that much more landfill air space."
Landfill protesters from the Finger Lakes Zero Waste Coalition want to see trash coming from downstate halted, and the state to enforce more recycling efforts, according to a release from April around the Geneva protest march. 
"We are committed to reducing our own garbage through recycling and composting, but we need to address the 98 percent of garbage that comes from outside our region," said Katherine Bennett Roll, secretary of the coalition in a release. Bennett Roll could not be reached for comment.
The coalition had also said more pressure needs to be put on the DEC and the state of New York to reduce waste to stop the perpetuation of an "unsustainable status quo, landfilling."
Whether the landfill closes next year or in 10 years, it will be up to the county's municipalities, or potentially individual homeowners, to figure out where to bring their trash next.