Weekly top reads: Auburn dance studio closes, Owasco car break-ins, Baldwin visits Weedsport store
The Citizen's top 10 most-read stories of the week. 
Pedestrian hit by car in downtown Auburn
An adult female was hit by a car Tuesday afternoon while crossing the street in the city of Auburn.
Assistant Fire Chief Ed Sherman said the woman's injuries were not life-threatening, and the impact at which she was hit appeared to be very low. There was no damage to the car, he added. 
The accident occurred at the intersection of North Street and Arterial East around 3:15 p.m. A white Mazda appeared to be traveling westbound on the Arterial, turning right in front of Little Caesars Pizza while the pedestrian was crossing North Street. 
The Auburn Police Department and Auburn Fire Department shut down the stretch of North Street between the two Arterial lanes while emergency responders attended the female. She was holding her head as EMTs propped her up onto a stretcher and brought her into an ambulance. She was transported to Auburn Community Hospital. 
No one in the car appeared to be injured. The road was back open before 4 p.m. 
Auburn woman admits selling heroin, fentanyl that caused near-fatal overdose
AUBURN — An Auburn woman said she sold a man heroin, fentanyl patches and Adderall last year to earn the money and drugs to support her own addiction. 
Christina M. Deuel, 40, of 7305 State St. Road, pleaded guilty Thursday to one count of third-degree criminal sale of a controlled substance, a class B felony. 
Deuel was initially charged with attempted third-degree criminal sale of a controlled substance after the Cayuga County Sheriff's Office said she helped arrange the sale of 15 bags of heroin to undercover deputies last December. However, that wasn't the incident to which she pleaded guilty to Thursday. 
In Cayuga County Court, Deuel said she helped arrange another transaction two days prior to the attempt with undercover officers. Deuel said she purchased the drugs from a dealer on Dec. 6, 2016, and then sold them to a man at her former residence on Washington Street. 
"I would make money off of it to buy drugs for myself," Deuel said. "I scored either cash or drugs." 
Deuel said she later learned the man had suffered a near-fatal overdose from the heroin and fentanyl she sold him. The Cayuga County District Attorney's Office said that overdose had prompted the investigation at the sheriff's office. 
Deuel's guilty plea Thursday satisfied other charges pending against her. She could face up to nine years in prison, but Judge Thomas Leone agreed to sentence her to one year in prison and two years post-release supervision. Leone added that he would likely include a Willard order, which would allow Deuel to receive substance abuse treatment while serving the majority of her sentence as parole supervision. 
Deuel was continued out on her own recognizance Thursday. Her sentencing was adjourned to April 26. 
Also in court: 
• Brandon Hinman was back in court Thursday after falling behind on his restitution. 
In June, Judge Leone resentenced Hinman to two to six years in prison for violating the terms and conditions of his probation. Hinman was originally placed on five years probation in 2015 for stealing nearly $50,000 from his family — funds that had been raised following the premature birth of his twin daughters and the unexpected death of his wife, Jenna. 
Hinman is scheduled to be released from prison in February. In court Thursday, he agreed to give his mother access to his finances so he could continue paying restitution while he is incarcerated. 
Cayuga County District Attorney Jon Budelmann said Hinman still owes around $32,000 in restitution. Hinman was previously ordered to pay $850 a month, but has not paid since he was put in prison in June. 
Leone ordered that Hinman pay roughly $7,500 before his release in February. He will then continue to pay $850 a month until his restitution is paid in full. 
Last dance: After 30 years, Auburn teacher closes studio with tearful farewell
AUBURN — Kathy Ryan Rainone called it "the funeral."
For a funeral, though, there was a lot of dancing.
Thursday, after 30 years, Rainone held her last class at Kathy Ryan's Dance Studio on Seymour Street.
Rainone closed the studio regretfully: She simply didn't have enough students this year, she said Thursday. After enrolling just enough to teach a class last year, Rainone continued, she suspected the end was close. So she held a party for dancers, parents, friends and family after that class's recital, "Ladies Night Out 2017" in June. 
Rainone did the same at Thursday's class, a group of older dancers she's been seeing for a few decades. And as she spoke before the class about her decision to close her studio, Rainone was graciously focused on those dancers, parents, friends and family who made Kathy Ryan's Dance Studio possible for 30 years.
Rainone, 56, took her first dance lessons in Auburn with Sonja Ward when she was 3. But she and her sister stopped because "we wanted to watch cartoons on Saturday mornings," Rainone said.
When she was in eighth grade, Rainone asked her mother, Arlene Ryan, to go back. Ryan was quick to say yes. Decades later, Ryan would dance in Rainone's classes and sing in her recitals. So would Rainone's own daughter, Audrey, and granddaughter, Madison Jean. Rainone's bassist husband, Ricky, and drummer son, Ricky Jr., round out what she called "a very musical family."
Her next dance teacher was Betty Weeks, whom Rainone also credited as her mentor. And, as she finished high school in 1979, Rainone was asked by Weeks to teach for her. When Weeks closed her studio in 1987, Rainone took the next step, applying for a small business loan and opening her own space to teach dancers young and old in tap, jazz, ballet, solo, duo and other forms.
The studio was first located on the State Street Mall, where Osteria Salina now stands. In 1992, a rent hike led Rainone to look for a new space. The Camardo family offered her the spot on Seymour.
"Nobody except my parents has been better to me than the Camardos," she said.
Classes at Kathy Ryan's Dance Studio ran during the school year. Most met once a week, while experienced dancers met twice. At the studio's peak, Rainone taught up to seven classes in a season.
Though she never studied dance at the college level, Rainone rooted her classes in technique and terminology. She taught children ballet terms like relevé and soutenu the same way a kindergarten teacher would, asking the class "Sue who?" to prompt their pronunciation of the latter. She also joked with them about "the big hook" that would pluck idle dancers from the stage, she said.
Rainone took her classes bowling at Polish Falcons to encourage them. But sometimes, she didn't need to: Some students signed up just to perform in Auburn's holiday parades, she said.
Katie Sincebaugh, 17, of Auburn, got something else out of dance classes with Rainone.
"I learned that dance really isn't about the recital or getting dressed up, it's really about telling a story," she said.
That lesson, along with Rainone's use of record players, stuck out to Sincebaugh, she said. She'll carry it with her when she continues dancing at college next year.
Other Rainone students have gone on to dance professionally in Disney cruises, musical theater production and more, she said. And some have taken their children, or even grandchildren, to her.
Thursday, Rainone said, it's the children she'll miss the most.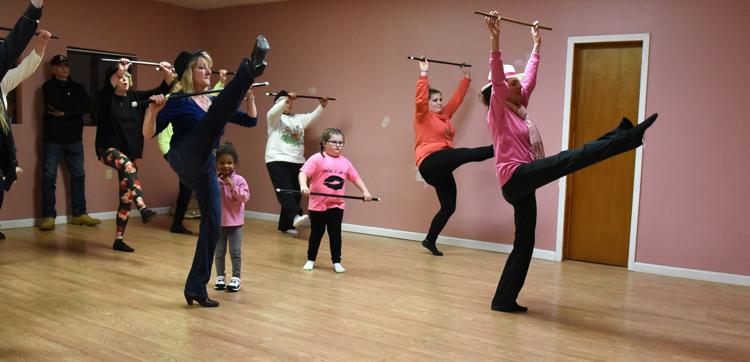 "I love the kids, I love them. I love every single one of them," she said.
Rainone's classes also culminated in recitals that were long renowned for their presentation.
With help from Frank Cuzzola, the dances were accentuated by smoke machines, dry ice and flash pods. But the studio had to stop using pyrotechnics after the Rhode Island nightclub fire that killed 100 people in 2003, Rainone said. Still, her love of Rush, Alice Cooper and other musical showmen led to many distinct rock 'n' roll soundtracks at her recitals.
As she planned and presented those recitals, Rainone also found help in her fellow Auburn dance instructors: Kathy Zamniak, Mary Jo Pelc, Donna Krueger, Sean McLeod and more. Whether it was advice on steps, spare tights or emotional support, "I can call them for any reason at all," Rainone said.
"They're wonderful girls, and I love them. All of them," she said tearfully.
Zamniak, who was at Kathy Ryan's Dance Studio's final class on Thursday, said Auburn will feel its loss.
"She has a great love for dance. She's got a strong personality and that comes across when she teaches," Zamniak said.
However, Rainone's friend doesn't feel she's done teaching dance. Rainone admitted as much, saying she hopes to teach at Cayuga Community College. She also continues to work as a substitute teacher aide at Casey Park Elementary, and when school's not in session, she makes small motors at Gleason-Avery.
Whatever happens, Zamniak said, Kathy Ryan will land on her feet.
"She's a great girl. She'll keep dancing," she said. "There'll be something out there for Kathy."
Auburn woman sentenced for embezzling more than $82K from Skaneateles business
An Auburn woman will spend the next 16 weekends in jail for using her employer's checks to pay more than $82,000 in personal bills. 
Julie A. McGinn, 44, of 16 Meadowbrook Dr., was sentenced Wednesday in Onondaga County Court after she admitted to stealing from her former employer, Empire Technical Associates, in Skaneateles. 
In September, McGinn pleaded guilty to one count of second-degree grand larceny, a class C felony, and paid $89,000 in restitution. At the time, the former office manager said she had written thousands of dollars worth of unauthorized company checks to pay her personal cell phone and credit card bills from 2010 to 2016. 
In exchange for her plea of guilty, Supreme Court Justice John Brunetti had agreed to sentence McGinn to about a month in jail — either 32 consecutive days or 16 weekends at the Onondaga County Correctional Facility in Jamesville. On Wednesday, McGinn asked for weekends in jail, and the court granted her request. McGinn's defense attorney, Dennis Sedor, said she was also sentenced to five years probation. 
Auburn man sent to prison for stealing more than $83K in workers' compensation
AUBURN — A former logging company owner in Auburn was sentenced to prison Tuesday for stealing thousands of dollars in workers' compensation benefits and failing to provide his employees with the proper insurance coverage. 
Last year, 56-year-old David Sigl was arrested following an investigation by state Inspector General Catherine Leahy Scott and Cayuga County District Attorney Jon Budelmann.
According to the IG's office, Sigl collected more than $83,000 in benefits after sustaining an injury at a Syracuse construction firm in 2013. However, it turned out Sigl was not entitled to those benefits, as he had been working as a logger for his own company, Lake Country Logging, and earned over $150,000 while receiving workers' comp.  
In addition, the inspector general said Sigl did not provide workers' comp insurance for two individuals he employed at Lake Country Logging. In doing so, he violated state law. 
Sigl, of 129 Wall St., was eventually indicted and charged with three felonies: second-degree grand larceny, second-degree insurance fraud and first-degree offering a false instrument for filing. He was also charged with the workers' compensation crime of failure to secure compensation, a misdemeanor. 
In August, Sigl pleaded guilty to the charges, admitting to stealing over $83,000 in benefits, and on Tuesday, he appeared in Cayuga County Court for sentencing. 
During sentencing, Budelmann cited Sigl's criminal history, a long list of drunk driving and theft-related convictions dating back to 1980. He also said Sigl had committed several crimes out of state and violated his probation in the past. Both Budelmann and the Cayuga County Probation Office asked the court to sentence Sigl to prison. 
Meanwhile, Sigl's defense attorney, Jonis Strods, requested probation. While he acknowledged Sigl's "extensive criminal history," Strods said his client has been in treatment for cancer since 2015 and claimed Sigl ultimately pleaded guilty because he "didn't have the strength" to go to trial. 
"It's basically a death sentence," Sigl said of his illness Tuesday. "If you throw me in jail, I don't know what will happen to me." 
But the district attorney said he had his doubts. 
"This whole case is based on the defendant lying about his medical condition," Budelmann said.  
Judge Mark Fandrich said he had reviewed Sigl's medical records, which confirmed that Sigl was a "very sick man." However, Fandrich said there was also the matter of Sigl's criminal record, which led him to sentence Sigl to one to three years in prison. 
"With callous calculation, this defendant stole benefits meant for honest, hard-working New Yorkers while simultaneously failing to protect his own employees with the critical workers' compensation coverage he brazenly abused," Inspector General Leahy Scott said Tuesday in a press release. 
"This defendant lied to his doctors, and the Workers' Compensation Board, claiming he was totally disabled," Budelmann added in the release. "Ultimately Sigl was caught, admitted, and plead guilty to climbing up and down trees, and wielding professional chainsaws, and climbing in and out of a large log-skidder tractor." 
Sigl was remanded to Cayuga County Jail Tuesday to be processed for the Department of Corrections and Community Supervision. He was also ordered to pay roughly $83,500 in restitution. 
A decade of difference: Auburn homeless shelter marks 10 years of helping people like Bill
AUBURN — Bill Haines lifted his powder blue suitcase with belt buckle straps and a dual window fan out of the back of Christina Thornton's car. It was all he had now, after leaving behind his guitar and television in Pennsylvania with his son and 8-year-old granddaughter.
Laid off from his latest job and concerned about the number of people already living in his son's apartment, Haines made his way back to Auburn, where his sisters live. It was Thornton, however, whom he called.
Haines was a familiar face to the executive director of Chapel House, a nonprofit organization that serves homeless people in Cayuga County. On Dec. 2, it'll celebrate a decade of work — a decade of helping about 1,500 people, like Haines, get back on their feet since it opened in the fall of 2007. 
Thornton said the 57-year-old had been through the homeless shelter a couple of times already, mostly because of layoffs that left him unable to pay rent. 
"When he was at the shelter, he was always very helpful, helping direct other clients and welcoming," she said.
When Haines left the shelter after getting a job, he'd come back and volunteer. But then he got laid off again, Thornton said. At that point, the organization was looking for an overnight staffer, so she hired Haines. 
"I was there a lot," Haines said. "I was always a clean freak."
Testing his new bed at Chapel House's transitional housing facility on Grant Avenue, Haines eyed a cluster of soda bottles on his roommate's dresser. Leaving the fan and a few other belongings in the room, he followed Thornton into the office next door to fill out paperwork, talk to a staff member and eventually get help on his resume.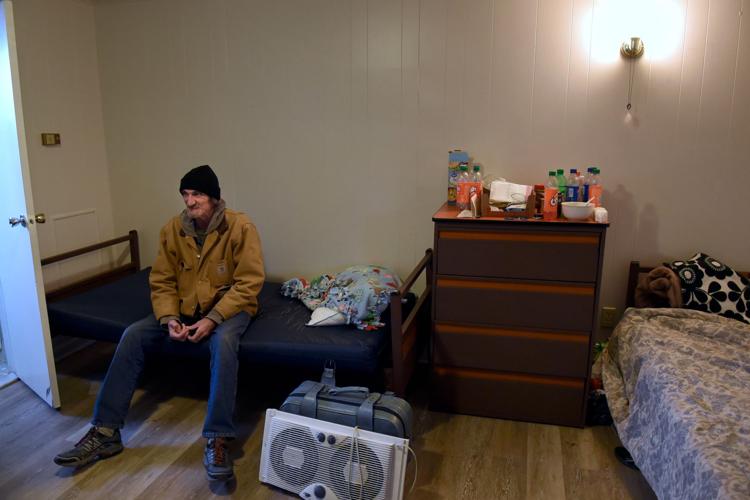 In the 10 years the nonprofit has been operating in Auburn, Thornton said, the clientele has been changing. Last year, 20 percent of the people who came through the shelter were homeless veterans. Another 20 percent were young adults between the ages of 18 and 24. Thornton said there's always been a couple of young adults in and out of the shelter, but "the youth thing is new to us," she said of the increase.
As the needs change, so has the organization. 
What started as an emergency shelter for men at Holy Family School on North Street is now a more encompassing complex of emergency, transitional and permanent housing, with programming and services in place for residents. The transitional housing program now houses women, too. Thornton said when she came on board in 2012, there were four staff members. That has now expanded to 14, both full- and part-time.
Emergency housing supports 19 individuals, transitional housing supports 16 and permanent housing has seven beds available, Thornton said, through a partnership with local landlords. 
While much has happened that Thornton looks back on proudly during this 10th anniversary, there's one challenge on the horizon she is gearing up to tackle: Moving Chapel House's emergency shelter on Franklin Street to a new location.
"We know that our location, as well as the structure on Franklin Street, is not really ideal for our clients or for the neighborhood," Thornton said. "There's very close quarters. I mean, there's four people in a room, and for an adult male, it's not a comfortable living situation. So we would like them to be able to have more privacy. It's just trying to make our service better when we're helping people, because when they come to us, they're at their lowest point. It's kind of our job to boost them up, and help them get back into permanent housing."
Besides the cramped quarters, the house is not accessible to people with disabilities. Thornton said she's still not sure if Chapel House would renovate an existing building or raise a new one altogether, but the nonprofit's board is in the stages of collecting information. They're talking to clients, too, to see what worked well in the shelter, or what things might have been missing. 
As the shelter works to better itself for the next 10 years, so does Haines. 
"I just want to get a decent job and an apartment," he said. "These applications are all online. I'm old school. I know computers, but these resumes and stuff like that, oh my God."
He laughed, and a smile reached into the crinkled corners of his eyes. 
Gallery: Chapel House in Auburn offers a fresh start to those in need
Bill Haines lifted his powder blue suitcase with the belt buckle straps and a dual window fan out of the back of Christina Thornton's car. It was all he had now, after leaving behind his guitar and television in Pennsylvania with his son and 8-year-old granddaughter.
Husband and wife appear in court for conspiring to sell crack cocaine in Cayuga County
AUBURN — On Tuesday morning, Joeroy Baker Sr. and Crystal Baker held hands on a bench in the Cayuga County Courthouse, waiting for their cases to be heard. 
The Auburn couple had been arrested earlier this year for conspiring to sell crack cocaine in the county. Both were charged with several felonies, including third-degree criminal sale and possession of a controlled substance. 
In August, Crystal Baker, 34, pleaded guilty to one count of third-degree criminal sale of a controlled substance, a class B felony. At the time, Judge Mark Fandrich agreed to sentence her to no more than two years in prison with a shock camp order. 
Meanwhile, Crystal Baker's husband, Joeroy Baker faced over a dozen felonies in three separate indictments. A second felony offender, he could have received up to 12 years in prison on each count if convicted. 
On Tuesday, Joeroy Baker, 36, appeared first in court, pleading guilty to six counts of third-degree criminal sale of a controlled substance. He also admitted to one count of fourth-degree conspiracy, a class E felony. 
During his plea, Baker — also known as "Smurf" — told the judge how he and his wife concocted a scheme to sell crack cocaine. He said the two sold the drug on several occasions in November 2016 and January 2017. 
Ultimately, Cayuga County District Attorney Jon Budelmann said the couple sold the crack cocaine to a confidential informant. That led to a warrant, allowing the Finger Lakes Drug Task Force to search the Bakers' former residence at 145 Park Place. 
Budelmann recommended that Joeroy Baker spend six years in prison, however, Fandrich agreed to sentence him to four years in prison and two years post-release supervision. Baker would remain out on $10,000 cash, $20,000 bond pending sentencing Feb. 13. 
Following Joeroy Baker's plea, Crystal Baker appeared for her own sentencing. In his comments, Budelmann cited the defendant's prior felonies and said she still owed substantial restitution in another matter. 
Despite the district attorney's request for prison, Crystal Baker's defense attorney, Norman Chirco, asked the judge to sentence his client to a term of shock probation — the shock portion being six months in the Cayuga County jail. Chirco said Baker had already served roughly two months for the crime. 
When asked if she had anything to say to the court, Baker apologized to the community and to her children. 
In the end, Fandrich sentenced her to six months in jail and five years probation. He also ordered her to pay $120 in restitution. 
Also in court: 
• A Moravia man pleaded guilty to a felony Tuesday for causing over $250 in damage to someone else's car. 
Dusty Townsend, 27, admitted to one count of third-degree criminal mischief, a class E felony. During his plea, he told Judge Fandrich he broke someone's windshield with a shovel in January. 
Townsend could face up to four years in prison. However, Fandrich agreed to sentence him to five years probation and time served.
Townsend was remanded to Cayuga County Jail pending sentencing Feb. 13. 
• A 29-year-old man has admitted to selling a generic form of Xanax in the city. 
Gary Hamm pleaded guilty Tuesday to one count of fifth-degree criminal sale of a controlled substance, a class D felony. 
Hamm said he sold around 30 Alprazolam pills in the city of Auburn last November. A second felony offender, he could face up to four years in prison; however, Judge Fandrich said he will likely sentence Hamm to two years in prison and one year post-release supervision. The court also said it would include a Willard order so Hamm could serve his sentence as parole supervision. 
Hamm is currently incarcerated at Jamesville Correctional Facility on separate charges. His sentencing was scheduled for Feb. 13. 
State police warn about car break-ins in Owasco
State police are warning Owasco residents about car break-ins after they found evidence that someone tried to break into a locked car this week.
Police received a complaint Tuesday of a suspicious person around Fairway Drive, and the troopers who responded determined that an unknown person had tried to get into a car in the area.
In a news release, troopers said people should lock their parked cars and remove valuables from sight.
State police: Corrections officer attempted to bring drugs into CNY prison
A corrections officer at a central New York prison has been arrested for allegedly attempting to bring drugs into the facility. 
Ryan M. Santos, 27, of Rome, was arrested Saturday and charged with first-degree attempted promoting prison contraband, a class E felony. 
The charges against Santos, a corrections officer at Mid-State Correctional Facility in Oneida County, stem from an investigation conducted by the New York State Police Community Narcotics Enforcement Team and the state Department of Corrections and Community Supervision's Office of Special Investigations. 
Santos was arraigned at Oneida County Central Arraignment and released on his own recognizance. He is scheduled to appear Nov. 28 in Marcy town court. 
The investigation is ongoing and further charges are pending, according to state police.
Actor Daniel Baldwin visits Weedsport store for foundation donation
Actor Daniel Baldwin visited the Weedsport Pit Stop convenience store on Friday to accept a donation for his mother's breast cancer research fund. The $9,400 check was the result of proceeds from the second annual   Shoot for a Cure Basketball Tournament, which was sponsored by the Pit Stop Convenience Stores and held at the Port Byron Middle School on Oct. 21. The event chose to assist the Carol M. Baldwin Breast Cancer Research Fund of CNY Inc. "because donations made to the CNY fund stay in Central New York. The Pit Stop Convenience Stores is a family owned and operated business that strives to make a positive difference in the surrounding communities," according to a press release. The company said that Daniel Baldwin has offered to play on a team at next year's tournament "with the possibility of him bringing in some well known teammates.