Weekly top reads: Auburn restaurant moves, New Hope Mills renovated, new Auburn sports bar
The Citizen's top 10 most-read stories of the week. 
Auburn police investigating death of man found outside home
The Auburn Police Department is investigating the death of a 39-year-old man who was involved in a fight early Sunday morning. 
The APD and Auburn Fire Department were called to a house at 59 N. Fulton St. around 7:30 a.m. Sunday after a passerby discovered the body of Joshua Taro on the front lawn, according to a press release from the APD. 
A subsequent investigation determined that Taro — a longtime resident of Auburn — had suffered injuries consistent with an assault, police said. Later, police discovered Taro has been involved in a fight earlier that morning at Jitz's Tavern, located at 65 Franklin St. Subsequent interviews and surveillance images confirmed witness accounts, according to the APD's release.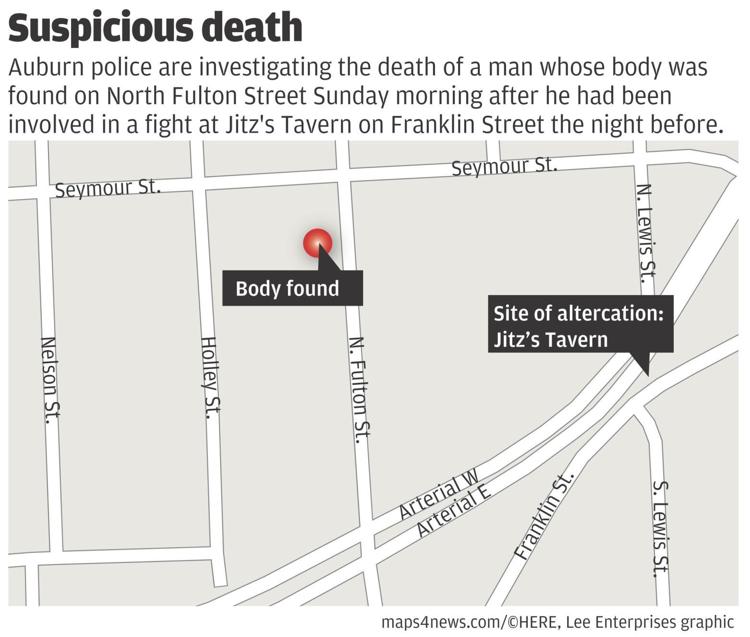 The cause and manner of Taro's death has not been officially determined, police said. However, a preliminary autopsy from the Onondaga County Medical Examiners Officer indicated that Taro's injuries did not result in his death. Police said further testing is being conducted.
"(Taro) did have some facial injuries, but the medical examiner was able to confidently tell us that those injuries were not the cause of death," Capt. James Moore said. "We have verified that he was in an altercation or two earlier that day." 
Moore said Taro was a patron at Jitz's Tavern sometime late Saturday or early Sunday. The altercations allegedly occurred outside the bar overnight.
The APD is requesting that anyone who has information regarding this incident, or who may have been in the area of Jitz's Tavern or 59 N. Fulton St. Sunday between midnight and 7:30 a.m. and witnessed the fight or anything suspicious, contact the APD Detective Bureau, Detective Bryant Bergenstock, at (315) 258-9880 or (315) 253-3231. Callers may remain anonymous.
Police: Auburn man arrested for impersonating police officer
A 23-year-old man has been charged with a felony after he impersonated an officer and threatened to fight some city residents, Auburn police said. 
Captain James Moore said officers were called to 7 Grover St. at around 8:50 p.m. Saturday after police received reports of a disturbance in the area. Upon arrival, officers reportedly found a man named Marcus James Sylvester standing in the middle of the roadway. 
After interviewing Sylvester, of 29 Grove Ave., police said he shouted profanities at the officers and passersby and refused to leave the roadway, forcing oncoming traffic to swerve around him. He was eventually taken into custody and charged with disorderly conduct, a violation, and second-degree obstructing governmental administration, a misdemeanor. 
Upon further investigation, Moore said witnesses told police that Sylvester had claimed he was an officer and said he wanted to fight them. Sylvester was then charged with first-degree criminal impersonation of a police officer, a class E felony. 
Sylvester was arraigned Saturday evening in Auburn City Court. He was remanded to Cayuga County Jail without bail. 
State Police: Auburn man had child porn
A 25-year-old Auburn man is facing two felony charges for allegedly possessing and distributing child pornography.
New York State Police Investigator Anthony Gower said that after obtaining a search warrant of 57 Walnut St., officers arrested Chris Harrington on Oct. 24. Gower said Harrington was using his cell phone to download child pornography and had shared it, too, through a group chat. Police found a combination of images and videos of children under the age of 17, which Gower called "God-awful." 
While Gower didn't have the exact number of images and videos in Harrington's possession he said, "I think one video and one picture is a lot."
Harrington was reported to state police through the National Center for Missing and Exploited Children. The private nonprofit organization, Gower added, partners with federal agencies, local and state law enforcement as well as the Internet Crimes Against Children Task Force. Gower said the NCMEC receives info from the public and private sector about people using the internet for child exploitation and contacts the appropriate agencies for investigation.
The investigation into Harrington was reported in March. Gower said it takes time to get subpoenas together and for computer crime lab technicians to search every piece of electronic equipment in the residence.
Following the investigation, Harrington was charged with promoting an obscene sex performance by a child under the age of 17, a class D felony, and possession of an obscene sex performance by a child, a class E felony. 
Harrington was arraigned in the Town Of Aurelius Court and remanded to the Cayuga County Jail on $2,000 cash bail or $4,000 bond. The Cayuga County Jail reported that Harrington had been bailed out and released on Oct. 25. He is expected to return to court for a pre-trial conference at 9:15 a.m. on Dec. 13.
One person injured in Auburn two-car crash
AUBURN — One woman was sent to the hospital Wednesday morning after a two-car crash on Grant Avenue in the city of Auburn.
Auburn Fire Department Assistant Chief William DiFabio said a woman sustained minor injuries, but the fire department had to use the Jaws of Life to extricate her from her car. Extrication took approximately 12 minutes, he said.
The crash, which occurred around 10:16 a.m. outside of Fox Toyota, caused minor traffic delays.
Sean Battle, an employee at Fox Toyota, saw the accident and said a woman who had had her Subaru serviced there was pulling out of the dealership's driveway. As she did, a black Chevrolet truck traveling eastbound slammed into her car. The driver of the truck did not sustain any injuries, DiFabio said.
Employees at Fox Toyota were standing on the sidewalk watching the scene get cleared. Battle and his colleagues commented on how the side airbags that were deployed likely saved the woman's life. They believed the car, however, was totaled. 
New York State Police, the Auburn Fire Department, Auburn Police and TLC Ambulance responded to the scene.
What's new at New Hope: Auburn food producer to cut ribbon on renovated cafe, store
AUBURN — When Doug Weed's grandfather Leland ran New Hope Mills, he'd often grab random people and take them on tours of the flour production facility.
That same desire to connect New Hope Mills to its community is why Doug, who's been the company's CEO since 2013, oversaw a recent renovation of its Auburn cafe and retail store. 
"Our mission is to help families make memories around the table. We wanted to expand that," he said Wednesday in the cafe over banjo music and the bustle of about 20 breakfast guests.
Doug is the third generation of Weed to run New Hope Mills. Charles Kellogg began the flour mill on Bear Swamp Creek in the Niles hamlet in 1823, and Leland and Howard Weed bought it in 1947. The company ground flour until 1996, when its focus became pancake and other mixes. Today, it employs 45 and produces 4 million pounds of mix a year, Doug said, including 17 pancake flavors.
The cafe and store opened aside the New Hope Mills Auburn plant shortly after it opened in 2004. The dominant color was white, Doug said: a white suspended ceiling, a white floor, white shelves. A couple years after he bought the business from his father, Dale, Doug decided it was time to make the cafe and store look like the old New Hope Mills.
"I wanted to really express the brand in a more direct way," he said. "I want to connect on a very deep level to the historical aspect of the business."
Work began in August 2016, Doug said, when friend Paul Cammilleri sketched a renovation plan. After he saw it, Doug said he wanted to get to work the next day. He called it "a giant art project."
The result: Exposed ceiling joists, barn red siding and wooden beams by Gary Baldwin along the walls. Atop the beams, and occupying the new clearance, are several antique flour production machines. Doug said his family has been buying them from other mills for years, and storing them at the New Hope factory. They include an 1867 flour dropper, a wheat scalper and more.
"We tried to build everything in a way that reflects the workmanship and design and characteristics of the equipment we have," he said.
Though the space's square footage is the same, the renovation bumped up the cafe's seat count from about 15 to 40, Doug said. Those extra patrons can order from an expanded menu that includes breakfasts like pancakes and oatmeals, as well as lunches like jalapeño corn tacos and sourdough sandwiches. New items will be showcased, for half price, at weekly Try it Tuesdays, Doug said.
The project also included the addition of a vestibule and front porch. Doug said the city of Auburn was helpful with the latter, as its Code Enforcement Office suggested cost-saving measures.
"We've never regretted moving to Auburn," he said. "They've been so great to work with."
New Hope Mills will celebrate both its connection to the Auburn community and its new cafe and store space with a grand opening celebration there all day Friday and Saturday.
The event will feature live music by Lock 52 Jazz Band, Stevie Tombstone, The Cadleys and Rebecca Colleen, games like "flapjack stack" and "flyin' flapjacks," and a "medieval-looking" dunking booth Doug built. There will be a ribbon-cutting with pancake hors d'oeuvres at 4 p.m. Friday and dancing with Old Time Hoedown from 5 to 6 p.m. At 10 a.m. Saturday will be a pancake eating contest.
Aside from contractors who demolished the old porch, Dale said, the year-long project was completed by family and friends. One brother and one sister work with him at New Hope Mills, and two more brothers work with Dale at a gluten- and allergen-free food producer he started in Savannah. The Weeds also operate Schoolyard Sugarbush, which provides New Hope Mills' maple syrup.
With the renovation behind him, Doug hopes to continue growing New Hope Mills as it turns 200 years old. He noted that 60 percent of its production is for other companies, and said he would like that share to carry New Hope Mills' name some day. Ultimately, Doug said, he would prefer that none of his family business's product carry another name.
"That's not why I put the sign on the front of my building," he said. "That's not why I did this expansion and want to connect to my customers more."
New Auburn OTB sports bar offers 'good food, cheap beer'
AUBURN — "Good food, cheap beer."
That's the motto Toby More holds for his new restaurant, Tailgaters Sports Bar and Grill, located in the Auburn Off-Track Betting building. 
The former maintenance supervisor said he always wanted to open his own bar, and when the spot's former occupant Ozzy's closed its doors at the end of May, More decided that was his chance. 
"I've always wanted to get into the bar business," he said. "I heard the lease was available. It was affordable and I figured now is the time to take my shot or else I'm never going to get to do it."
After signing the lease at the beginning of June, More worked with friend and experienced restaurant manager Liz Look to get the bar ready for its grand opening on Oct. 21. 
More said the process of opening his first bar and restaurant was "very exciting and very nerve-wracking." The most challenging part, he said, was obtaining a liquor license and working with the New York State Gaming Commission. He and Look also had to clean out the kitchen, plan the menu and order food and drinks. 
Tailgaters' menu offers typical bar food and appetizers, from loaded cheese fries and chicken tenders to pulled pork and marinated chicken sandwiches. Nothing on the restaurant's menu costs more than $8.  
On the bar side, Tailgaters has happy hour specials everyday from 3 to 5 p.m. They offer $2 pints, $3 domestic beers and $2 Keystone Lite cans, as well as other mixed drink specials. 
"We have low prices, that's a big thing," Look said. "Our prices are extremely low, lower than any other place in town."
More is a very hands-on owner. He mans the kitchen while Look runs the bar. Look, who has been in the restaurant business for over 20 years, said their spot has an "amazing atmosphere."
"It's very laid back," she said. "You can gamble, you can drink. Everybody loves us. I haven't gotten any complaints so far. Not one."
As for the new restaurant's future, More has a very go-with-the-flow attitude.
He is working with Auburn's A & M Graphics to design a website and said he plans to expand the menu to add more variety, such as a fish fry on Fridays and Philly cheese steaks. He and Look eventually hope to hire another employee and bring in live musicians to play on the patio in the spring and summer. 
"Our food is very good and the prices are cheap," Look said. "I think we're really going to take off."
Wild for everything: Downtown Auburn restaurant moves, expands menu
AUBURN — After Mathew Wild added pizza and chicken wings to the menu of his family's Genesee Center frozen yogurt shop, Wildforyogurt, his business quadrupled.
That's when he knew Wildforyogurt had to change.
Almost two years later, that change is complete: Wild's Eats & Sweets, now located down the hall of Genesee Center toward the corner of South and Genesee streets. The new restaurant is 2,700 square feet to the yogurt shop's 1,200, and includes two sit-down dining areas, one with a door so it can host private parties. Its grand opening is Wednesday, Nov. 1.
Wild said that Wild's Eats & Sweets will continue serving frozen yogurt, pizza and wings, while adding pulled pork sandwiches and deep-fried pizza bites made with a custom smoker and fryer on site. It'll also serve hard ice cream, smoothies and milkshakes and other desserts, draught and bottled beer, wine and wine slushies. Also possible are wraps, soup and salad bars, and more, he said.
"The menu is going to get bigger, but it's generally going to be the same products," he said. "I can get real creative now."
Wild said design work on the new restaurant began in October 2016. He and his father, David, started building it in April. The space previously held two locker rooms that had to be removed, but aside from plumbing, electric and the installation of a window facing South Street, the father and son completed the renovation themselves, Mathew said. He called its look "upscale yet rustic."
"Essentially it's a pizzeria with a little upscale look," he said.
The space provides Wild's Eats & Sweets not only more size but more visibility, Mathew said. Being open until 2 a.m. Fridays and Saturdays, he continued, he'll be in a position to draw the downtown area's nightlife crowds who want pizza or wings. Mathew said he'll have street signage installed this week, and "you're going to know I'm here."
The restaurant logo features cartoon renditions of Mathew, David and Wild's mom, Kathy. Though Mathew took over the business in June, the logo signifies his parents' role in launching it, he said.
"The logo was a present to them: 'Hey, I wouldn't be here without you,'" he said. "I brought the dessert to the business, my dad had the pizza recipe, and my mom is always stuck in the middle of us. That's family business. Me and my dad, we argue quite a bit and my mom's always stuck in the middle. As soon as I say that, the people that know us start laughing because they understand."
Wild has also hired a few employees. The restaurant will take orders at its counter, give customers tickets and deliver food to their tables, but there will be one wait staff on the floor to check in with tables, Wild said. Though he hopes to staff 10 to 12 like most full-service restaurants, he said he won't hire them until he's certain he won't have to let them go.
Wild already feels good about his new restaurant's chances. Though he started the yogurt shop because he saw an opening in the Auburn area's food options, he said that opening was quickly "flooded." Auburn's frigid winters were no help, he added. If he didn't start serving pizza and wings, he said, his shop would have closed years ago, just as its Ithaca Mall location did recently.
Now, Wild has been hearing people clamor for his pizza as he prepares to open Wild's Eats & Sweets. Whether it's slices at the counter or pies for delivery, a private party there or catering elsewhere, he knows his new restaurant serves something for everyone, in every season. Food service may be tough, Wild said, but the thrill of entrepreneurship keeps him going.
"Running a business is exactly what I want to do," he said. "It's been a heck of a journey."
State police: Jordan man charged with felony sex abuse
A Jordan man was arrested Tuesday and charged with sexually abusing a boy under the age of 11, according to New York State Police.
State police on Wednesday said Travis L. Severin, 20, of Jordan, has been charged with one count of first-degree sexual abuse, a class D felony, and one count of endangering the welfare of a child, a class A misdemeanor. According to the state police blotter, the case was reported to authorities Monday night.
After he was arrested Tuesday afternoon, Severin was arraigned in Village of Jordan Court and sent to the Onondaga County Justice Center on bail of $10,000 cash or $20,000 bond.
Skaneateles nutritionist appears on 'Good Morning America'
"Good Morning America" viewers woke up to a nutrition lesson from a Skaneateles dietitian Wednesday.
Kelly Springer, owner of Kelly's Choice LLC at 14 State St., appeared on the show as a spokesperson for Lifeway Kefir cultured milk smoothies.
The segment began with Springer explaining to host Ginger Zee how foods like salmon, almonds and kale can improve bone health, especially in combination with exercise. Springer then touted Lifeway Kefir as a good source of post-workout nutrition because of its carbohydrate and protein content.
"The carbohydrates help to refuel the body, and the protein helps to repair the muscle," Springer said. 
We all love gathering together with friends and food to celebrate the holidays; New Year's E…
Lifeway Kefir also contains 12 active cultures to help the body absorb those nutrients, Springer said, as well as natural electrolytes for hydration.
Springer and Robach then involved the audience in a short nutrition lesson. As the Skaneateles dietitian explained the Kelly's Choice "power five" — protein, vegetables, fruit, dairy and whole grains — audience members held signs saying each one. The two-minute, 30-second segment then concluded with Springer providing an example of a meal covering the power five: a tuna fish sandwich on whole grain bread with cucumbers, tomatoes and a glass of milk.
"It's so totally easy. You do not have to be a gourmet chef," she said. "Everyone thinks dietitians are chefs, but I am not, believe me."
Springer started Kelly's Choice in 2012. The company aims to improve people's nutrition through counseling and educational presentations, which Springer provides for schools, workplaces and sports teams. She is also a frequent guest on NewsChannel 9's morning "Bridge Street" program.
For more information about Kelly's Choice, visit kellyschoice.org or facebook.com/kchoicellc.
---
WATCH: Kelly Springer, of Skaneateles, on "Good Morning America"
Cuomo signs bill allowing Cayuga County to sell nursing home to Auburn hospital
An important hurdle has been cleared to allow for the sale of the former Cayuga County Nursing Home to Auburn Community Hospital. 
Gov. Andrew Cuomo signed legislation late Monday that authorizes the county to sell or lease the vacant property in Sennett. The bill was sponsored by state Sen. John DeFrancisco and Assemblyman Gary Finch, both of whom represent the city of Auburn and several Cayuga County towns. 
The nursing home on County House Road has been closed since 2015 after a merger with Mercy Health & Rehabilitation Center in Auburn, which is now known as The Commons on St. Anthony. 
Auburn Community Hospital expressed interest in buying the former county nursing home earlier this year. The hospital plans to move its nursing home, Finger Lakes Center for the Living, to the Sennett facility. 
"We've outgrown this building," Abby Bovie, director of nursing at Finger Lakes Center for the Living, told legislators in April. "We are very limited with our private bed ability."
Moving to the county nursing home would allow Finger Lakes Center for the Living to expand its private bed capacity, Bovie added. It would also give the center more space for future projects. 
The current home of Finger Lakes Center for the Living at 20 Park Ave. would be used to house more of the hospital's doctors and establish a drug rehabilitation center. 
Matt Chadderdon, a spokesperson for Auburn Community Hospital, said the legislation signed by Cuomo was necessary because without it, the hospital couldn't advance its plan to buy the nursing home. 
He praised DeFrancisco, R-Syracuse, and Finch, R-Springport, for their support. The lawmakers helped usher the bill through the state Legislature. 
Now that the bill has been approved by Cuomo, the hospital can begin negotiations with the county. 
"The county has been great in working with us," Chadderdon said. "Our plan now is to look at all the different plans and work with the county and see where it goes from here."