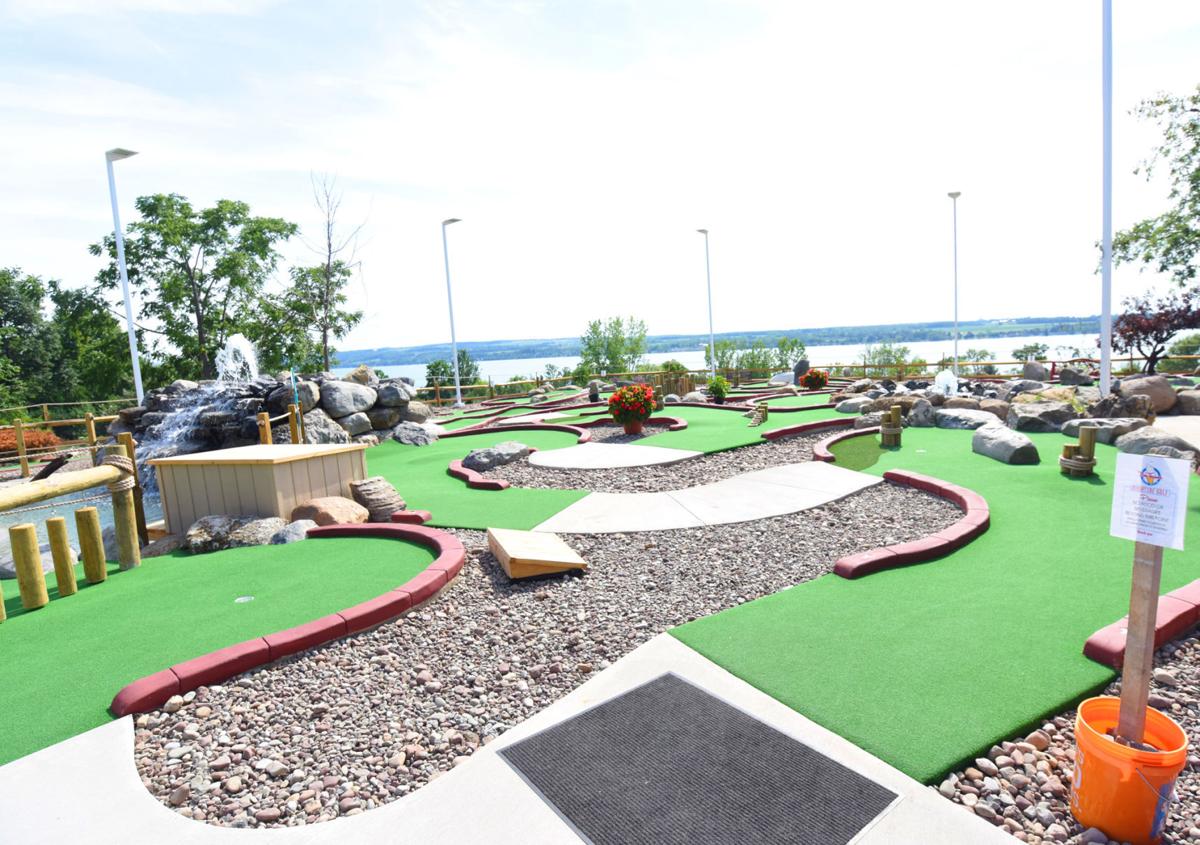 I have a confession to make: I'm obsessed with miniature golf. It's unhealthy (for my wallet) at times. When the weather is nice, I want to hit the tiny links. 
My go-to spot is the Arnold Palmer Golf Facility in Sennett. It's an older 18-hole miniature golf course, but it's a good one. You'll regularly see families there or teenagers looking for some friendly competition. 
When I learned Tom Thumb Drive-In was planning to open its own mini golf course, I was interested to see how it would be designed and how the ice cream shop would take advantage of one of its best assets: The view of Owasco Lake. 
OWASCO — Tom Galbato knows players cannot retrieve their golf balls after finishing the 18th…
On Aug. 6, I played Tom Thumb's miniature golf course for the first time. The moment my wife, Sarah, and I grabbed our putters and colorful balls, I knew this would be a treat. The view of the lake from the course is breathtaking. You can't help but pause and snap a few photos. 
And then the golfing begins. 
The entire course can't be described as easy or absurdly difficult. It's somewhere in between. It strikes the right balance for all ages. You want a course that's fun for the kids, but challenging for overly competitive adults who want to post a low number. (Guilty as charged.) 
I found the front nine to be "easier" and that was reflected in my scoring. There are holes like No. 2, which seems simple enough. You want to avoid the rough and water on the left and aim for the rocks down the middle — there's a slope that will feed the ball down toward the hole.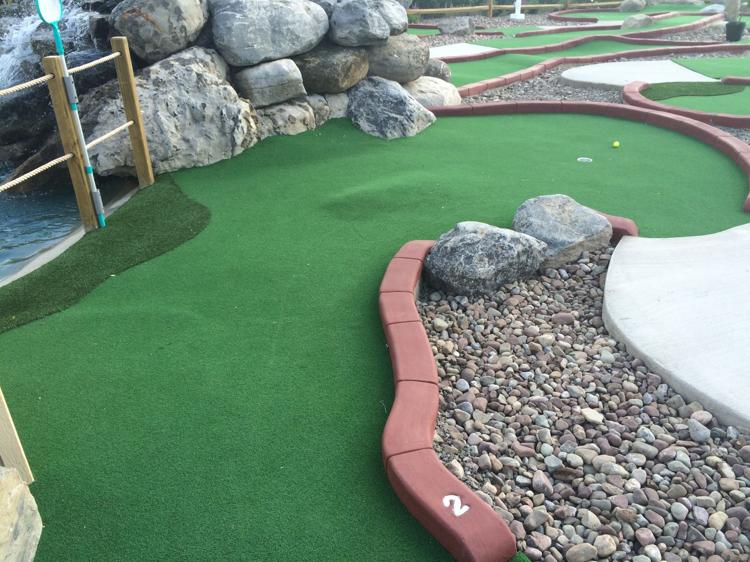 In the photo above, you can see Sarah's yellow ball near the hole. That's your reward for finding the right part of the slope. You'll get it close. 
The best hole on the front nine? Easily No. 7. You have two options here: You can either aim for the hole, which isn't easy, or you can hit your ball in the water.
That's usually not sound golf advice, but No. 7 has a small stream that will carry your ball to a ramp of sorts. The ball rolls down the makeshift slide and toward the hole. A hole-in-one isn't guaranteed, but this approach is the best one if you're playing No. 7. 
After playing Nos. 8 and 9, you head to the back nine — the more challenging stretch of the course. No. 11, for example, is similar to No. 2. You want to aim for the slope and let your ball slide down toward the hole. But there are more obstacles in your way on this hole. There are three large rocks you have to avoid and between two of the boulders, there's a patch of rough. If you hit it too soft and try to split those two rocks, you'll end up in a bad position. 
No. 12 is another challenge, but it's a bit deceptive. There's a boat flipped upside down and you can putt under it. I made the mistake of putting my ball a little too hard and it flew past the hole. (It almost went off the course, which would've been a penalty.) A gentle putt may have netted a better result. 
Another deceptive hole is No. 15. You have two options: Hit your ball low under a bridge and get it around to the hole or use the bridge to get your ball down to the hole. The hole is dead center, which means there's no right or wrong way to do it. You just need the right touch — and a little luck.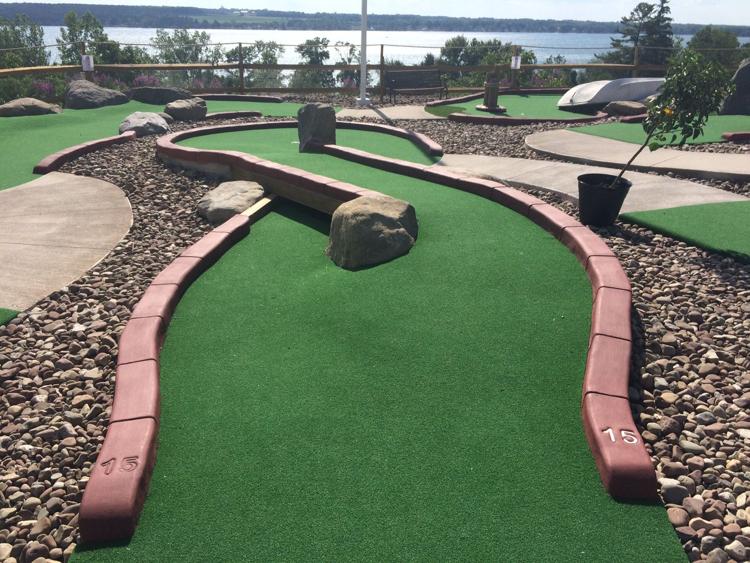 You close with No. 18, arguably the hardest hole on the course. If you can keep your ball close to the right side and work it around the rocks and wooden swing, you're golden. But it's tempting to try and "go for it" by hitting it between the wooden pegs. If you miss, though, you could be in some trouble.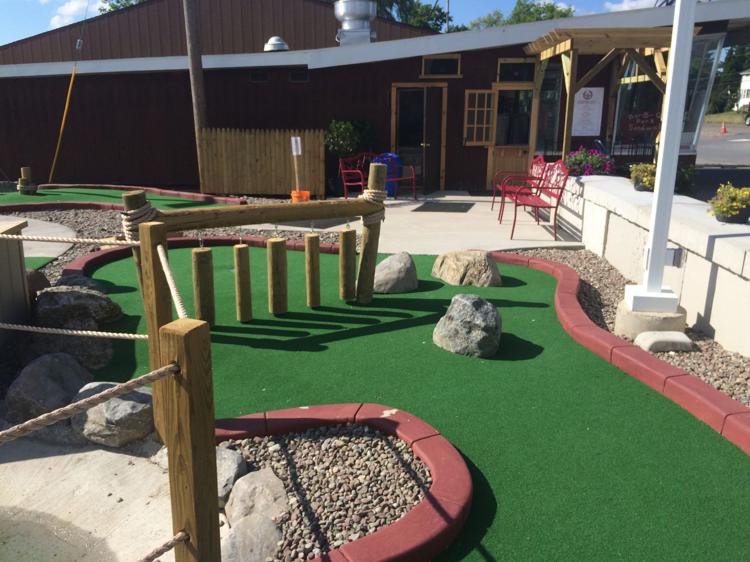 Other players may have different experiences, but I had a harder time with the back nine. My score after the first nine was respectable. The back nine? I had a harder time. It was definitely more difficult, which is just fine. I embraced the challenge. 
After playing the 18-hole course, my immediate reaction was that Tom Thumb's miniature golf venue is one of the best in upstate New York. I've played courses throughout the state. This is easily in the top tier. It gets several bonus points for the view of Owasco Lake, which doesn't get old. 
Prices are reasonable. Adults are $7, seniors and members of the military play for $5. Children 10 years old and under also play for $5. Kids ages 4 and under who are with a paying adult play for free. 
My only (minor) criticism: When we went to play, it was unclear what par was for each hole. It wasn't on the scorecards and it wasn't posted at any of the holes. Since the course only recently opened, I assume it's something they'll address at a later date. 
Be the first to know
Get local news delivered to your inbox!