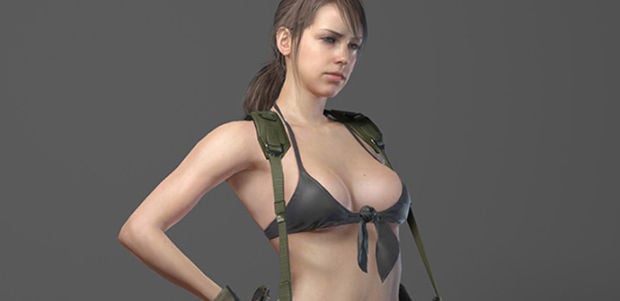 When Hideo Kojima unveiled "Metal Gear Solid V" in March, viewers got their first glimpse of Quiet, described in the trailer as "a sniper deprived of her words."
She's also deprived of her clothing. Wearing a barely-there black bikini and torn pantyhose, she instantly joined a long line of sexualized "Metal Gear" characters (Eva, The Beauty and the Beast Unit).
Many rolled their eyes and some raised their fists at the sight of yet another scantily clad, enormously breasted female in Kojima's series. But the outrage was unremarkable — until Kojima recently tweeted this:
I've been ordering to Yoji to make the character more erotic, and he did it well. Recently I've been making characters this way. (cont)

— HIDEO_KOJIMA (@HIDEO_KOJIMA_EN) September 4, 2013
The initial target is to make u want to do cosplay or its figurine to sell well.

— HIDEO_KOJIMA (@HIDEO_KOJIMA_EN) September 4, 2013
Combined with new CG renders of Quiet that reveal just how improbably curvy and dressed she really is, the tweets landed Kojima in hot water. He's since said "erotic" was a translation error, and that he meant to say "sexy." More substantively, he also defended Quiet's design by saying there's a reason she wears so little clothing.
(Cont) But once you recognize the secret reason for her exposure, you will feel ashamed of your words & deeds.

— HIDEO_KOJIMA (@HIDEO_KOJIMA_EN) September 7, 2013
I'm guessing part of the reason is because her skin has camouflage properties, a power suggested by the disappearing black surrounding her eyes in the "Metal Gear Solid V" trailer.
Hopefully there's more to Quiet's fleshy design than a mutant power, though, because a) That doesn't make me feel terribly ashamed, and b) That doesn't negate the sexualization, it only rationalizes it narratively. But given Kojima's habit of dumping hours of heady, overwritten babble into his games, I'm sure he has something in store.
As for the cosplay/figurine motive: On one hand, it's refreshingly honest. He's acknowledging the realities of the video game business and video game fandom. In the case of "Metal Gear," Eva and Meryl are pretty popular cosplay subjects. Heck, so is Quiet already. But that also doesn't diminish the creepy undertone of Kojima's words: "If you're going to dress like one of my characters, I want her, and thus you, to be as revealed as possible."
So yes, Quiet is unquestionably, unabashedly, even insidiously sexualized — yet another DDD diva in the "Metal Gear" saga. But how bad is that? It really depends on the context.
Sexualization ipso facto isn't bad. You could argue there's something socially harmful about one-in-a-million bodies like Quiet's being the norm in video games — but a strong faith in media effects tethers that argument to another, more tired one: That video game violence makes players violent. I don't believe in that one, so I don't believe in the other.
It is also troubling that women like Quiet and Ayane and every woman in "Dragon's Crown" come from male minds, as though the characters fit their idealized visions of femininity, though this phenomenon seems more pathetic than malicious.
The real determining factor for malice, then, is what the designer does with the sexualized character — if sexualization becomes sexual exploitation or, worse, sexism.
If Kojima realizes Quiet as a strong, fierce character with actual agency, like Kamiya did Bayonetta, it's good.
If Kojima just has her sit there while he strokes her contours with the camera, like he did the Beauty and the Beast Unit, it's bad.
And if Kojima subjects her to the same jiggle gimmick he did Rose, or the same barf voyeurism SUDA51 did the women of "Killer is Dead," it's so ugly I don't even.
Lake Life Editor David Wilcox can be reached at 282-2245 or david.wilcox@lee.net. Follow him on Twitter @drwilcox.
Be the first to know
Get local news delivered to your inbox!