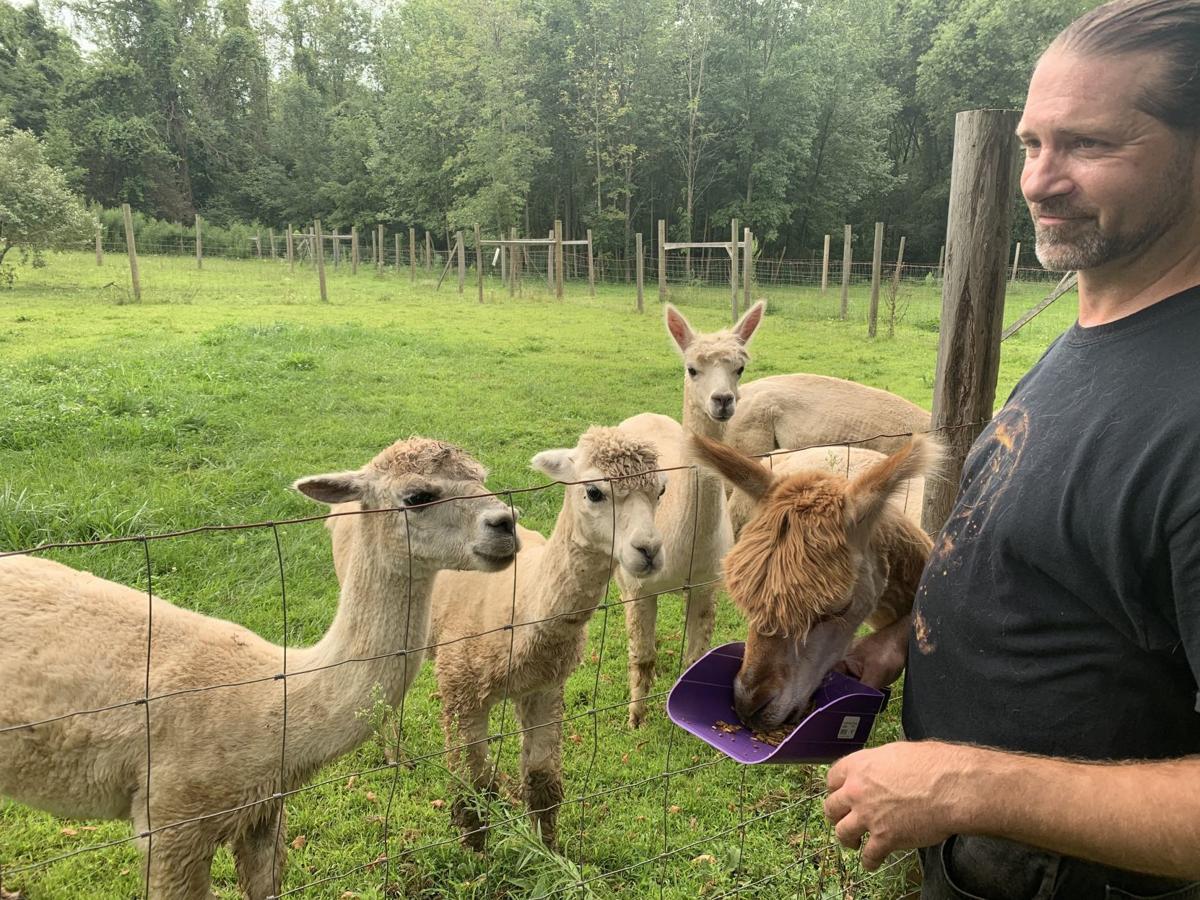 Scott Comegys has positions on the most important issues facing all levels of governments. But as he campaigns for the 130th Assembly District seat, he wants to have some fun. 
Comegys, a Democrat, is running for Assembly again. He was the party's nominee in 2018 when he lost to Brian Manktelow, a Republican, by 14,601 votes. 
During his first campaign, it wasn't a secret that he is an alpaca farmer. He's a full-time town of Palmyra employee and spends his off time tending to 12 alpacas, chickens and a small vegetable farm. 
This time, though, he's capitalizing on that recognition. For his latest campaign, he created T-shirts emblazoned with a slogan: "Alpacas, not super PACs." He's selling the shirts to support his Assembly bid. 
While Comegys wants to have some fun during the campaign — "If it was all serious all the time," he said in a phone interview Friday, "it'd be extremely boring and stressful" — there's a serious message he hopes to convey with the T-shirts. He supports campaign finance reform and public financing of elections, the latter of which would involve taxpayer funds being used to match small-dollar donations to candidates. 
But reform, in Comegys' view, doesn't stop there. 
"I'd like to see the end of super PACs in our political system," he said. "I would like to see the end of corporate money in our system." 
Comegys explained that if everyone who supported him a year ago donated $10 to his campaign, his budget for the 2020 election would be set. He wouldn't have to ask for large donations and he could focus on "connecting with people on a real basis," he said, instead of asking them for money. 
The other issues that are part of Comegys' platform haven't changed from the 2018 race. He supports the New York Health Act, a bill introduced by Democratic legislators to establish a statewide single-payer health care system. The goal of the bill is to provide universal coverage, but he also noted that it would change how health insurance is funded in New York. 
You have free articles remaining.
"One of the main things that we pay for from our property taxes — what we're always being told — is 80% of that goes straight into Medicaid," Comegys said. "We have an option instead to take that Medicaid cost out of our property taxes, put it into a payroll tax that is more equitable as far as people paying for it and go into the New York Health Act. I think that would make people a lot happier and give them certainly more security in their health care." 
He also supports changing how the public education system is funded in New York. Much like Medicaid, public schools are reliant on property tax payments. While there isn't a specific proposal he supports, he believes other ways of funding public education need to be explored that will preserve local control of school districts. 
The environment remains a priority for Comegys. The Democratic-led state Legislature passed the Climate Leadership and Community Protection Act this year — Gov. Andrew Cuomo signed the measure in July — that sets goals for the state to reduce carbon emissions. It's a new law that outlines ways for New York to do its part to address climate change.
Comegys called the law "a great start," but wants to see how it will be implemented. 
"You have to do the real work," he said. "It becomes more than just we've created a policy. You have to follow through with the policy." 
His reason for running hasn't changed. He believes Manktelow, who is serving his first term representing the district that covers all of Wayne County and parts of Cayuga and Oswego counties, is taking a similar approach to legislation as Oaks did. 
"The Republicans have been representing us there for over 28 years and the way they represent us is by opposing everything that happens in Albany," Comegys said. "(Manktelow) voted against things that I think are very important." He cited the Climate Leadership and Community Protection Act and the Reproductive Health Act, a major abortion rights bill, as examples. 
Comegys supports these bills and others that have been advanced or proposed by Democrats in the state Legislature. And while the bills could help the state make progress, he says, it would be helpful to consider the rural implications of the policy proposals. 
That's a perspective he thinks he can bring to the Assembly Democratic Conference. 
"If we don't have somebody with that voice there, how are they going to make that consideration?" he said. 
So far, Comegys is the lone Democrat to enter the 130th district race. Manktelow, R-Lyons, will seek re-election next year. 
Online producer Robert Harding can be reached at (315) 282-2220 or robert.harding@lee.net. Follow him on Twitter @robertharding.