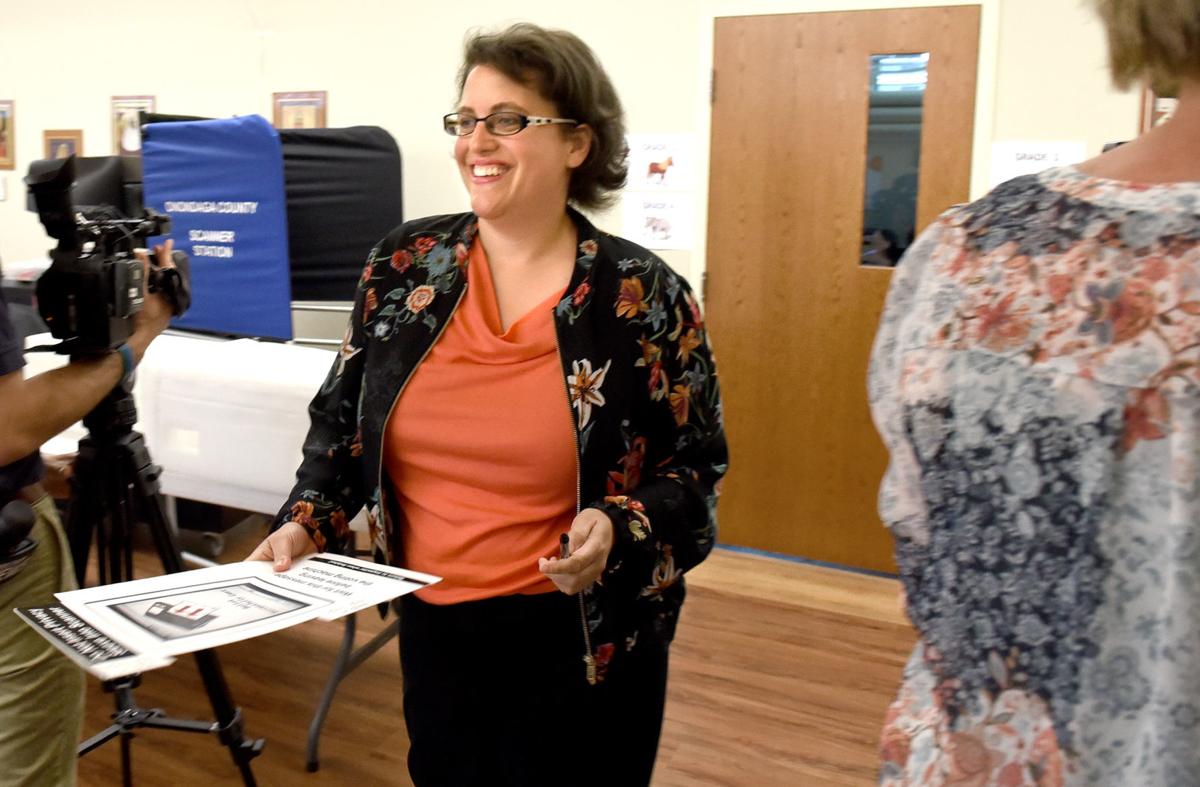 Dana Balter, who fended off a last-minute Democratic primary challenger and then narrowly lost to U.S. Rep. John Katko in the 24th Congressional District race last year, will announce next week whether she will launch another campaign for the central New York House seat. 
A press release sent by Balter's 2018 campaign manager revealed that she will make a "special announcement" at the PressRoom Pub in Syracuse Tuesday. 
Balter has said that she is considering a second bid for Congress in 2020. She has remained active in central New York politics and attended rallies held in the Syracuse area. On social media, she has posted updates supporting Democrats in local elections this year. 
If Balter runs again, she will have competition for the Democratic nomination. Roger Misso, a Wayne County native and Navy veteran who now lives in Syracuse, announced his candidacy last week. The field of candidates could grow over the next several months. 
Balter beat out three other Democrats for the party's designation in February 2018. It appeared she wouldn't face a primary challenge until early April, when former Syracuse mayoral candidate Juanita Perez Williams entered the race with the support of the Democratic Congressional Campaign Committee. 
Relying on hundreds of volunteers and a strong voter outreach effort, Balter defeated Perez Williams by 25 points in the June primary election. 
A pre-Labor Day poll showed Balter trailing Katko, R-Camillus, by double digits. While Balter's local support never waned, her campaign received more attention when she raised $1.5 million in the third quarter — a record for a Syracuse-area congressional candidate. 
A poll in late October found Katko leading by double digits, but the campaigns knew the race was much closer. On election night, Balter won Onondaga County — the first time Katko has lost a county in three congressional elections. 
But her performance in the district's largest county wasn't enough. Katko won the election by five points. 
Democrats believe Katko is vulnerable in 2020. The Democratic Congressional Campaign Committee named the three-term incumbent as one of its targets next year. The group also added him to its "retirement watch list." 
Katko has said he will run for a fourth term in 2020. 
While the advisory doesn't indicate whether Balter will run or not, her Twitter account offered a clue this week. 
In a tweet, she shared a link to a survey asking respondents, "Which issue do we need to tackle first?" The options are: Affordable health care, campaign finance reform, economic revitalization, gun safety or "other." 
A disclaimer at the bottom of the survey notifies the recipient that it was paid for by Friends of Dana Balter, the Syracuse Democrat's campaign committee. 
The 24th Congressional District is comprised of the western towns in Oswego County and all of Cayuga, Onondaga and Wayne counties. As of Feb. 1, the district has 149,332 active Democrats and 139,283 active GOP voters. There are also 107,246 active voters who aren't enrolled with a political party. 
Online producer Robert Harding can be reached at (315) 282-2220 or robert.harding@lee.net. Follow him on Twitter @robertharding.
Be the first to know
Get local news delivered to your inbox!