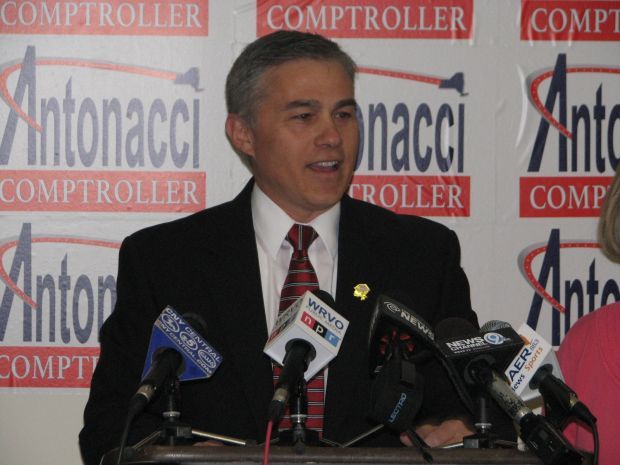 A member of the Onondaga County Democratic Committee has objected to petitions filed by Republican candidate Bob Antonacci to establish a new ballot line for the 50th Senate District race. 
Diane Dwire submitted general objections to Antonacci's Upstate Jobs Party petitions, according to the state Board of Elections. The general objection, which was received Tuesday, is the first step in the process for challenging the validity of a candidate's petition. Dwire has until Sept. 4. to file specific objections. 
After that specific objections are submitted to the state Board of Elections, a bipartisan team at the agency reviews the petitions. A hearing may be held that would allow either side to make arguments. The hearing officer issues a final report that will be voted on by the state election commissioners at their next meeting. 
Antonacci collected approximately 4,000 signatures to run on the Upstate Jobs Party line, a party created in 2016 by businessman Martin Babinec, who ran for the 22nd Congressional District race that year. 
To establish an independent party line for a state Senate race, a candidate must submit 3,000 valid signatures. 
In a statement, Antonacci blamed "New York City politicians" for "attempting to silence thousands of residents of the 50th Senate District who believe upstate jobs are the key to their family's future."
Dwire, who objected to Antonacci's petitions, is a Camillus resident and has been a longtime Democratic committee member. She ran for state Assembly in 2014 and 2016. 
"This is a shameful and arrogant power play by people who don't believe upstate jobs are important, but sadly it's a microcosm of this overall race," Antonacci said. 
The challenge is the latest fight over petitions in the 50th Senate District race. Antonacci's supporters objected to petitions filed by Rick Guy, a Republican who planned to challenge Antonacci in a primary. 
After a review of Guy's petitions, it was determined that he didn't have enough valid signatures. He decided to drop out of the race. 
Supporters of Antonacci's campaign also challenged Reform Party petitions submitted by Democratic candidate John Mannion. Attorneys for Antonacci and Mannion agreed that the Reform Party petition would be thrown out after a fraud allegation was levied against the Westvale Democrat's campaign. 
Now, it's Antonacci who is on the receiving end of a petition challenge. 
"My opponent and his New York City allies can attempt to invalidate on technicalities the petitions of thousands of hard-working residents who want, need and deserve upstate jobs, but we aren't going to go away quietly," Antonacci said. 
Be the first to know
Get local news delivered to your inbox!