The battle for control of the state Senate could be decided by a race in central New York pitting a top elected official in the region against a political newcomer. 
In the 50th Senate District race, Onondaga County Comptroller Bob Antonacci, a Republican, will square off against Democratic candidate John Mannion, an Advanced Placement biology teacher at West Genesee High School in Camillus. 
Antonacci and Mannion are vying to succeed retiring state Sen. John DeFrancisco, a Republican who has represented the 50th district since 1993. DeFrancisco announced last spring that he wouldn't seek another two-year term in the state Senate.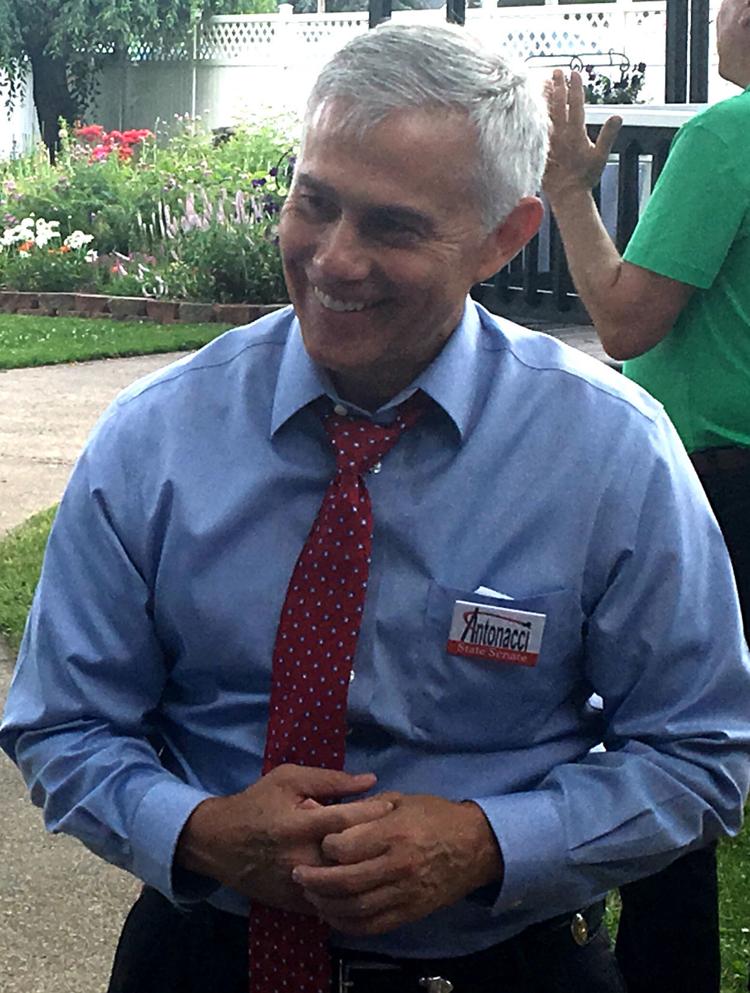 Before DeFrancisco represented the district, it was held by former state Sen. Tarky Lombardi, a Republican, for more than a quarter century. 
Antonacci, who was elected Onondaga County comptroller in 2007 and won re-election in 2011 and 2015, said his priorities if elected to the state Senate would be affordability and opportunity. He would focus on lowering taxes and reducing costs for businesses. He wants to address the population decline affecting upstate New York and the Syracuse area. 
"I think if we bring back economic vitality, a lot of this other nonsense we're arguing over solves itself," he said in a phone interview Thursday. 
Mannion, who has worked as a teacher for 25 years, wants to address economic revitalization and would use his expertise to tackle education issues. He wants more equitable state funding for school districts, especially for high-need districts that have been short-changed due to an out-of-date formula. 
"I am an outsider that has spoken many times to elected officials about keeping them to their word," Mannion said at his campaign launch in April. "We cannot let that get out of the limelight." 
The candidates disagree on many issues. Mannion supports the New York Health Act, a bill that would establish a single-payer health insurance system statewide. Antonacci opposes the proposal to have "government-run health care" in the state. 
Mannion also supports the Reproductive Health Act, which would codify the Supreme Court's Roe v. Wade decision into state law and decriminalize abortion by repealing portions of the state penal code. Antonacci opposes the bill. 
The two measures are significant because both could pass the state Senate if Democrats control the chamber. The bills have been approved by the Democratic-led state Assembly. 
Mannion could be the deciding vote on both bills. But Antonacci wants to avoid that scenario. 
"When Democrats took over the Senate in 2009, spending went up over $14 billion and taxes went up over $14 billion," he said. "I really think that this is about the future of central New York and upstate New York, and that's why I'm the better guy." 
Mannion believes his status as a newcomer will help in the state Senate race. The district was represented by one person (DeFrancisco) for more than 25 years. Antonacci is a known commodity in central New York. He has not only served as county comptroller for more than 10 years, but he has been a candidate for other political positions. In 2014, he ran for state comptroller. 
In his conversations with voters, Mannion said they tell him they want a "fresh face" representing them in Alabny. 
"I believe we need a transformation in Albany and I think someone who has served the community for a long time but not served in a political capacity can bring that voice — that voice of reform — to Albany," he said. 
The 50th district race is a top priority for both parties. The district includes a sliver of Syracuse, 13 towns in Onondaga County, most of Auburn and the towns of Brutus, Cato, Ira and Sennett in Cayuga County. 
While DeFrancisco had a stranglehold on the seat for many years, there are nearly the same number of Democratic and Republican voters in the 50th. As of April, there were 61,498 active Democrats and 62,316 active GOP voters in the district. 
State Sen. Michael Gianaris, who chairs the Senate Democratic Campaign Committee, views the 50th district as a great pickup opportunity for Democrats. With Democratic momentum this year, the expectation is that there will be a so-called "blue wave." 
The 63-seat Senate has 31 Democratic members, 31 Republicans and a Democrat (Sen. Simcha Felder) who caucuses with the GOP. 
Gianaris likes the Democrats' chances this year. There are 10 Republican-held seats they believe they can win, including five seats open due to the retirements of GOP senators. One of the open seats is the 50th. 
"I think we're very well-positioned for success in a year when Democrats are winning all over the country," he said. 
Like the Democrats, the top Senate Republican also views the 50th as a high priority. Senate Majority Leader John Flanagan said the race is "definitely in the top five, maybe even top three." 
"Every seat is important, including my own," he said. "Everyone is important. we have a great big diverse broad state, but everyone is important ... What happens in Syracuse and what happens in that whole area of the state is incredibly important to the well-being of the people I represent." 
Both parties are high on their candidates in the 50th district contest. Flanagan offered high praise of Antonacci, comparing him to his potential predecessor, DeFrancisco. 
DeFrancisco has been deputy majority leader of the state Senate since 2015, when Flanagan was elected to lead the Senate Republican Conference. Flanagan named DeFrancisco his number two. 
"(Antonacci) reminds me a lot of DeFran," he said. "He is strong, he's hardworking, he's pugnacious. He is very committed to what he wants to do. And for us, for me, he's a great fit." 
On the Democratic side, Gianaris lauded Mannion and reiterated that the 50th district race is a "very important" contest for Democrats. 
"We drew a top-notch candidate in John Mannion and we expect it's going to be a hard-fought race that we're going to win," he said. 
Antonacci will appear on the Republican, Conservative and Independence ballot lines. Mannion will have the Democratic, Women's Equality and Working Families lines. 
Mannion was endorsed by the state Reform Party, but lost the ballot line after a judge tossed out his petition last week. There will be a primary for the Reform Party line on Sept. 13. Republicans filed an opportunity to ballot, a mechanism which allows voters to write in a candidate for the party's nomination. 
The primary will determine who will appear on that ballot line for the Nov. 6 general election.