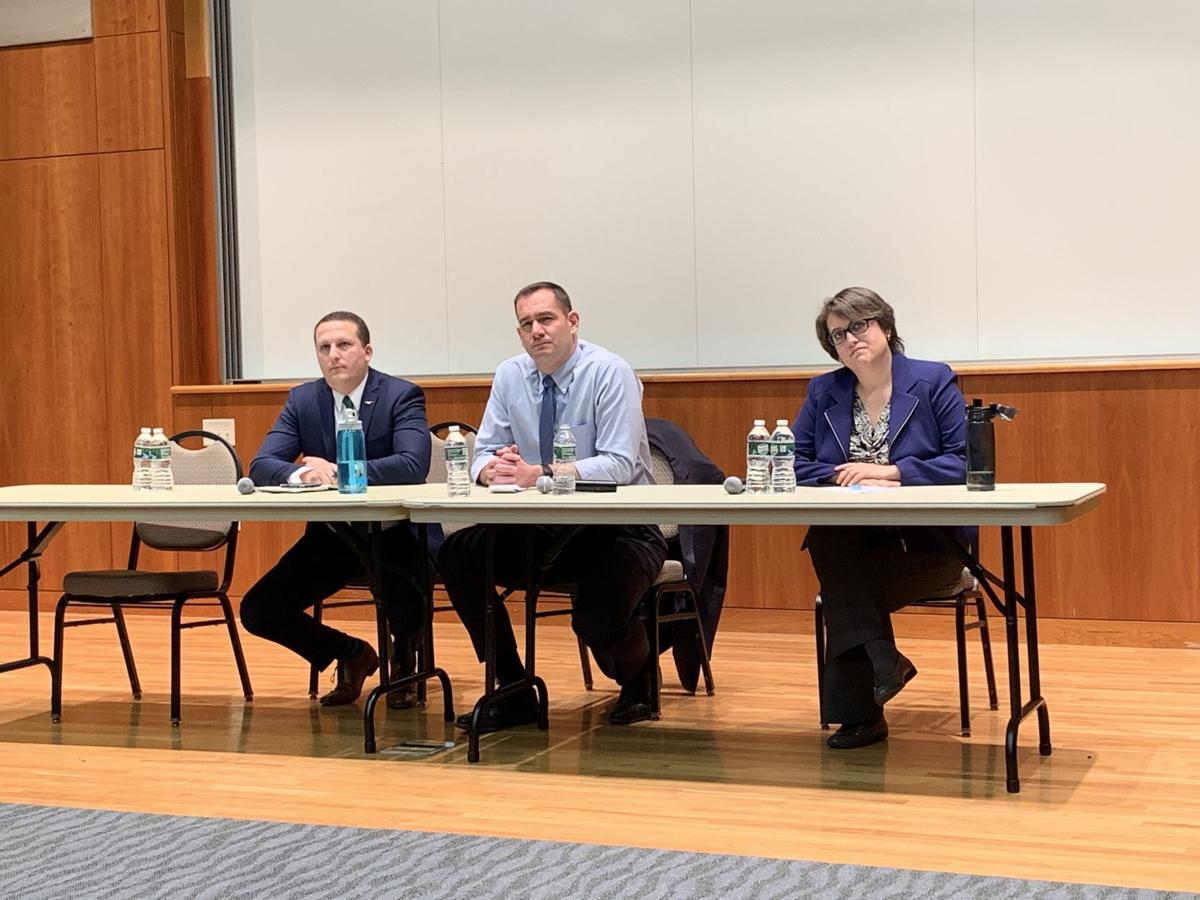 OSWEGO — At a candidates forum on the campus of a state university, it's an issue that couldn't be avoided. 
The three Democratic candidates for the 24th Congressional District seat — Dana Balter, Francis Conole and Roger Misso — were asked how they would address student loan debt. Total student loan debt surpassed $1 trillion in 2012 and reached $1.5 trillion in 2018. There is bipartisan agreement that it's a crisis, but politicians differ about how to solve the problem. 
To laughs from the crowd of more than 100 people at SUNY Oswego Wednesday night, Balter shared she is still paying off her student loan debt. 
"It feels like it's never gonna end," she said. 
Balter, D-Syracuse, believes there needs to be solutions for people with significant student loan debt and for new students beginning their post-secondary education. For new students, she thinks alternatives to college — vocational and technical programs, for example — have been underfunded because of the emphasis on getting young people to attend a two- or four-year school. 
She supports investments in debt-free post-secondary education, including tuition-free public schools and community colleges. She also wants protections for student loan borrowers that have ended under the Trump administration. 
"The federal government should not be making money off the backs of students," Balter added. 
Misso, D-Syracuse, agrees that there should be tuition-free college and trade schools for students. Eliminating student loan debt, he argued, would be cheaper than the 2017 tax law that Republicans in Congress supported. 
One proposal he supports is the cancellation of student loan debt for people who earn below $100,000 or $150,000. 
He likened the looming student loan debt crisis to the 2008 recession. At the time, analysts said banks were too big to fail. 
"We got a bunch of students in this country who are too big to fail," Misso noted. 
Conole, D-Syracuse, said it's "imperative" to address student loan debt because it's not only an economic security issue. He views it as a national security challenge, too, because it hurts the United States' ability to compete with China, Russia and other adversaries. 
As a student at the U.S. Naval Academy, he said the country "invested in me." After serving in Iraq, he used the G.I. Bill to attend graduate school. 
"But I don't think that young people should have to deploy to have the country invest in their education," he said. 
To address student loan debt, he supports national service programs that would forgive borrowers' student loan debt. He also wants a review of high interest debt and the ability of students to refinance their loans. 
Conole supports investments in technical and vocational training. 
"Not everyone needs to go for a four-year degree," he said. "We have 15,000 job openings (in central New York). We do have a skills gap." 
Other topics covered at the forum include: 
• The first question of the night asked candidates what they would do to protect their constituents from cyber threats. Misso highlighted his expertise in the field and how he would be the first member of Congress with cybersecurity experience. Conole also has knowledge of cyber threats from his military service. Balter stressed that election security needs to be a priority. 
• The candidates agreed that there is a role for nuclear power. There are two nuclear power plants in Oswego County. They also agreed that nuclear power is a critical component to weaning off fossil fuel usage. 
• Regarding what to do tackle the opioid crisis, Balter acknowledged that those introducing the drugs into the community should be held accountable. That includes pharmaceutical companies that helped spark the epidemic. Misso agreed that the pharmaceutical companies should be target. He also supports funding for ambulance and EMT services to ensure they have the training to treat drug overdoses. Conole wants to ensure hospitals and other medical facilities have the resources needed to assist addicts. 
Balter, Conole and Misso are vying for the Democratic nomination to challenge U.S. Rep. John Katko, a three-term Republican, in the 24th district. If a primary election is necessary, it will be held in June 2020. 
Online producer Robert Harding can be reached at (315) 282-2220 or robert.harding@lee.net. Follow him on Twitter @robertharding.
Be the first to know
Get local news delivered to your inbox!