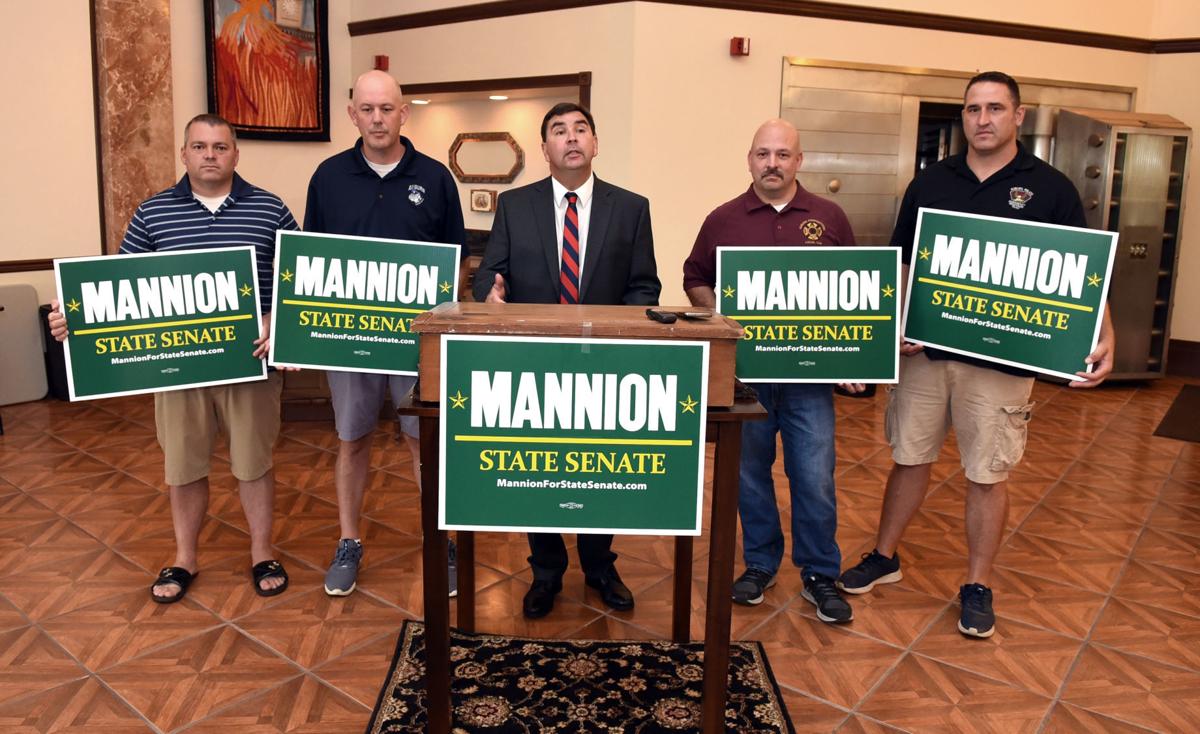 AUBURN — Unions representing the city's firefighters and police officers support the Democratic candidate in the 50th Senate District race. 
Auburn Police Local 195 and Auburn Firefighters Union Local 1446 endorsed John Mannion for state Senate. Mannion, D-Westvale, is running to succeed retiring Republican state Sen. John DeFrancisco. 
The Republican candidate in the race is Onondaga County Comptroller Bob Antonacci. 
Auburn Police Local 195 met with Mannion nearly a month ago, according to Chris Major, a member of the union and a school resource officer in the Auburn Enlarged City School District. 
Major said Mannion, an Advanced Placement biology teacher at West Genesee High School in Camillus, understands the public sector and "speaks the same language we do."
"He's kind of a breath of fresh air," Major said. "I think he'll do an excellent job. He's a man of the people." 
You have free articles remaining.
Sean Corcoran, president of the Auburn Firefighters Union Local 1446, agreed. He lauded Mannion for his commitment to being an independent voice for the 50th district. 
"It's great that we're sending someone (to Albany) with labor, but we're also sending somebody down there that's not a part of anybody's party politics," Corcoran said. 
At a press conference Monday at the Phoenix Building in Auburn, Mannion reacted to the endorsements. 
"I have great respect for public employees, especially those who keep us safe," he said. "We need to value these employees and we trust them with our lives and our safety. I value those people myself. I value them to protect my children and to protect my family." 
The endorsements may give Mannion a boost in Auburn and in the nearby Cayuga County towns in the district. The race is expected to be one of the most competitive state Senate campaigns in New York. 
DeFrancisco has held the state Senate since his election in 1992. Before that, former state Sen. Tarky Lombardi was in office for a quarter century. Mannion hopes to end Republican control of the seat. 
The race is considered a top priority for both parties because of the ongoing fight for majority control of the state Senate. Democrats and Republicans each have 31 members in the 63-seat chamber. A New York City Democrat, state Sen. Simcha Felder, caucuses with the Republicans. 
If Mannion wins in November, it could give Democrats the 32nd seat they need to win the majority. If Antonacci wins, Republicans will retain control of the chamber. 
Online producer Robert Harding can be reached at (315) 282-2220 or robert.harding@lee.net. Follow him on Twitter @robertharding.