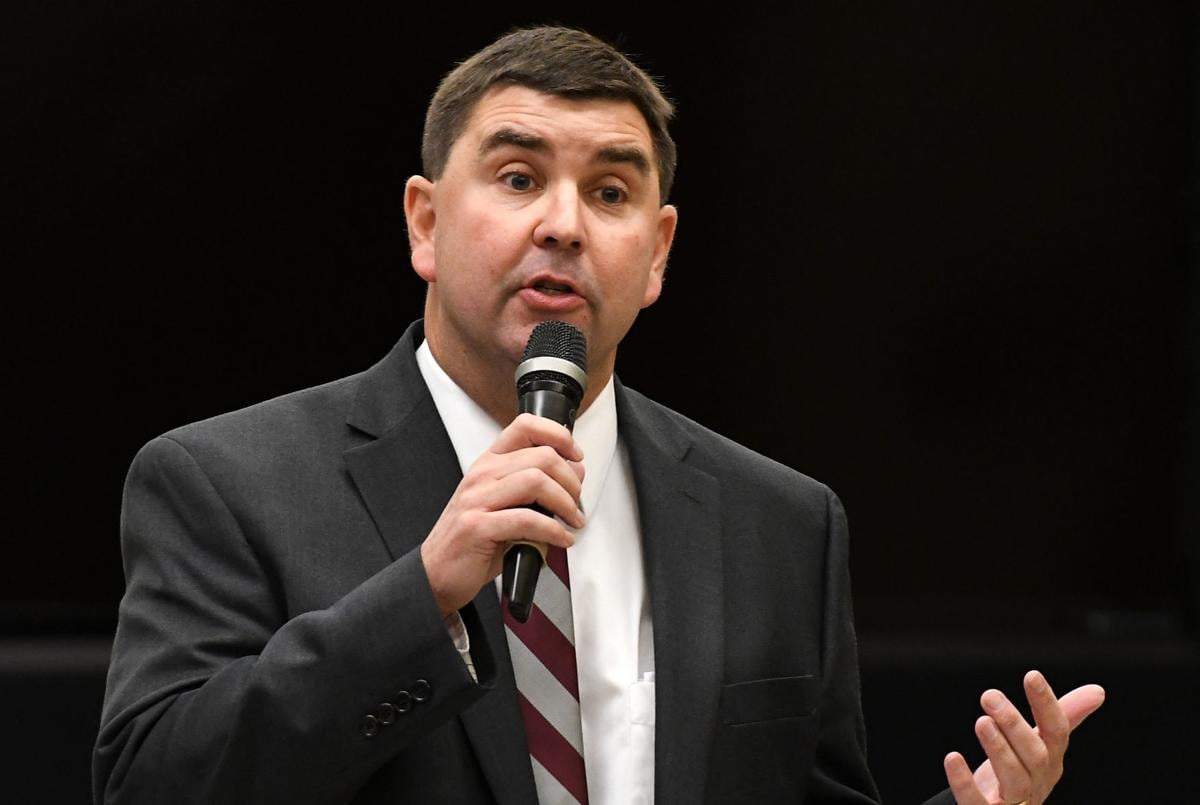 New York's powerful teachers' union and the labor group representing Auburn police officers are supporting John Mannion in his second bid for the 50th state Senate District seat. 
Mannion, D-Geddes, has been endorsed by New York State United Teachers and Auburn Police Local 195. Both groups backed him in his 2018 run for state Senate. 
Joseph Villano, president of Auburn Police Local 195, noted that Mannion has experience supporting labor organizations. As a biology teacher at West Genesee High School in Camillus, Mannion serves as president of the West Genesee Teachers Association. 
"John's commitment to representing our police officers, prison guards, nurses and teachers along with his devotion makes him an ideal candidate," Villano said. 
New York State United Teachers was an early supporter of Mannion's state Senate campaign in 2018. The labor group endorsed him a few weeks after he formally entered the 50th district race. 
NYSUT was a major player in the race one year ago. A political action committee backed by the union, Fighting For Our Future, spent more than $1.2 million on the Senate campaign in 2018. 
Mannion is the first candidate to receive NYSUT's endorsement for the 2020 election. Andy Pallotta, NYSUT's president, said in a statement that Mannion's experience in public education "would be a huge boon to the Senate."
"NYSUT supports candidates who share our values and strong belief in the power of organized labor, and in John, we know we have a true friend and advocate who will put central New York's students and working families first," Pallotta added. 
In a statement, Mannion welcomed the endorsements by the two labor groups. 
"I am proud to be supported by the working men and women of the Auburn Police Department and by fellow educators in NYSUT," Mannion said. "I am running because I believe working people deserve a future here in central New York. I have fought for working people as a union leader myself and look forward to taking that fight to Albany." 
Mannion is running to fill the seat held by state Sen. Bob Antonacci, who narrowly defeated Mannion in 2018. Antonacci, a Republican, won a state Supreme Court judgeship in November. He must vacate his Senate seat to become a judge. He will resign at the end of the year. 
With Antonacci's departure, there is a possibility that Gov. Andrew Cuomo will call a special election. The special election can only be called when Antonacci resigns. Once he does, the earliest the governor could set the special election is mid-March. It's likely that, if a special election is called, it will be held April 28 — the same date as the New York presidential primary. 
Mannion announced his candidacy for the 50th district two days after the local election. With the possibility of a special election in the first few months of 2020, he wanted to get an early start. 
So far, Mannion is the only Democrat in the race. No Republicans have publicly announced they're running for the 50th district seat. 
The 50th Senate District includes several Onondaga County towns and a portion of Syracuse. Most of Auburn and the Cayuga County towns of Brutus, Cato, Ira and Sennett are also in the district. 
Online producer Robert Harding can be reached at (315) 282-2220 or robert.harding@lee.net. Follow him on Twitter @robertharding.