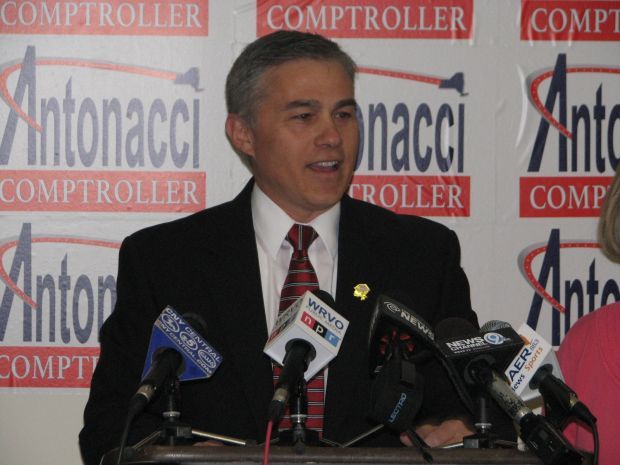 Bob Antonacci, Onondaga County's top fiscal officer for more than a decade, has informed Republican committee members that he is running for the party's nomination in the 50th Senate District race. 
In a letter obtained by The Citizen, Antonacci told Onondaga County Republican Committee members that he was encouraged by state senators to run for the seat currently held by state Sen. John DeFrancisco, who is not seeking re-election this year. 
"I believe I am the most qualified person to run for this seat and that I possess the skills needed to be a very strong candidate for our party," Antonacci wrote. 
Antonacci has been Onondaga County comptroller since being elected in 2007. He won re-election to the seat in 2011 and 2015. Prior to holding countywide office, he was the budget officer, comptroller and zoning board attorney in the town of Salina. 
In 2014, Antonacci challenged state Comptroller Tom DiNapoli in a statewide election. DiNapoli, a Democrat, won the race by 32 points. 
Antonacci is the second Republican to launch a campaign to succeed DeFrancisco, R-DeWitt, who has held the seat since 1993. Rick Zaccaria, a small business owner and Van Buren town board member, is also vying for the GOP nomination. 
You have free articles remaining.
The Democrats have designated John Mannion, an Advanced Placement biology teacher at West Genesee High School in Camillus, to run for state Senate. 
With DeFrancisco's retirement, the 50th Senate District race is expected to be competitive this year. Republicans want to retain the seat, while Democrats view it as a pickup opportunity. There is a strong possibility the race would help decide majority control in the state Senate. 
Antonacci believes his past countywide electoral victories and his existing campaign account — he has more than $115,000 in the bank — put him in a strong position to be the GOP nominee in the 50th Senate District race. He also highlighted his relationships with local Conservative and Independence Party leaders. The two minor parties usually back GOP state Senate candidates.
He also sees his financial background as an asset. The top job for the state Legislature every year is to pass the state budget. This year's state budget totaled more than $168 billion. 
"As your county comptroller, I have the experience necessary to review and understand the massive state budget, and can hit the ground running on Day 1," he said. 
The 50th Senate District covers many of the Syracuse suburbs and most of Auburn in Cayuga County. The Cayuga County towns of Brutus, Cato, Ira and Sennett are also in the district. 
Online producer Robert Harding can be reached at (315) 282-2220 or robert.harding@lee.net. Follow him on Twitter @robertharding.
Be the first to know
Get local news delivered to your inbox!