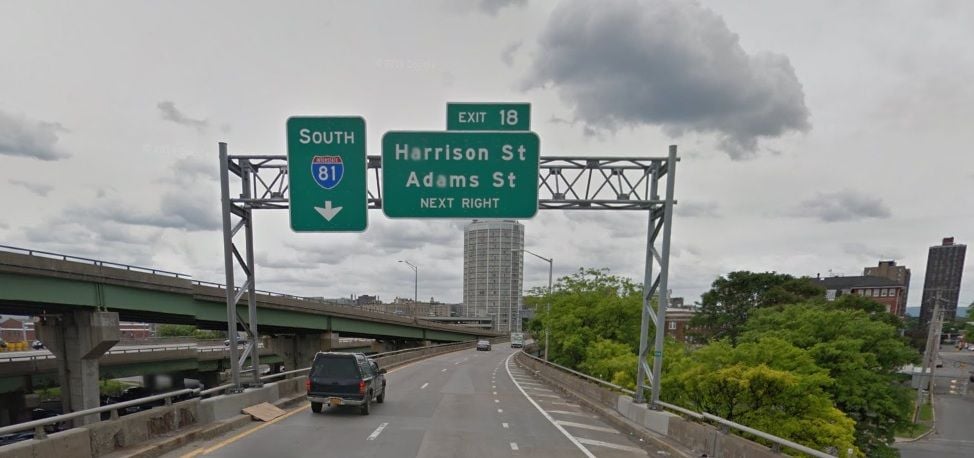 The New York State Department of Transportation has narrowed down the list of alternatives it will consider for the reconstruction or replacement of the Interstate 81 viaduct in Syracuse. 
The agency, along with the Federal Highway Administration, released a scoping report Wednesday outlining the plans that will be studied. The options include a no-build alternative, which must be included as a baseline for the other proposals, and would maintain the viaduct in its current form. 
A viaduct alternative will also be subject to further review. Under this plan, the existing elevated portion of I-81 would be replaced between Colvin and Spencer streets. Modifications would be made to the highway from north of Spencer Street to Hiawatha Boulevard and along Interstate 690, according to the report. 
DOT officials merged several street-level proposals into one, called the Community Grid alternative. There are two options within the Community Grid plan: Transforming Almond Street into a boulevard or reducing traffic lanes on Almond Street and making use of local streets. 
Under both options in the Community Grid plan, the viaduct would be removed and replaced with a "street-level urban arterial," the report said. 
The DOT will also study a tunnel option after previously saying that such an alternative wouldn't be considered. However, the agency said the four initial tunnel plans that were presented will not receive further review. Instead, the DOT will study to determine if any variation of a tunnel alternative would meet the needs of the project. 
U.S. Rep. John Katko, who pushed for the scoping report to include several options for I-81 project, said he's pleased "a variety of reasonable alternatives" were outlined in the document. 
"We can now move forward with a public conversation on the future of Interstate 81 to determine which option is best for central New York residents, businesses, civic groups and our community as a whole," Katko, R-Camillus, said. "I look forward to reviewing the details of each of the options presented in today's report." 
Syracuse Mayor Stephanie Miner said the I-81 project should aim to boost the city's economy, improve connectivity between neighborhoods and protect historic buildings near the current viaduct, which reaches the end of its useful life in 2017. 
"I will support a solution that, based on hard data, accomplishes these goals and continues to move the city of Syracuse forward into the 21st century," Miner said. 
The next steps in the process include a stakeholders committee meeting this spring. The DOT said more public meetings will be held to keep the community updated as the project continues.