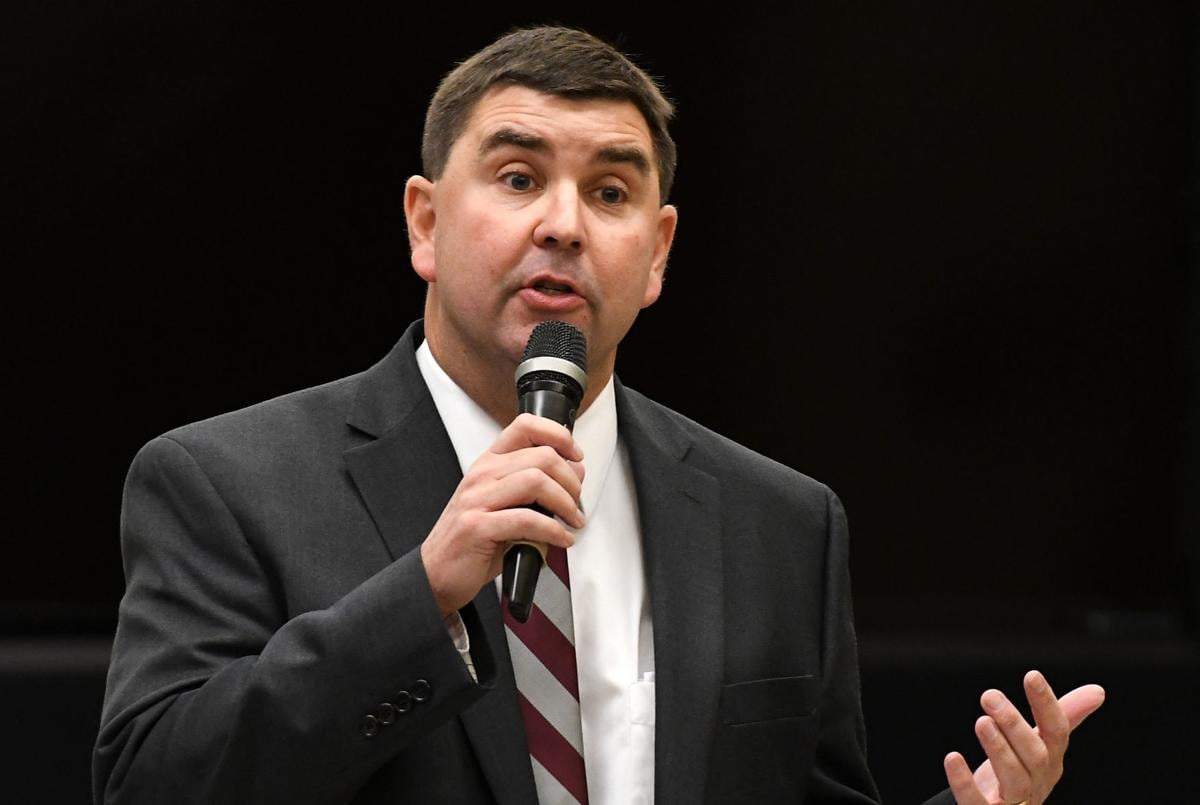 The Democratic committees in Cayuga and Onondaga counties designated John Mannion to be the party's nominee if there is a special election to fill the 50th Senate District seat in 2020. 
Mannion, D-Geddes, is an Advanced Placement biology teacher at West Genesee High School in Camillus and president of the West Genesee Teachers Association. He was the Democratic nominee for the 50th district race in 2018, but lost to Republican Bob Antonacci. 
Antonacci won a state Supreme Court judgeship in November and will vacate the Senate seat by Jan. 1. Gov. Andrew Cuomo could call a special election to fill the seat as early as mid-March. 
Cuomo hasn't committed to calling a special election, but he mentioned April 28 — the day of the New York presidential primary — as a possible date. 
Assemblywoman Pam Hunter, who chairs the Onondaga County Democratic Committee, believes Mannion is a strong candidate because he "will bring working class values to Albany." 
"I look forward to having him by my side as we fight for central New York families," Hunter said in a statement. 
Cayuga County Democratic Chairman Ian Phillips, who was Mannion's campaign manager in 2018, highlighted the candidate's background as a teacher. 
"He'll make sure our public schools get their fair share, our precious lakes stay clean and he'll make sure our kids and grandkids have an economy that they can rely on to raise their own families," Phillips said. 
Shortly after the local elections concluded, Mannion announced he would seek the Democratic nomination for the state Senate seat he narrowly lost in 2018. The district is comprised of several Onondaga County towns, a portion of Syracuse, most of Auburn and the towns of Brutus, Cato, Ira and Sennett in Cayuga County. 
Mannion has already secured two endorsements in his state Senate. Auburn Police 195 and New York State United Teachers are supporting his campaign. Both unions endorsed him in 2018. 
No Republicans have publicly announced their candidacies for the state Senate seat. Cayuga County Legislator Tim Lattimore, who served one term as mayor of Auburn, is exploring a run but hasn't decided whether to seek the GOP nod. 
The 50th district race is expected to receive a lot of attention in 2020. In 2018, nearly $3 million was spent by the campaigns and outside groups. 
Democrats hold 40 of the 63 state Senate seats and hope Mannion will be the 41st member of their conference. Republicans view the seat as a priority as they aim to regain majority control of the Senate. 
Online producer Robert Harding can be reached at (315) 282-2220 or robert.harding@lee.net. Follow him on Twitter @robertharding.
Be the first to know
Get local news delivered to your inbox!