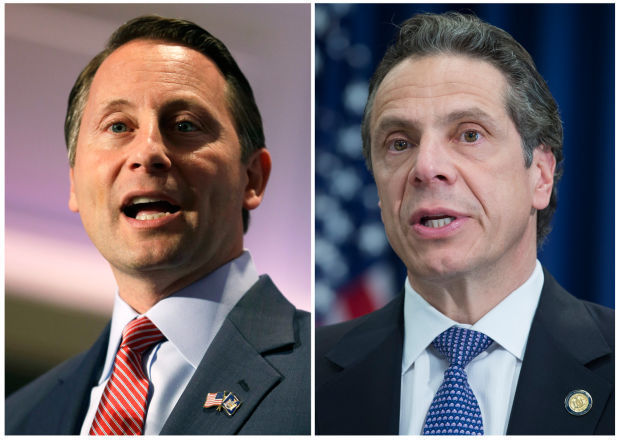 Gov. Andrew Cuomo's campaign announced Saturday that the Democratic incumbent has agreed to participate in two debates, including a one-on-one debate with Republican challenger Rob Astorino in New York City. 
WNYC New York Public Radio and the Wall Street Journal will sponsor the New York City debate. A second debate will be held in Buffalo. That debate is sponsored by The Buffalo News and WNED-WBFO. 
Along with Astorino, Green Party candidate Howie Hawkins and Libertarian Party nominee Michael McDermott are also scheduled to participate in the Buffalo debate. 
The debates will be held in mid-October.
"Governor Cuomo is looking forward to a robust discussion of ideas at both debates and we want to thank the sponsors for making these events possible," Cuomo campaign spokesman Matt Wing said in a statement.
However, Astorino campaign spokeswoman Jessica Proud says the campaigns haven't discussed the debate schedule. 
"This is more games from Andrew Cuomo," Proud said in a statement. "Despite their claims, there have been no negotiations between the campaigns. We have called for at least one televised debate between the two major party candidates, as is custom in every election from President of the United States on down. 
"It's clear Governor Cuomo is terrified to go one-on-one with County Executive Astorino on television. Is it because he doesn't want people to see his face when he's asked about his role in the Moreland corruption scandal? The people of New York deserve better."
Saturday's announcement comes after repeated calls for debates in the gubernatorial race. 
Astorino called on Cuomo to participate in eight regional debates across the state, from Western New York to Long Island. The reason for regional debates, Astorino said earlier this month, is that some issues in one part of the state may not apply to other areas. 
"New York has fallen behind other states in so many categories," Astorino said on Sept. 12. "Our taxpayers deserve to hear what the two major candidates for governor plan to do about it." 
Hawkins, like Astorino, has also called for debates. He received seven percent of the vote in the latest Siena College poll and believes that all candidates, including minor party challengers, should be allowed to participate in the debates.
"Voters are not satisfied with the two choices they hear about from paid ads and the news," Hawkins said in a statement Wednesday. "They want open debates where all the candidates have the opportunity to lay out their vision of how to improve our state. It is time for Cuomo and Astorino to agree to open debates." 
Debates have been an issue in many races throughout the state. Cuomo, who defeated Randy Credico and Zephyr Teachout in the Democratic primary earlier this month, did not debate his primary challengers. 
Republicans running for statewide office have also urged their Democratic opponents to participate in multiple debates.
John Cahill, the GOP candidate for attorney general, challenged state Attorney General Eric Schneiderman, a Democrat, to at least 10 debates. And Onondaga County Comptroller Bob Antonacci, who is challenging Democratic state Comptroller Tom DiNapoli, has called for two debates, one in downstate and one in upstate. 
Debates for the attorney general's race and the race for state comptroller have not been finalized.