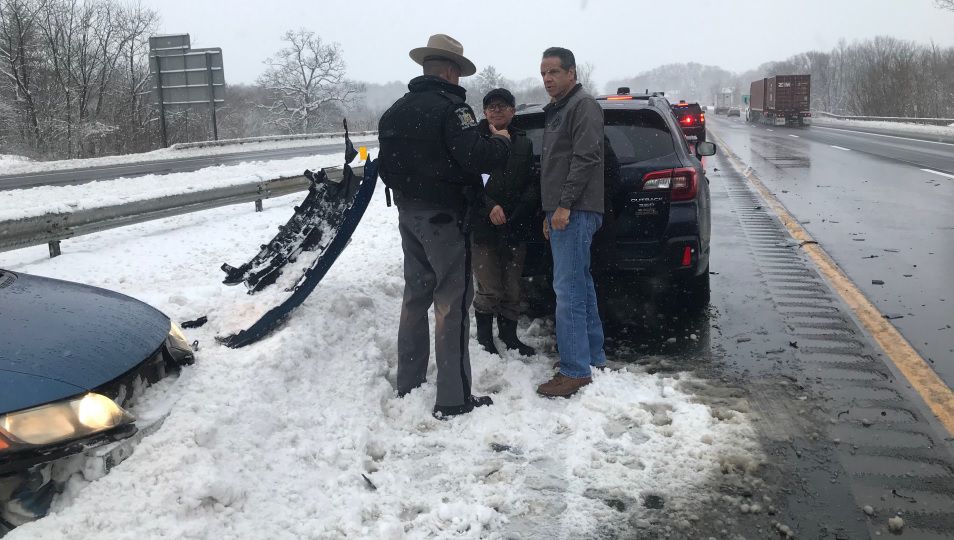 A state of emergency has been issued for seven counties after a winter storm pummeled a large swath of New York over the last two days. 
Gov. Andrew Cuomo on Monday declared a state of emergency for Albany, Columbia, Greene, Rensselaer, Saratoga, Schenectady and Ulster counties. The seven counties were the hardest hit by the winter storm. More than a foot of snow has fallen in the Capital Region and upper Hudson Valley. 
State resources will be deployed to help with the storm response in the seven counties. Cuomo also called up 300 National Guard members to provide assistance where needed. 
You have free articles remaining.
"Our state is no stranger to this type of extreme winter weather and these additional measures will be critical in our efforts to keep all New Yorkers safe throughout the remainder of the storm," Cuomo said. 
Cuomo also advised New Yorkers to use caution when traveling during the storm. Several counties, including Cayuga, issued travel advisories due to hazardous driving conditions. 
After delivering a storm briefing in Kingston, Cuomo and state troopers stopped to assist motorists involved in a two-car crash on the Thruway in Albany County. No one was injured in the wreck. Cuomo's vehicle was used to transport a couple involved in the crash to the nearest state police barracks, according to the governor's office. 
Cuomo said state troopers have responded to more than 740 storm-related crashes in New York. 
"Staying off the road allows first responders to do their job," Cuomo said. "Make sure to watch out for each other and offer assistance to those you see in need!" 
Online producer Robert Harding can be reached at (315) 282-2220 or robert.harding@lee.net. Follow him on Twitter @robertharding.