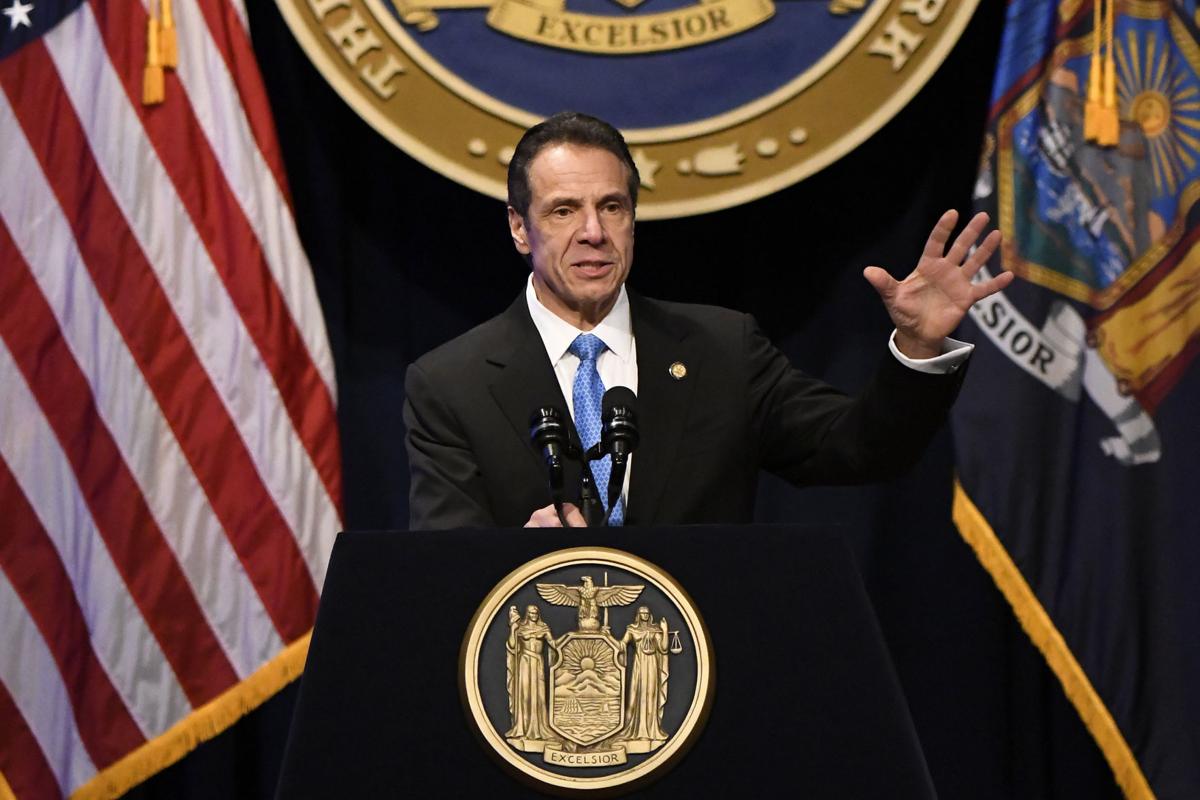 It's arguably the biggest question facing Gov. Andrew Cuomo and state lawmakers this year: How will they close a $6.1 billion budget deficit? 
During his State of the State address Wednesday, Cuomo offered a preview of how he thinks the state should tackle the problem. 
Cuomo blamed the multi-billion dollar budget gap on the state's Medicaid costs. While he celebrated that 95% of New Yorkers have health care coverage, he acknowledged the state "must correct for cost increased incurred when local governments were held harmless by the state for Medicaid increases." 
He's referring to the state's decision six years ago to cover the growth in counties' Medicaid costs. In 2020, he said, the state will spend more than $4 billion to cover increases in local governments' share of Medicaid expenses. 
He singled out two of the largest counties in New York, Erie and Westchester, and New York City. This year, according to Cuomo, the state will pick up $2 billion of New York City's share of Medicaid costs. 
Even though the state is covering the growth in Medicaid costs, New York City and county governments administer the programs. For Cuomo, that's a problem. 
"You cannot separate administration from accountability," he said. "It is too easy to write the check when you don't sign it. The situation is unsustainable." 
Cuomo wants to revive the Medicaid Redesign Team, an initiative that began in 2011 — his first year in office. The team examined ways to reduce Medicaid costs and issued nearly 80 recommendations. 
"We have restructured Medicaid before with our MRT program, and we must do it again," he said. 
With the governor hinting that the counties should be covering the costs instead of the state, some elected leaders and interest groups questioned Cuomo's stance. 
Bill Hammond, director of health policy at the conservative-leaning Empire Center for Public Policy, called it a "wrongheaded approach." 
"The only real solution is to control costs, not shift them to local taxpayers," he said. 
Whether it's through Medicaid or other programs, questions remain about how the state will address the budget deficit this year. Since the State of the State traditionally focuses on legislative priorities, the governor didn't provide specifics about how to close the gap within the 2020-21 state budget. 
Later this month, Cuomo will present his executive budget. The proposed spending plan will include his suggestion for how to erase the deficit. 
There are differing views from those in state government and interest groups about the best approach for addressing the deficit. 
"The answer is added revenues, which must come from requiring multi-national corporations and the wealthiest New Yorkers to pay their fair share in taxes," said Ron Deutsch, executive director of the progressive-leaning Fiscal Policy Institute. 
Republicans, though, believe cutting state spending is the best avenue for closing the budget gap. 
Assembly Minority Leader Will Barclay, an Oswego County Republican, thinks there were two words missing from Cuomo's address: "Spend. Less." 
"Instead of looking for ways to cut wasteful spending, this agenda calls for unnecessary, job-killing regulations and recycles some of the worst parts of a failed economic development agenda that is historically full of promises but yields minimal results," Barclay said. 
Cuomo's legislative proposals are ambitious. And while many of the ideas don't have a price tag attached, some would come with direct or indirect costs. 
Despite the state facing a $6 billion deficit, Cuomo wants to create a $3 billion environmental fund to restore habitats and improve flood resiliency across the state. He also plans to continue two of his main economic programs, the regional economic development councils and the Downtown Revitalization Initiative. In prior years, a combined $850 million has been allocated annually for those programs. 
Online producer Robert Harding can be reached at (315) 282-2220 or robert.harding@lee.net. Follow him on Twitter @robertharding.
Be the first to know
Get local news delivered to your inbox!