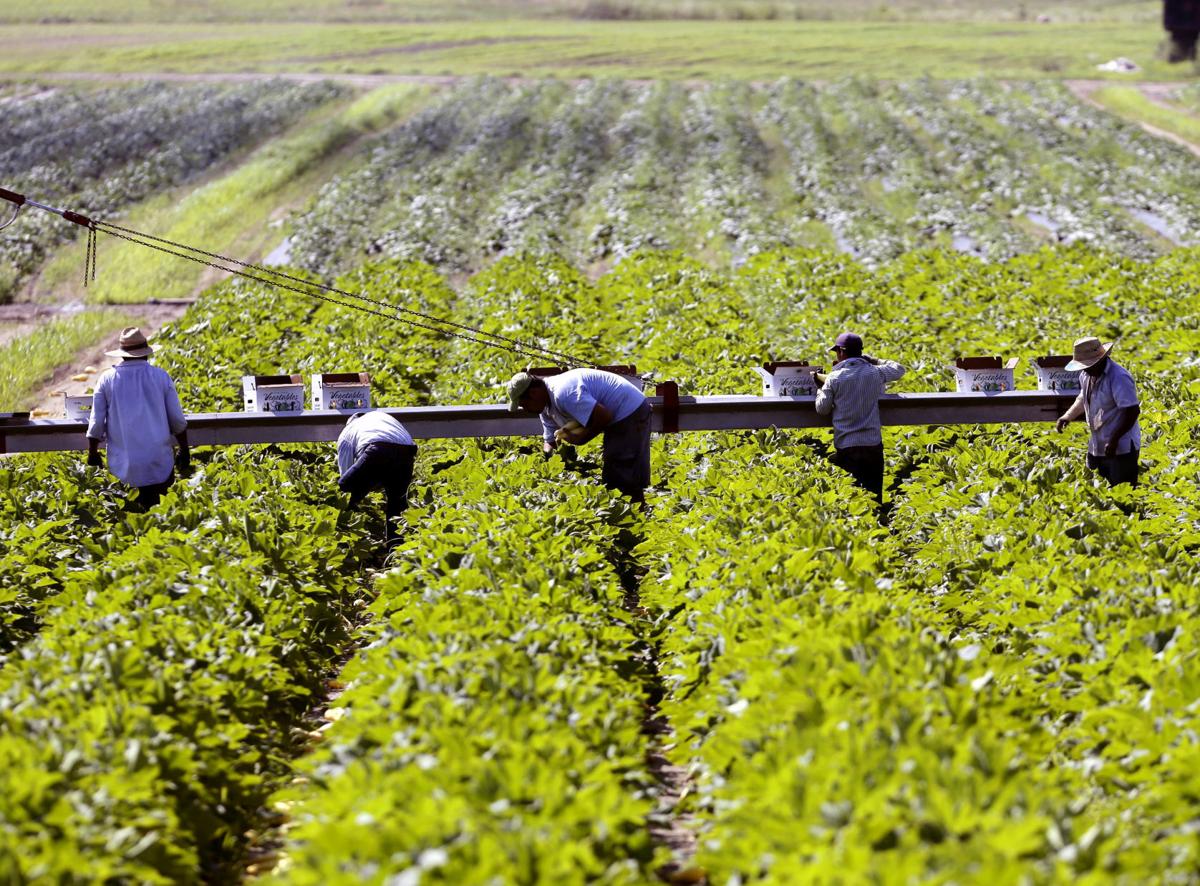 Ending what proponents have called a remnant of the Jim Crow era, Gov. Andrew Cuomo and state lawmakers reached an agreement over the weekend on a farm labor bill that grants farmworkers overtime pay, a rest day and the right to unionize. 
The bill language provided Monday by the governor's office reveals some significant changes to the original text of the Farmworkers Fair Labor Practices Act. The revised legislation would require farms to pay laborers overtime after 60 hours worked in week. The previous proposal would mandate overtime for working more than eight hours a day and 40 hours a week. 
The agreement reached between Cuomo and state legislative leaders also gives farmworkers the right to unionize. But there would be limitations. There is a no-strike clause preventing farm laborers from a work stoppage. Employers would be prohibited from locking out workers if there is a dispute. 
Farmworkers would get at least 24 consecutive hours of rest if the bill is enacted. The farm owner's family members would be exempt from the day off requirement. If workers receive a rest day due to weather or crop conditions, then that would meet the requirements of the legislation. 
Laborers could opt to work on their scheduled day of rest, but must be paid overtime for their shift. 
The legislation also establishes a three-member wage board consisting of an AFL-CIO representative, a New York Farm Bureau representative and a member, who will serve as chair of the board, selected by the labor commissioner. 
The wage board's mission would be to examine overtime for farm laborers and make recommendations to the governor and state lawmakers. The board would hold its first meeting no later than March 1, 2020. A final report must be submitted by the end of 2020. 
The original farm labor rights proposal included a collective bargaining provision. A state appellate court ruled in May that a ban on collective bargaining rights for farmworkers is unconstitutional. 
Grow NY Farms, a coalition of businesses, farms and organizations that includes the New York Farm Bureau, said in a statement that it continues to have concerns about the farm labor bill. The problematic provisions include requiring overtime on a seventh consecutive day if a laborer chooses to work on their scheduled rest day and limits on eligible family members exempt from the day off mandate. The exemption covers immediate family members, not cousins, nephews, nieces and other extended family members. 
The coalition also wants a greater agricultural presence on the proposed wage board and collective bargaining rights that are fair for farmers and workers. 
"It is estimated that agriculture generates nearly $4.8 billion in annual revenue," Grow NY Farms said in its statement. "Considering the impact on consumers, local economies, farmers and farmworkers, we encourage lawmakers and the governor to address these important issues." 
An agreement on the farm labor bill would conclude a two-decade push to extend overtime pay, a day off and other labor rights to farmworkers. The measure has stalled in the past because of opposition from the Republican-led state Senate. 
This year, freshman state Sen. Jessica Ramos is the lead sponsor of the bill in the chamber. She acknowledged the legislation would benefit farmworkers, but also believes the changes would be important for farmers. 
"If we're going to continue  to grow our agriculture in this state, we must ensure that those who help create the wealth, at the very least, have basic rights," she told The Citizen in February. 
Ramos, D-Queens, visited farms across the state and led three public hearings on the bill. One of the hearings was held at SUNY Morrisville in Madison County. At that hearing, central New York farmers reiterated their opposition to the bill and said it would have an adverse impact on their businesses. 
The New York Farm Bureau repeatedly cited a Farm Credit East analysis that found the overtime pay mandate would cost farms nearly $300 million. The additional costs included minimum wage hikes that are being phased in over the next two years. 
The union-aligned Fiscal Policy Institute released a report that concluded the overtime pay mandate would lead to increased costs for farmers, but it would be "manageable." The institute's assessment found farm laborers would receive as much as $95 in additional weekly wages because of the overtime pay requirement. 
If approved by the state Legislature and signed by Cuomo, the farm labor rights bill will take effect Jan. 1, 2020. Cuomo said in a radio appearance Monday that his daughters were "very happy" about the agreement because "they have been fighting personally for that for a long time." 
The measure will be one of the many bills the state Legislature will likely vote on in the final days of session. The 2019 legislative session is scheduled to end Wednesday. 
---
STATEMENT FROM GROW NY FARMS IN REACTION TO NEW LEGISLATION IMPACTING NEW YORK'S AGRICULTURAL COMMUNITY AND ITS FARMWORKERS: Late last night, newly framed legislation (Assembly Bill No. 8419 and Senate No. 6578) impacting New York's agricultural community and working conditions on farms across the state was introduced. We appreciate that the legislation reflects an effort to find common ground among a diversity of opinion expressed by stakeholders while on site tours, at policy roundtables and during legislative hearings. We are grateful that many voices, including farmers and farmworkers alike, expressed their concerns about the long-term viability and sustainability of farms, orchards and dairies. And, appreciate the engaged and active role of sponsors, committee chairs and other interested legislators. Grow NY Farms recognizes the contribution made by farmers and farmworkers. However, we still have some concerns with the revised bill language that we hope will be addressed. One issue includes mandated overtime on a seventh consecutive day of work. This provision would inevitably force a 60- hour work week to be applied over six days and will not meet the legislative intent of providing reasonable and predictable wages, especially when weather patterns often dictate work schedules. Farmers will be forced to impose a mandatory day of rest thus decreasing the number of hours farm workers would like to work. Farm workers will choose to seek a second agricultural job or pursue opportunities in other states. Second, the legislation is too limiting in its definition of family members that would be exempt from statutory requirements. Today, the consolidation of farms among extended families, including nephews, nieces and cousins, is a simple reality within New York agriculture. Third, it is recommended that the wage board be expanded to include additional voices from within New York's agricultural community – including the commissioner of its Department of Agriculture and Markets. Additionally, the authority and compressed timing of the wage board's activities are problematic. The wage board would have to convene to review the overtime threshold before one growing season could even begin under the new law. Fourth, collective bargaining rules should be fair for farm workers and farmers. Secret ballot elections and reasonable time frames for resolving disputes are reasonable and appropriate. It is estimated that agriculture generate nearly $4.8 billion in annual revenue. Considering the impact on consumers, local economies, farmers and farm workers, we encourage lawmakers and the governor to address these important issues. Grow NY Farms represents a coalition of more than 50 New York-based farms, local businesses and organizations. To learn more, visit www.GrowNYFarms.
Online producer Robert Harding can be reached at (315) 282-2220 or robert.harding@lee.net. Follow him on Twitter @robertharding.
Be the first to know
Get local news delivered to your inbox!