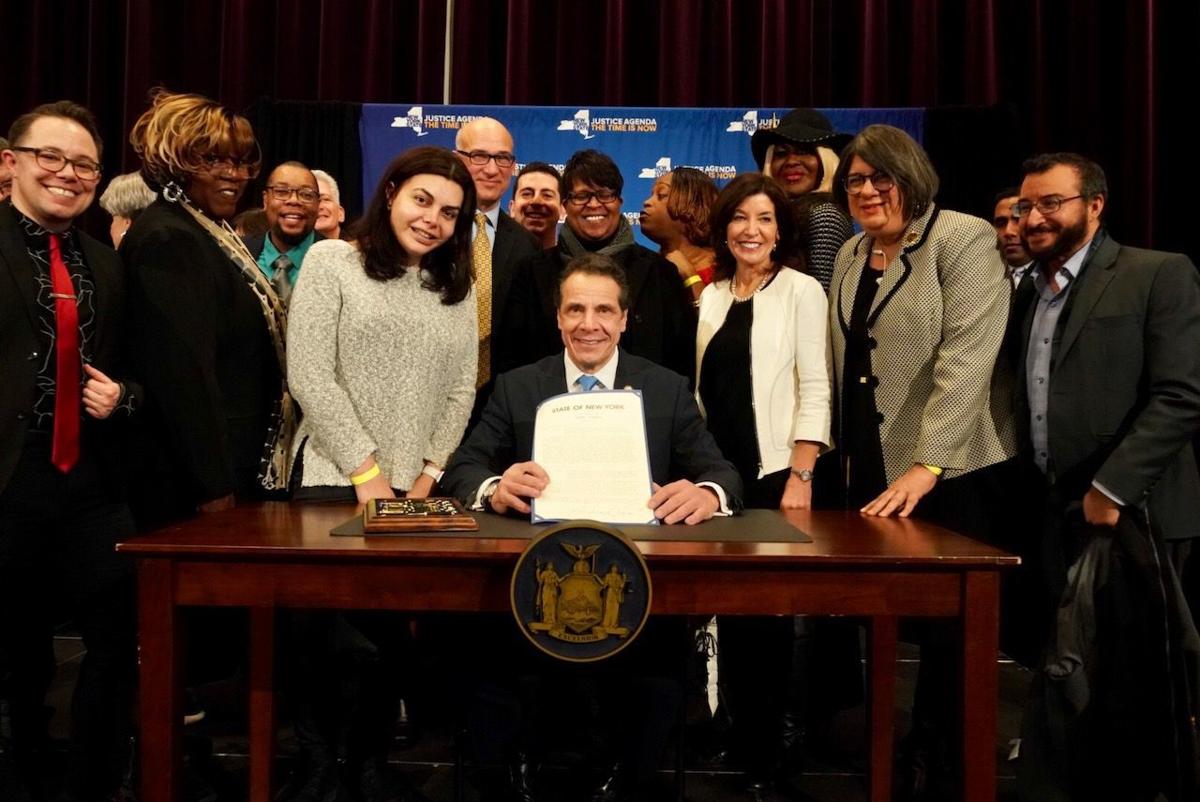 Calling it an "emotional day," Gov. Andrew Cuomo on Friday signed bills that provide protections to transgender New Yorkers and bans the use of conversion therapy on children. 
The conversion therapy ban and the Gender Expression Non-Discrimination Act, which adds gender expression and identity as protected classes in the state's human rights and hate crimes laws, have been priorities for the LGBTQ community. The bills were blocked by Republicans when the GOP controlled the state Senate.
"Today is a day we have been waiting and fighting for for a very long time," said Glennda Testone, executive director of the Lesbian, Gay, Bisexual and Transgender Community Center in New York City, which hosted the signing ceremony. 
With the ban on conversion therapy, New York becomes the 15th to prohibit the controversial technique. Supporters of conversion therapy believe it can change an individual's sexual orientation. But health professionals and medical groups have denounced the practice, mainly because of concerns that it's harmful to young people. 
GENDA, like the conversion therapy ban, was a bill introduced nearly two decades ago to bolster rights for transgender gender nonconforming people. Opponents labeled it "the bathroom bill" because of unfounded fears that men would take advantage of the protections to dress as women and enter women's restrooms. 
The new law aims to prevent discrimination against transgender New Yorkers. The U.S. Transgender Survey found 30 percent of transgender or gender nonconforming Americans were denied a promotion, harassed at their workplace or fired from their jobs because on the basis of their gender identity. 
Nearly a quarter of respondents in the same survey said they faced housing discrimination. 
Sam Brinton, head of advocacy and government affairs for The Trevor Project, lauded Cuomo for signing GENDA into law. 
"Legal protection from violence and discrimination is part of building an inclusive society where everybody can thrive, regardless of sexual orientation or gender identity," Brinton said. "The passage of GENDA into law is a tangible sign of hope for the youth who contact The Trevor Project's crisis intervention services every day." 
Cuomo touted his record on LGBTQ issues and noted that New York was the first large state to achieve marriage equality. New York legalized same-sex marriage in 2011, the governor's first year in office. 
There were additional measures in the years that followed. Cuomo took executive action to protect transgender New Yorkers and restrict conversion therapy, but passing GENDA and the conversion therapy ban remained a goal. 
Speaking before he signed GENDA and the conversion therapy ban, Cuomo slammed the Supreme Court's recent decision related to transgender military service members. The Supreme Court ruled to lift injunctions that blocked a Trump administration policy to ban most transgender people from military service. 
"The Supreme Court says you can discriminate against transgender in the military," Cuomo said. "We say today no you can't. You can't discriminate against people by gender identity, period." 
Online producer Robert Harding can be reached at (315) 282-2220 or robert.harding@lee.net. Follow him on Twitter @robertharding.