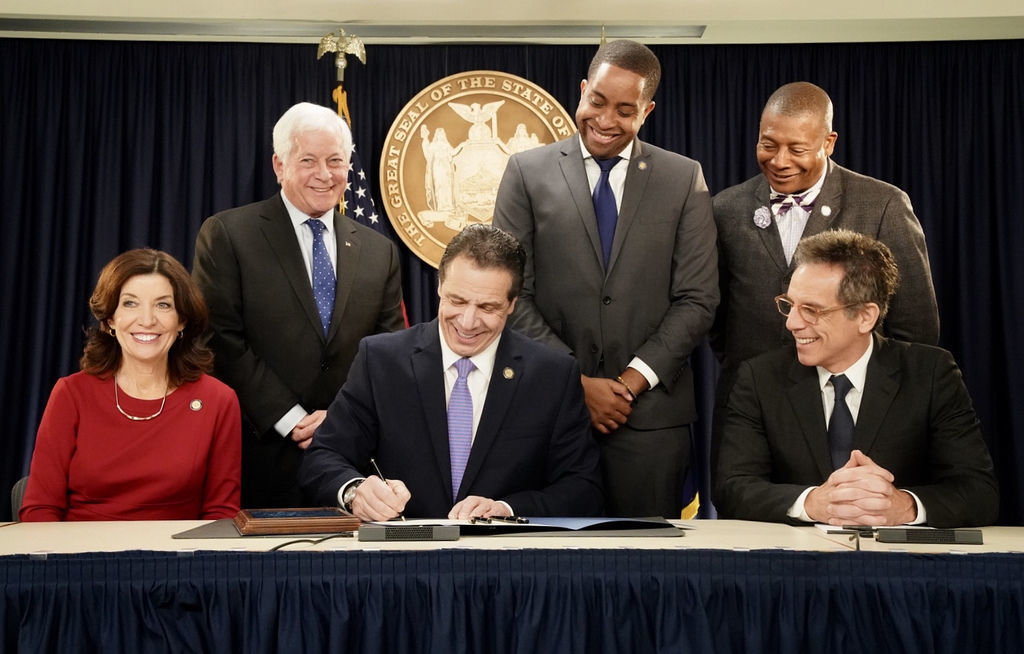 Gov. Andrew Cuomo on Thursday signed legislation making New York the 38th state to allow early voting. 
The bill, which the Democratic-led state Legislature passed last week, establishes a nine-day early voting period before election days. The early voting period would conclude on the Sunday before an election. 
Democratic lawmakers attempted for years to adopt an early voting system, but the bill was blocked by Republicans when the GOP controlled the state Senate. With Democrats now in the Senate majority, the bill cleared that legislative hurdle. 
"Early voting is going to be transformative for the system," said Cuomo, who has, for years, included early voting in his annual legislative agenda. 
There is a question of how counties will fund the implementation of early voting, which will take effect this year. The estimated cost of early voting is $10 million, although others have suggested the cost is much higher — possibly as high as $1 million for each of the 57 counties outside New York City, according to the New York State Association of Counties. 
The Let NY Vote Coalition, which advocated for early voting and other election reforms, called on Cuomo to include funding in the state budget for early voting. Cuomo's budget proposal doesn't include funding for early voting or other reforms. 
Cuomo's office has said another reform — consolidating the federal and state primary elections — will save counties $25 million. The savings, they argue, can be used to fund early voting. But Susan Lerner, executive director of Common Cause/NY and founding member of the Let NY Vote Coalition, explained that for early voting to be successful there must be funding in the budget. 
"While the consolidation of primaries will produce a cost savings as the governor suggests, a cost savings is not the same as direct funding," Lerner said. "Additionally, primaries won't be consolidated until next year even though early voting is slated to begin this November. That would make early voting an unfunded mandate forcing counties to cover the cost." 
You have free articles remaining.
Consolidating the primaries was necessary because unlike every other state, New York had a separate federal and state primary election. Since 2012, the federal primary for congressional races has been held in late June. The state and local primary has been held in September. 
Under the new law signed by Cuomo, the federal and state primary election will be held on the fourth Tuesday in June. 
The other reforms Cuomo signed include transferring voter registration within the state if a resident moves to another county and allowing 16- and 17-year-olds to preregister to vote. When teens sign up for a learner's permit or driver's license at the Department of Motor Vehicles, they may preregister to vote. This would ensure they are registered to vote when they turn 18, the legal voting age. 
Cuomo also closed the LLC loophole, which allowed wealthy individuals to create unlimited numbers of limited liability companies to circumvent the state's campaign contribution limits. Under the new law, LLCs will be subject to same $5,000 contribution limit as corporations. However, there won't be a limit on how many LLCs an individuals can form. But there is a disclosure requirement to reveal who is behind the LLCs. 
Assemblyman Charles Lavine, chairman of the Assembly Election Law Committee, celebrated the election reforms. His grandparents were political refugees from Russia who cherished the right to vote. He recalled that voting in his house was more than a right. It was an obligation, he said. 
"Our obligation today is to preserve that right for all New Yorkers," he added. 
Two other voting reforms will need further action by the state Legislature. Lawmakers approved measures to amend the constitution to allow no-excuse absentee voting and same-day voter registration. The constitutional amendments must be passed by the state Legislature in 2021 or 2022, then voters will have the final say on when the amendments should be adopted. 
While Cuomo signed the election reform bills, he has proposed other changes. He wants online voter registration and a ban on corporate campaign contributions. He also proposed allowing upstate counties to open earlier on primary election days and making Election Day a state holiday. 
Lawmakers are open to those additional reforms, but it wasn't part of the package considered last week. 
Online producer Robert Harding can be reached at (315) 282-2220 or robert.harding@lee.net. Follow him on Twitter @robertharding.