Del Lago Resort & Casino in Seneca County will replace a bar and restaurant with a 6,000-square-foot sports wagering lounge this summer. 
The DraftKings Sportsbook at del Lago will replace the Vine Restaurant and Bar in the rear of the 94,000-square-foot casino. The casino's Vine Showroom, which hosts concerts and comedy shows, will remain open. 
The lounge will feature a bar and restaurant, a seating capacity of nearly 200 people, LED terminals, video display walls and odds boards to provide real-time updates. There will 20 self-service wagering kiosks and cashier stations for guests to place bets. 
"We are excited to begin the construction of our new sportsbook and offer this additional amenity for our guests. This next phase in construction marks an incredible step forward for del Lago Resort & Casino," said Lance Young, vice president of gaming operations. "We are working closely with our partner DraftKings to ensure the lounge is truly a remarkable, state-of-the-art experience for our guests."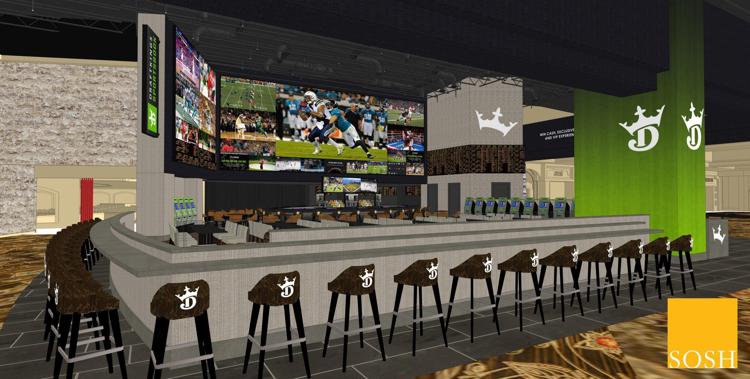 Del Lago is one of four upstate casinos that plan to offer sports betting once it's legalized in New York. The state Gaming Commission is accepting public comments on proposed regulations. The comment period ends next week. 
The proposed rules would limit sports wagering to the four commercial casinos: Del Lago, Resorts World Catskills in Sullivan County, Rivers Casino & Resort in Schenectady and Tioga Downs Casino Resort in Tioga County. Casinos would be required to establish lounges to accept sports bets. 
Casinos are partnering with outside companies to offer sports betting. Del Lago announced an agreement with DraftKings in July 2018 to open a sportsbook at the casino once sports betting is legal in New York. 
To offer sports betting, del Lago received approval from the state Gaming Commission to reduce the minimum number of slot machines and table games at the casino. The casino must have at least 1,650 slot machines and 66 table games, according to its amended gaming license. 
You have free articles remaining.
Register for more free articles
Stay logged in to skip the surveys
Del Lago didn't reveal its plans for the former MacKenzie-Childs shop near the casino's food court. MacKenzie-Childs said in a statement last week that the store closed after its two-year lease expired earlier this year because the casino "sees significant opportunity in using the space for sports wagering with the changing gaming laws in New York." 
However, the casino's sports wagering lounge will be located on the opposite side of the facility. 
Tom Wilmot Jr., president of gaming development and management for Wilmorite, which operates del Lago, testified at a state Senate hearing last week that the casino was in the process of "decommissioning" a dining venue. He didn't name the restaurant. 
Del Lago and other upstate casinos view sports betting as a way to boost revenues, which have fallen short of projections. 
In 2018, del Lago officials sought help from the state to address a "competitive disadvantage." There was speculation that the casino wanted financial assistance. Gov. Andrew Cuomo said there wouldn't be a bailout for the Finger Lakes casino. 
With no helping coming from the state, del Lago hopes to benefit from the likely legalization of sports betting. But the rules considered by the state Gaming Commission would limit bets to the casinos. Mobile betting wouldn't be permitted. 
Neighboring states, namely New Jersey and Pennsylvania, that have legalized sports betting allow mobile wagers. In New Jersey, most of the bets placed have come from mobile devices. 
State Sen. Joseph Addabbo and Assemblymember Gary Pretlow introduced legislation that would allow mobile sports betting. If the bill is enacted, del Lago and other upstate casinos could add mobile sports betting to complement its physical sports wagering lounge.