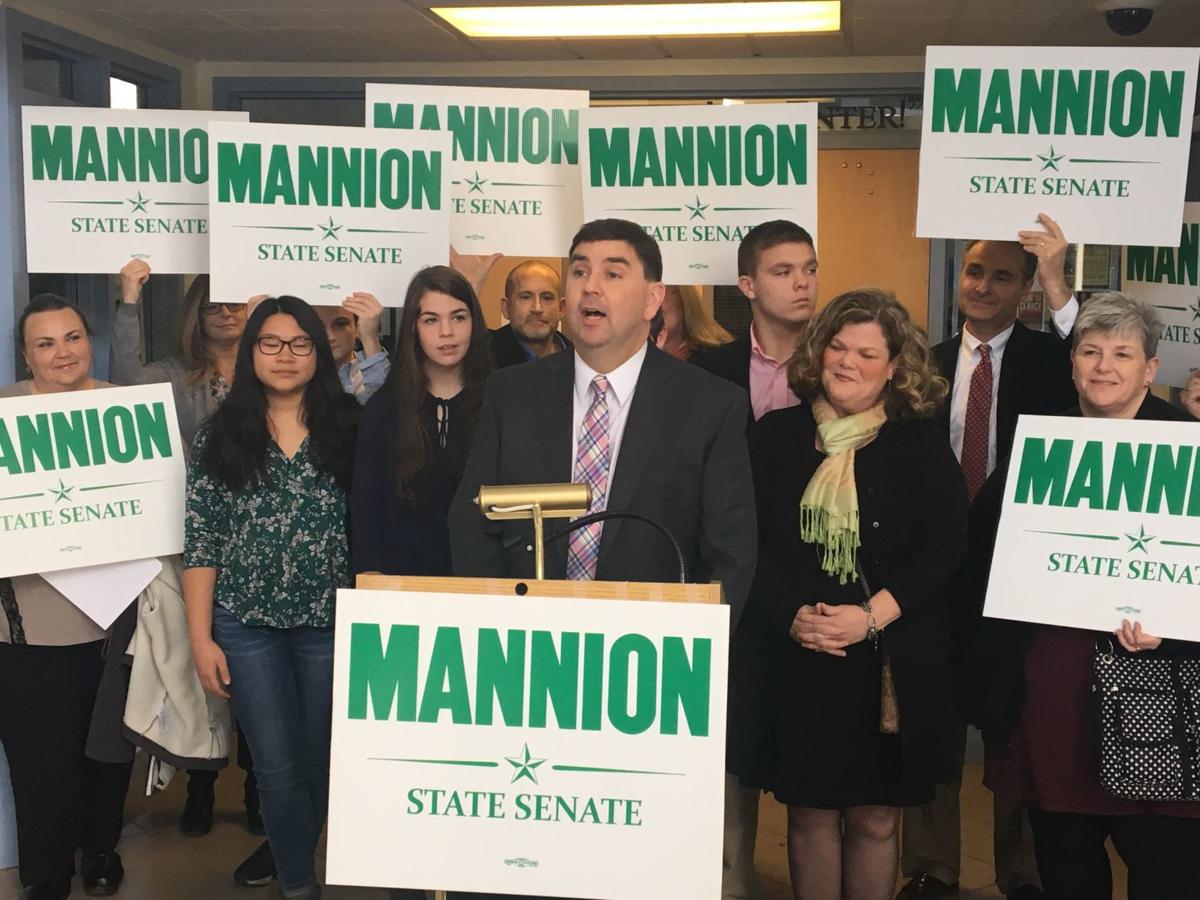 John Mannion, the Democratic candidate seeking to succeed retiring state Sen. John DeFrancisco, out-raised his potential Republican opponents in the 50th Senate District race. 
Mannion, D-Westvale, raised $77,793 in his first fundraising period as a candidate. The filing, which was submitted to the state Board of Elections, covers the period from mid-January through mid-July. Mannion didn't announce his candidacy until early April. 
Mannion's campaign spent $15,154 and has $62,639 cash on hand. 
The Democratic nominee received $29,259 from individual donors. Weitsman Shredding, an upstate New York scrap metal processor owned by Adam Weitsman, donated $10,000 to Mannion's campaign. 
Mannion, an Advanced Placement biology teacher at West Genesee High School in Camillus, also received a lot of financial support from teacher unions. American Federation of Teachers and New York State United Teachers' action fund each gave $11,000. Central New York teachers unions contributed a combined $10,404, according to the campaign finance filing. 
Onondaga County Comptroller Bob Antonacci, who won the Republican designation in the 50th Senate District race, raised $39,025 since launching his campaign in May. He transferred $116,718.04 from his county comptroller campaign to fund his run for state Senate. 
While Mannion out-raised him, Antonacci has more money in the bank. His closing balance was $152,479.13. 
50th Senate District Campaign Finance Roundup (as of July 17)
Candidates
Total Receipts
Total Expenses
Closing Balance
John Mannion (D)
$77,793.47
$15,154.38
$62,639.09
Bob Antonacci (R)
$155,743.04
$3,263.91
$152,479.13
Rick Guy (R)
$12,250
$2,437.50
$9,812.50
You have free articles remaining.
Antonacci received $18,025 from individual donors. His notable supporters include $2,000 from the Empire State Associated Builders and Contractors political action committee, $1,000 from former gubernatorial candidate Carl Paladino's Turn Albany Upside Down PAC and $1,000 from one of DeFrancisco's campaign committees. 
Rick Guy, a Syracuse attorney who is planning to challenge Antonacci for the Republican nomination, raised $7,250. The source of most of those funds is Bill Fisher, the deputy Onondaga County executive. He contributed $7,000 to support his longtime friend's campaign. 
Guy loaned his campaign $5,000. He has $9,812.50 cash on hand, according his report. 
Antonacci and Guy will vie for the Republican nomination in the Sept. 13 primary. Both filed petitions to run on the GOP line. Antonacci also has the Conservative and Independence lines. 
Mannion has been endorsed by the Democratic, Reform, Women's Equality and Working Families party lines. He will face the winner of the GOP primary. 
The general election is Tuesday, Nov. 6. 
The 50th Senate District encompasses a portion of Syracuse and the towns of Camillus, Clay, DeWitt, Elbridge, Geddes, Lysander, Manlius, Onondaga, Otisco, Skaneateles, Spafford and Van Buren in Onondaga County. It also extends into Cayuga County and includes most of Auburn and the towns of Brutus, Cato, Ira and Sennett. 
The race is expected to be a key battleground for both parties as they fight for control of the state Senate. There are 31 Democrats and 31 Republicans in the Senate, plus a Democrat who caucuses with the GOP. 
The seat is open for the first time since 1992, when DeFrancisco was first elected to the state Senate. He succeeded former state Sen. Tarky Lombardi, a Syracuse Republican who retired that year.