AUBURN — Auburn Community Hospital employees demanding a new contract received support from two Democrats seeking to represent them in Congress. 
Congressional candidates Dana Balter and Roger Misso walked the picket line outside the hospital with dozens of employees and labor activists Thursday afternoon. 
Members of the American Federation of State, County and Municipal Employees Local 3124, which represents certified nursing assistants and non-medical staff at the hospital, have been negotiating a contract since October. They have been working without a new contract since January. 
The workers who rallied outside the hospital want safe staffing levels and fair pay. A few of the signs noted that personal care assistants earn a starting wage of $12.42 an hour, while the minimum wage for fast-food workers at McDonald's and other chain restaurants is $12.75 an hour in New York. 
"All we're asking for is a fair contract," said Dan DiClemente, president of AFSCME District Council 66 in Rochester. 
Balter and Misso, both Syracuse Democrats, joined the workers and union representatives as they made a few passes on the sidewalk in front of the hospital.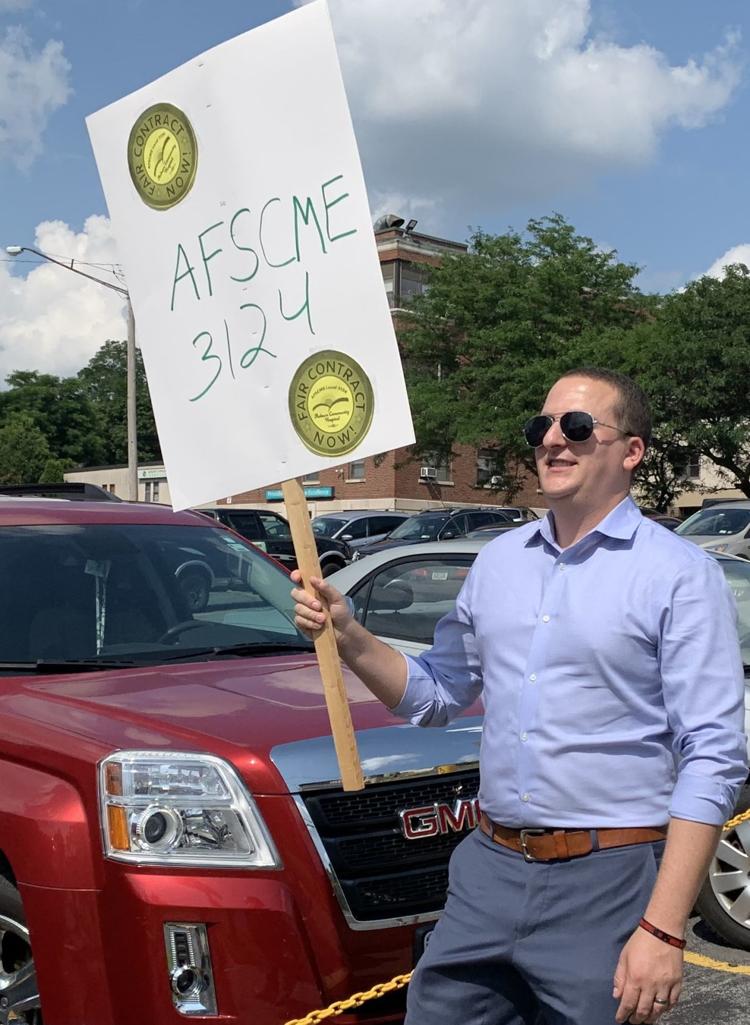 Misso said he was there in solidarity with the hospital employees fighting for a new contract. 
You have free articles remaining.
Register for more free articles
Stay logged in to skip the surveys
"They're seeing here in Auburn something they didn't expect which is the community coming together and saying our workers have value and we have to stand up for that," he said. 
Balter emphasized the need for people who, like her, have public platforms to show support for workers' rights. 
Regarding the stalemate between the hospital and AFSCME members, Balter believes what the workers are asking for is "not in any way outrageous." 
"The frustration to me is that it feels like every little thing, every little piece of workers' rights, of justice, is a fight and it just shouldn't be," she said. "There should be some modicum of fairness that underlies everything we do." 
Matthew Chadderdon, a spokesman for Auburn Community Hospital, said Thursday the facility "has a long history of collaboration with the unions representing its employees." With more than 1,100 employees, Auburn Community Hospital is the largest employer in Cayuga County. 
In past interviews, Chadderdon revealed that a federal mediator is involved in negotiations and the hospital is "bargaining in good faith." In a statement Thursday, he said the hospital believes progress is being made in negotiations. 
"Remaining constant throughout this process are our profound respect for our employees and the commitment we uphold to our patients and this community," Chadderdon said. "We look forward to continuing our partnership with all of our employees and coming to a mutually agreeable contract as soon as possible." 
Balter and Misso are vying for the Democratic nomination to challenge Republican U.S. Rep. John Katko in the 2020 election. Francis Conole, another Syracuse Democrat, is also seeking the party's nod.