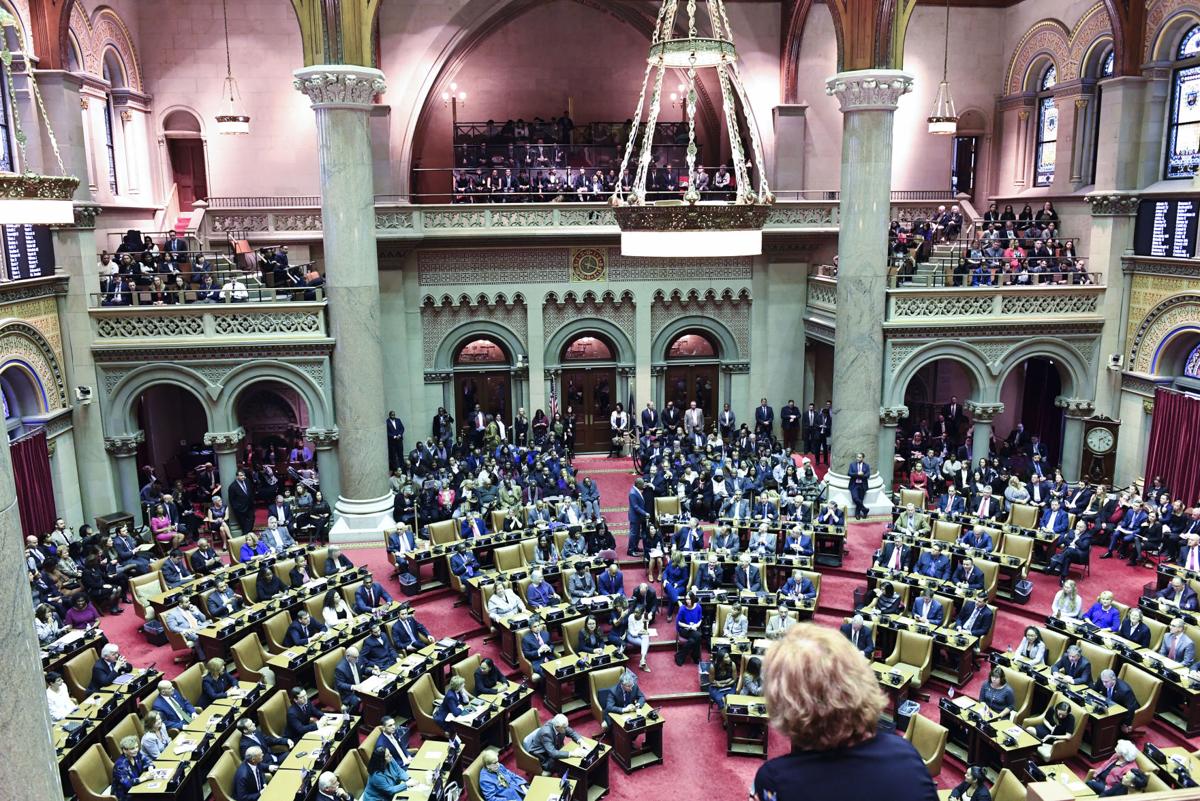 After years of waiting, Democrats have finally advanced early voting and other election reforms in the state Legislature. 
With majority control of the state Assembly and Senate, Democrats passed seven bills to bolster New York's election system. The legislative package includes a nine-day early voting period before Election Day, consolidating the federal, state and local primaries, and placing a cap on donations from limited liability corporations to candidates. 
Democrats have long pushed for many of the reforms. Before this year, Republicans controlled the state Senate. The bills received support in the Assembly, where Democrats hold the majority. But the legislation didn't advance in the GOP-led Senate. 
That changed this year. Democrats now hold a majority of seats in the Senate and made election reform a top priority. Legislative leaders announced last week that the package would be voted on Monday. 
All of the proposals received bipartisan support. A constitutional amendment to allow for no-excuse absentee voting passed by a 56-5 vote in the state Senate. A separate bill that would amend the constitution to allow same-day voter registration passed by a 44-17 margin. Both measures will need to be approved the state Legislature in 2020 or 2021 before it's considered by voters. 
Other bills approved by the state Legislature include preregistering 16- and 17-year-olds when they apply for a permit or license at the state Department of Motor Vehicles and allowing New Yorkers to transfer registration if they move within the state. 
Democrats hailed the passage of the bills. Senate Majority Leader Andrea Stewart-Cousins joked at the beginning of a press conference Monday afternoon that they were there to "urge our Republican colleagues to take up our bills" — an acknowledgment of the conference's past struggles in advancing election reform proposals. 
Stewart-Cousins noted that other states already have early voting and allow same-day voter registration. 
"It's time for New York to catch up so that we can actually lead," she said. 
Advocates praised the quick action on the electoral reform package. A coalition of activists joined Democrats for the press conference. 
Susan Lerner, executive director of Common Cause/NY and a founding member of the Let NY Vote coalition that pushed for early voting and other bills, called the reforms long overdue. 
"For years, New Yorkers have been demanding efficient, equitable and accessible elections and, finally, on the first full day of the legislative session both the Assembly and the new Senate majority, responded with a robust package of voting reforms, making clear their commitment to democracy," Lerner said. 
While there was some Republican support, other GOP senators opposed all or most of the bills. State Sen. Cathy Young, a Southern Tier Republican, spoke out against the measures. She repeatedly mentioned the costs of implementing early voting and other reforms, and the unfunded mandates passed down to local governments. 
Young raised many questions about the cost of adopting early voting. Democrats estimated the cost to be $10 million, but Young cited other estimates that suggested the price tag was closer to $30 million. 
She also criticized the speed at which Democrats advanced early voting and other election proposals. 
"This is just being rushed through and it's really truly a problem for the people of this state," she said. "We don't know how much money will be allocated in the budget to cover these significant costs." 
Earlier in the day, Stewart-Cousins said Gov. Andrew Cuomo will have millions in his budget proposal to help counties implement early voting and other election reforms. 
The voting reforms are part of Cuomo's 2019 agenda. He also wants to make Election Day a state holiday, which wasn't part of the package passed by the state Legislature. 
Other reforms he supports include banning corporate contributions to campaigns and expanding voting hours for primary elections in upstate New York. 
Cuomo will outline his full agenda Tuesday. He will deliver his executive budget presentation in Albany.