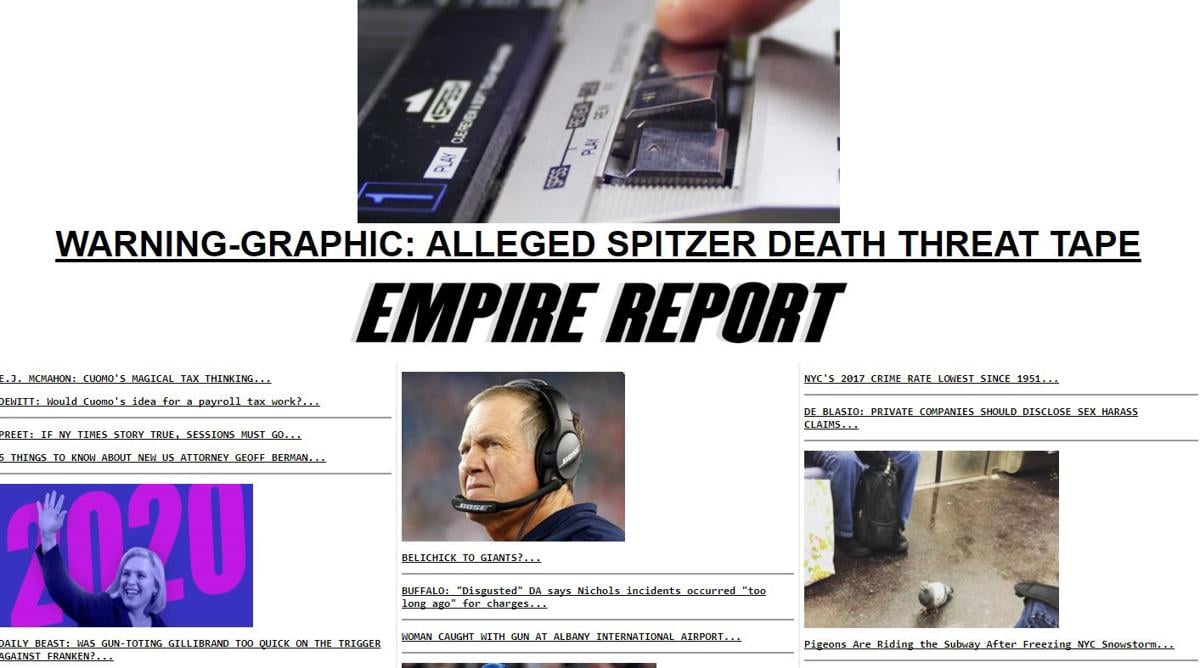 More than eight years ago, JP Miller found Capitol Report, a website featuring links to Connecticut's top political stories. As a native of suburban Hartford who was working in New York City, he thought it was a brilliant idea. And he thought it wouldn't be long before New York had its own aggregator. 
Eight years after finding the Connecticut website, there wasn't a similar online hub in New York. Miller, who worked in the finance sector, decided to take matters into his own hands. He founded Empire Report, an aggregator of New York political news, in May 2016. 
Miller said in an interview with The Citizen that the website, empirereportnewyork.com, was launched after he had a conversation with Tom Dudchik, the creator of the Capitol Report in Connecticut. Dudchik, Miller said, gave him "the blueprint" on how to get the Empire Report started.
Dudchik also gave Miller some advice: avoid having an editorial agenda. 
"I don't think that from a business perspective a right-leaning website would be as successful as a nonpartisan website," Miller said. He recalled Dudchik telling him to be provocative, but don't have a political bent because it could turn people off. 
"I don't want anybody turned off," Miller added. "I want the most liberal people in the state reading the site. I want the most conservative people in the state reading the site." 
The website bares a resemblance to one of the most prominent news sources in the world, Drudge Report. The Drudge Report is one of the most-visited news websites and has served as an inspiration for the Connecticut and New York state-level aggregators. There are similar websites in Colorado, Louisiana, North Carolina and Pennsylvania. 
For consumers, Miller views the Empire Report as a source those interested in New York news and politics can go to "get it all." He updates the website throughout the day with links to stories published by The Citizen and other newspapers, radio stations and television stations from across the state. 
Miller also believes the website benefits political journalists by spreading their news stories to a wider audience. He recalled skeptics telling him that people in New York City aren't going to care about what's happening in Buffalo or people in Buffalo won't care about about what's happening in downstate. 
Since Empire Report launched nearly two years ago, Miller said he's learned that the opposite is true. As an example, he mentioned stories about Buffalo that his website metrics will show has garnered readers from Long Island. 
"You talk to readers it's like a world has been opened to them to read all this stuff from other perspectives and find out what's going on in the state," he said. 
The website is more than a business for Miller. He has long been interested in news and politics. After graduating from college, he worked for former U.S. Rep. Nancy Johnson of Connecticut. During the 2008 and 2012 presidential elections, he worked as Mitt Romney's finance director in Connecticut, New Jersey and New York. 
The website has grown since its inception. Miller didn't reveal how many employees he has, but said it's a "small team and we're growing that." 
"In the first year, it was a dramatic exponential growth," he said. "It continues to grow significantly every month ... Our unique visitors continue to grow every month. Our page views are growing even more."