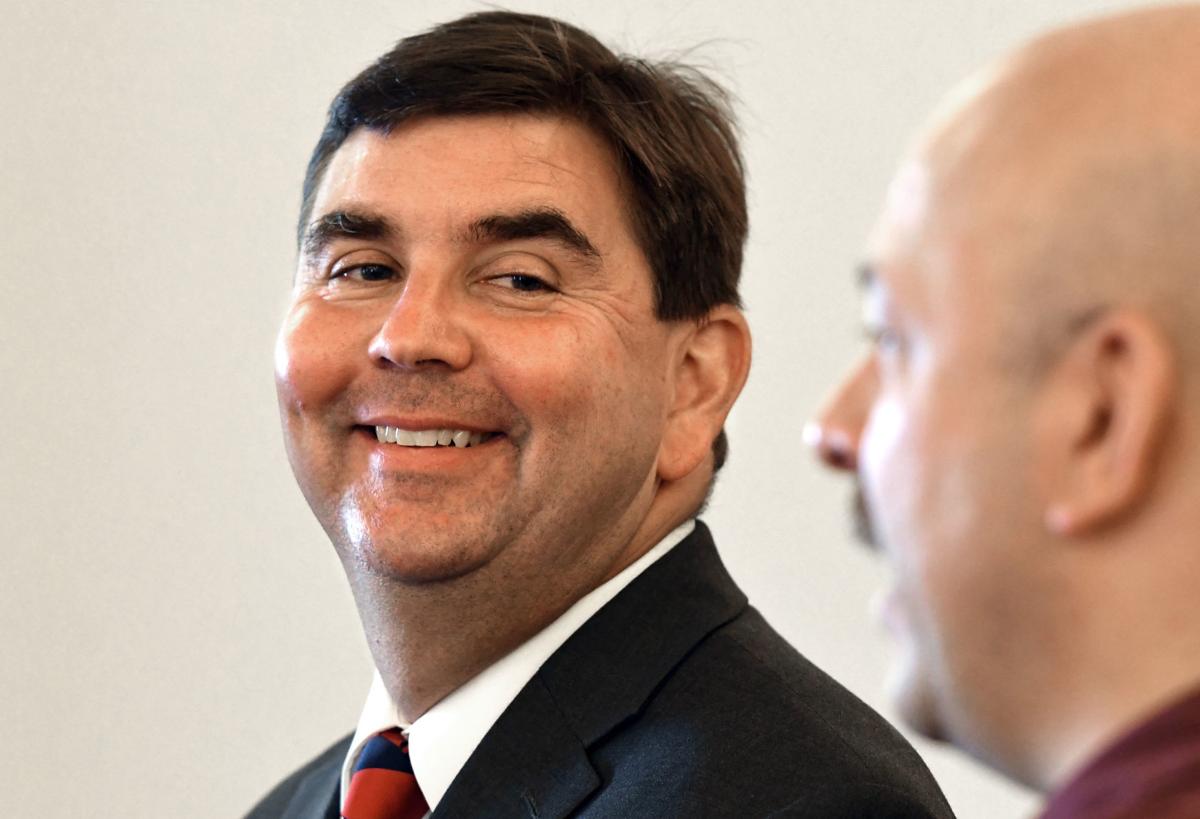 If John Mannion is successful in November, Republicans will no longer hold the 50th Senate District seat — and the GOP could lose control of the state Senate. 
Mannion is a first-time candidate for elective office. For 25 years, he has been a teacher. He works as an Advanced Placement biology teacher at West Genesee High School in Camillus. 
A Democrat hasn't held this central New York state Senate seat for at least a half century. The current occupant, Republican state Sen. John DeFrancisco, last faced a Democratic challenger in 2010. Despite nearly even enrollment between the Democratic and Republican parties, the GOP has had a stranglehold on the seat. 
But DeFrancisco is retiring and his departure creates a vacancy. Mannion and Onondaga County Comptroller Bob Antonacci, a Republican, are vying to succeed him in the state Senate. 
In Mannion's view, he's the best fit for 50th district voters. 
"I believe it is a good time to bring someone to Albany that has not been corrupted by the political system," he said in a phone interview. "I feel like there's too great of a disconnect between common people and some of their elected officials. I believe that I can be a true representative of those people because I've been a citizen, a teacher, a leader and a dad." 
You have free articles remaining.
He acknowledges that central New York continues to experience slow economic growth. He doesn't believe there is a singular proposal that will reverse that trend, but sees the region's education, health care and technology sectors as a way to boost development. 
Small businesses, he added, are also important.
"We've gotta help small businesses, some of which have been very successful and have grown their number of employees tremendously," he said. 
Tax policy is another issue on Mannion's radar. His opponent, Antonacci, supports making the property tax cap permanent. The cap on property taxes, which was adopted in 2011, limits tax increases to 2 percent or the rate of inflation, whichever is less. 
Mannion touted the benefits of the property tax cap. As a property owner, he knows that it's helped residents of a high tax state. But he also recognizes the challenges municipalities and school districts face when drafting annual budgets. 
He supports continuing the property tax cap. 
"We have to be very careful with the money that we spend and we have to be very careful about implementing any other taxes," he said. "The tax cap has done its job of slowing the exponential growth of property taxes and we need that." 
On the future of Interstate 81, Mannion said his position has evolved. He now has an "open mind" on the community grid, a proposal to tear down the existing viaduct and make use of Syracuse's network of streets to move traffic through the city. 
The community grid, he explains, could boost the local tax base and bring new economic opportunities to the region. 
"You can't discount the grid," he said. "The grid has a lot of positives." 
As a state senator, Mannion would be in a position to alter education policy. One change he supports is repealing the state's teacher evaluation plan and easing the testing mandates. 
Students need to be assessed, he said, but the current tests are "developmentally inappropriate." 
"They're not useful in driving instruction and they're costly," he said. 
His education stance isn't limited to teacher evaluations and tests. He would work to promote vocational education programs in schools. He touted existing technical education programs available in some schools and wants to make sure those opportunities are available to more students. 
He said it would not only benefit students, it would help local employers in need of skilled labor. 
It could help address another major issue in central New York: poverty. 
"By gaining these skills, it exposes many of these students to good paying, high quality jobs that are out there," he said. "I feel very strongly about that." 
Combating public corruption is also a priority. He supports more oversight of economic development spending and campaign finance reform. He favors term limits for state lawmakers and limits on outside income. 
"The writing is on the wall that corruption is still present and it has to stop or we have no chance to be successful in this state when we keep putting elected officials and developers in prison," he said. 
Mannion is running on the Democratic, Women's Equality and Working Families party lines. Antonacci will appear on the Republican, Conservative, Independence and Upstate Jobs lines. 
Election Day is Tuesday, Nov. 6. 
Online producer Robert Harding can be reached at (315) 282-2220 or robert.harding@lee.net. Follow him on Twitter @robertharding.