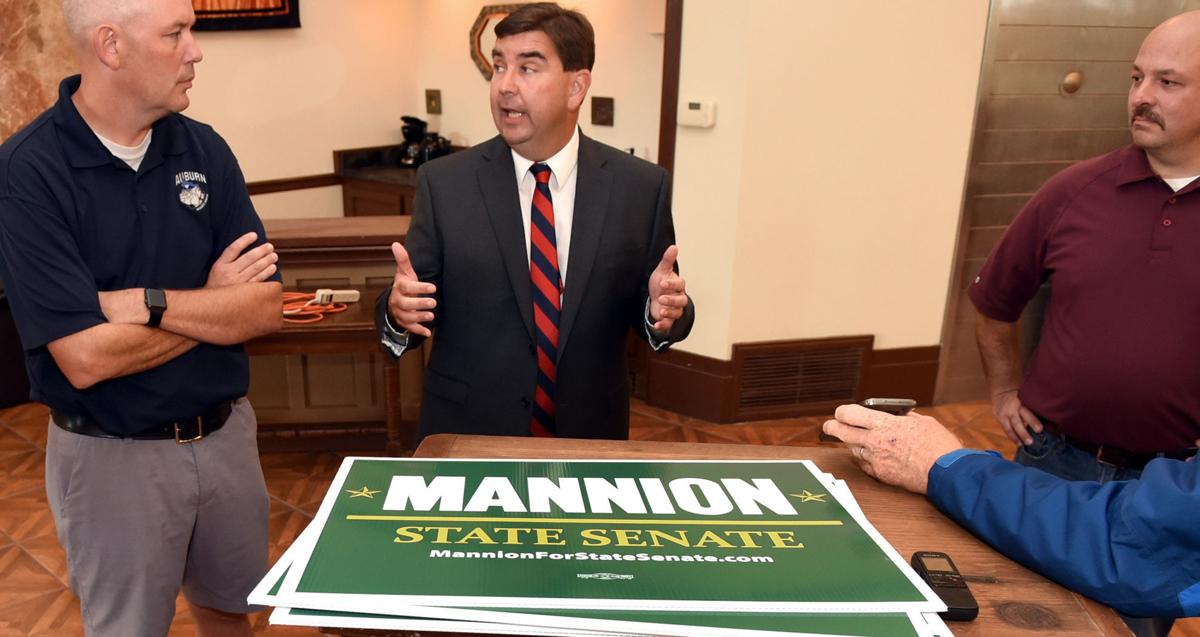 John Mannion believes there needs to be true ethics reform, and he has a five-point plan to achieve that goal. 
The Democratic candidate for the 50th Senate District seat unveiled a series of ethics proposals designed to combat corruption in state government. At the top of his list: A ban or aggressive limits on outside income for lawmakers. 
Under the current system, legislators can have outside employment in addition to their government position. Many officials use their outside jobs to supplement the $79,500 salary they receive as state legislators. 
Mannion said one reason he supports a ban on outside income is to restore faith in government, which he said is lacking at the moment.
"I wish we could say when someone is earning an income outside of their legislative salary that it would have no influence over the decisions that they would make and the votes they would make in the (state Legislature)," he said in a phone interview. "I don't believe we can trust that that's going to happen. I believe that we need to remove any doubt from the taxpayers and voters of the state." 
Mannion is employed as a biology teacher at West Genesee High School in Camillus. If he's elected to the state Senate, he would leave his position. He would be a full-time lawmaker and wouldn't have an outside job. 
Another proposal put forth by Mannion is to impose term limits on state lawmakers. This is a position he shares with his Republican opponent, Onondaga County Comptroller Bob Antonacci. Antonacci supports term limits for state legislators and statewide officials. 
Mannion's view is that members of the state Assembly and Senate should be limited to seven terms, or 14 years, in office. 
"I think a lot can be done in 14 years and in some ways, elected officials would need time to maybe get some quality legislation through," he explained. "Fourteen years is more than enough time to do it. I think it should be an extended time of service, but not a career." 
Mannion supports campaign finance reforms, such as closing the so-called "LLC loophole" and limiting soft money contributions. The LLC loophole in New York allows wealthy individuals to form multiple limited liability corporations, which then donate funds to candidates. He also backed independent redistricting to ensure district lines are fair and aren't gerrymandered. 
He endorsed legislation that would provide greater oversight of economic development projects. The bill, the New York State Procurement Integrity Act, would restore the state comptroller's ability to oversee State University of New York development projects. 
The 50th district's current representative, state Sen. John DeFrancisco, is the sponsor of the Procurement Integrity Act. Mannion said the independent oversight is needed to ensure the bidding processes are fair and money isn't wasted. 
"We are in a high tax state," he said. "We have to be careful how we spend our dollars. We need somebody to oversee that to make sure that people's money that they worked hard for is spent wisely." 
The plan is the first Mannion has released and offers a glimpse at his legislative priorities. He is vying to succeed DeFrancisco, a Republican who has represented the 50th district for more than 25 years. 
Antonacci is a formidable opponent. He has four ballot lines — Republican, Conservative, Independence and Upstate Jobs — and has been Onondaga County comptroller for 10 years. He's well-known in Republican circles. He was the party's candidate for state comptroller in 2014. 
Mannion is running on the Democratic, Women's Equality and Working Families party lines. The 50th district is expected to be one of the most competitive state Senate races in New York.