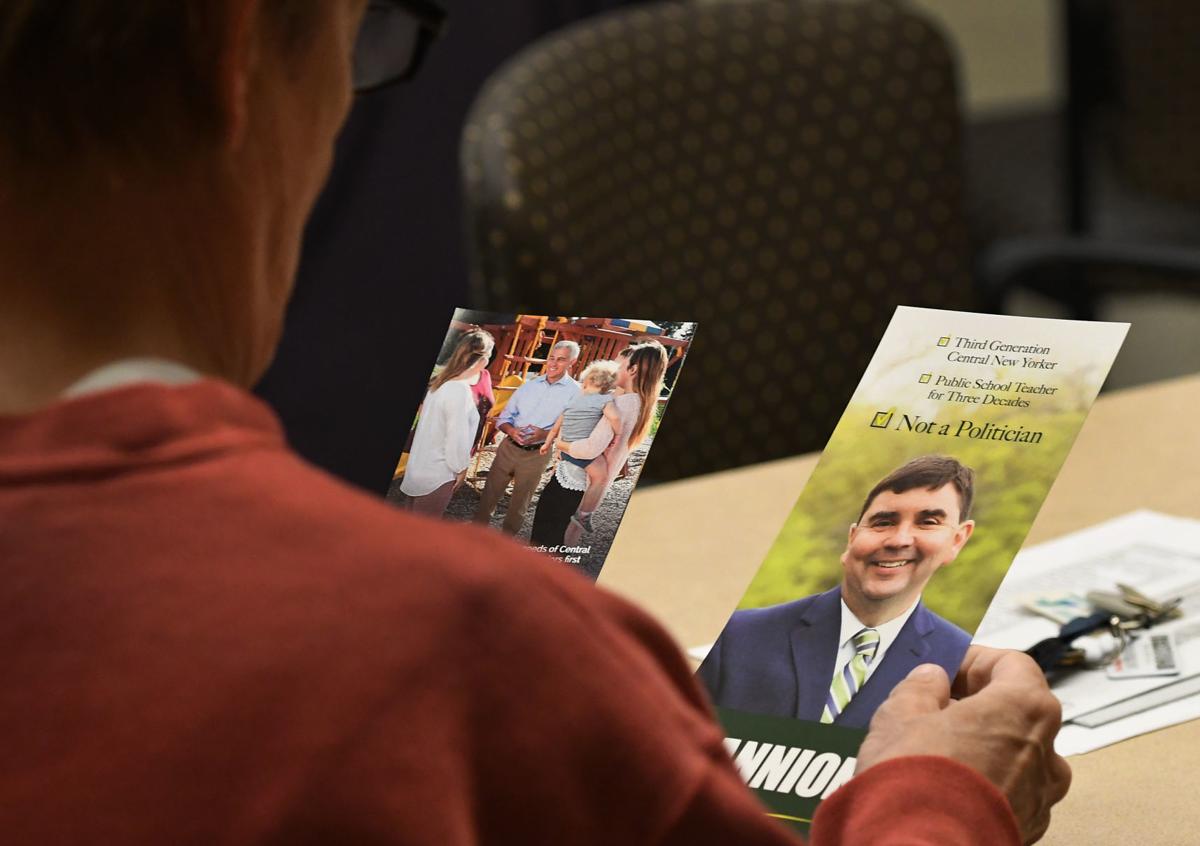 Like the 24th Congressional District race, the state Senate race pitting Republican nominee Bob Antonacci against Democratic hopeful John Mannion was expensive. 
A review of state campaign finance records found more than $2.85 million was spent on the 50th Senate District race. The sum includes expenditures by Antonacci, Mannion and outside groups. 
Antonacci defeated Mannion by two percentage points in the 50th district race. The GOP candidate held a narrow lead on election night. Mannion won the absentee count in Onondaga County, but Antonacci won the race by more than 2,300 votes. 
The largest spender in the central New York state Senate campaign was Fighting For Our Future, a super political action committee aligned with New York State United Teachers, an influential teachers union. The labor group endorsed Mannion, an Advanced Placement biology teacher, early in the race. 
Fighting For Our Future invested $1.26 million into the 50th district race. Much of that money was spent on digital and television ads supporting Mannion or targeting Antonacci. 
A Republican super PAC, Balance New York, spent $379,214. The group funded ads against Mannion. 
Antonacci outraised and outspent Mannion during the campaign. Antonacci's total receipts were $775,554 compared to Mannion's $570.810. Antonacci's campaign spent $686,558, while Mannion's expenses totaled $528,873. 
The 27-day post-general election filings show Mannion raised $162,266 in the final weeks of the campaign. Antonacci's haul was $137,204. Both candidates received significant support from their respective parties. 
The Democratic Senate Campaign Committee transferred $100,000 to Mannion's campaign. The Senate Republican Campaign Committee transferred $65,000 to support Antonacci's bid. 
The two campaign committees were active throughout the race. Senate Republicans spent $349,000 and the Democrats spent $247,108, according to campaign finance records. 
Both parties considered the race a top priority. With state Sen. John DeFrancisco retiring after more than 25 years in office, Republicans wanted to retain the seat. Democrats viewed it as a pickup opportunity. 
Democrats won several seats across the state. Beginning in January, they will hold 40 of the 63 seats in the state Senate. One of the only blemishes was the 50th district race. 
Despite significant investments from Democratic-friendly outside groups, Republicans held on to the seat. Antonacci will take office in January as the 50th district's new representative. 
Upcoming podcast interviews
This week on the Eye on NY podcast, Onondaga County Executive Ryan McMahon will discuss his first month in office and his top priorities. McMahon was appointed to fill the position vacated by Joanie Mahoney, who resigned to take a state job. 
Next week's edition of the podcast will feature an interview with state Sen.-elect Rachel May. She will discuss the transition and plans for her first session in Albany. 
The Eye on NY podcast can be found on auburnpub.com, iTunes, Google Play and PodBean.
Online producer Robert Harding can be reached at (315) 282-2220 or robert.harding@lee.net. Follow him on Twitter @robertharding.
Be the first to know
Get local news delivered to your inbox!