Eye on NY's top 10 most-read stories of 2018: Ivanka Trump visits CNY, Auburn wins $10M grant and more
The Citizen's political blog, Eye on NY, covered many stories in 2018. Here is a list of the top 10 most-read stories published on the blog this year. 
Want to buy a prison? NY to hold auction for shuttered correctional facility
An auction will be held this summer for a former medium security prison that closed nearly four years ago. 
The state Office of General Services announced Friday that the auction for Chateaugay Correctional Facility in Franklin County is scheduled for 10 a.m. Tuesday, July 24 at Chateaugay Town Hall, 191 E. Main St. Registration begins at 9 a.m. 
The minimum bid for the auction will be $100,000. A $10,000 deposit is required to bid. 
Chateaugay Correctional Facility sits on 99 acres and there are 30 buildings on the property. The structures were built in 1990 or later and include administrative offices, dormitories and maintenance facilities. 
Amenities available at the property include electric, telephone, water, a backup diesel generator and above-ground diesel and gasoline tanks. 
More information about the property can be found at nysstore.com/content/former-chateaugay-correctional-facility.
There will be site tours ahead of the public auction. The dates of the tours are May 31, June 1, June 11, June 12, July 9 and July 10. Interested parties should preregister at least three days in advance of a tour. To register, call (518) 474-2195 or email land.management@ogs.ny.gov. The email should include the preferred tour date, a company name, the names of those who will take the tour, an address and phone number.
Chateaugay ceased operation as a correctional facility in 2014. It was one of four prisons the state closed that year due to declining population. 
Butler Correctional Facility, a medium security prison in Wayne County, was one of the other properties shuttered by the state. At the time, officials said the state would save $30 million by closing the prisons. 
The state has closed more than a dozen prisons under Gov. Andrew Cuomo, but the facilities have been difficult to reuse or sell on the open market. 
VP Mike Pence: Nucor Steel Auburn symbol of American economic comeback
AUBURN — Vice President Mike Pence touted the Trump administration's economic accomplishments during a visit to Nucor Steel Auburn Tuesday. 
After touring the steel mill, Pence addressed a crowd of employees and company executives. His speech, which lasted for nearly 15 minutes, focused mainly on economic issues. 
One of the achievements mentioned by Pence was a tax overhaul passed by Congress and signed by President Donald Trump in December. Nucor Steel Auburn general manager Jason Curtis, who introduced the vice president, called the tax legislation "a game-changer for manufacturers and the nation." 
AUBURN — Protesters and supporters gathered outside Nucor Steel in Auburn Tuesday afternoon …
Pence also highlighted the Trump administration's efforts to scale back regulations and boost American-made energy. He made sure to note that Trump signed an executive order requiring new energy pipelines to be built with American steel. 
The main theme of Pence's remarks was tying the steel industry's successes to the national economy's performance. The vice president claims that the economy has been surging since the 2016 election, when he and Trump were elected to lead the nation. 
According to Pence, companies have created 3.4 million new jobs since Election Day in 2016, including 174,000 new jobs in New York. He added that unemployment is at its lowest point in a half-century and the jobless rate for women is at a 20-year low. 
"This mill is a powerful symbol of an American comeback, not just in steel, but in every area of our economy," Pence said. 
Nucor Steel Auburn has nearly 300 employees and produces rebar, which is commonly used in construction. During his tour of the plant, Pence observed the company's new $30 million rolling mill in action. 
The rolling mill was unveiled last summer. Nucor officials said at the time that it would boost production and increase worker safety. 
What wasn't mentioned by Pence was the tariffs imposed by Trump's Commerce Department on steel imports from several countries, including Canada, China, Mexico and the European Union. 
The tariffs were the result of a Section 232 investigation conducted by the Commerce Department. A Section 232 investigation examines whether imports pose a national security threat to the U.S. The agency's inquiry found that the steel imports were a threat to American security. 
While Pence didn't address the tariffs directly, he did discuss steel's role in national security. 
"To have a strong and secure America, America needs steel to be strong," he said. "We didn't build those battleships with plastic. We're going to make sure that American steel is there now and for generations to come for a stronger and more secure America." 
The visit to Nucor Steel Auburn capped off Pence's swing through central New York. He flew into Syracuse Hancock International Airport Tuesday morning, then traveled to a Syracuse hotel for a $1,000-a-plate fundraiser benefiting U.S. Rep. John Katko's re-election campaign. 
The fundraiser was closed to the press, but Pence praised Katko, R-Camillus, while speaking in Auburn. He called the incumbent congressman "a champion of steel" and recognized him for voting in support of the tax overhaul. 
Pence's appearance was the first vice presidential visit to Cayuga County in four years. In June 2014, then-Vice President Joe Biden made a surprise trip to Auburn to attend his niece's wedding. 
VP Mike Pence 20.JPG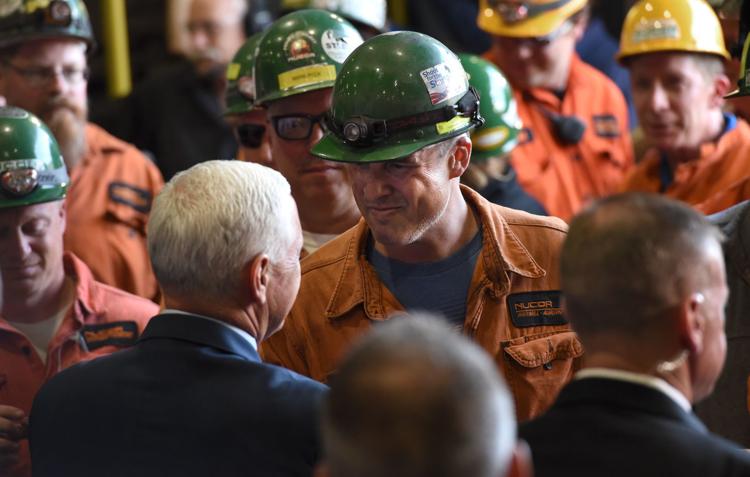 VP Mike Pence 1.JPG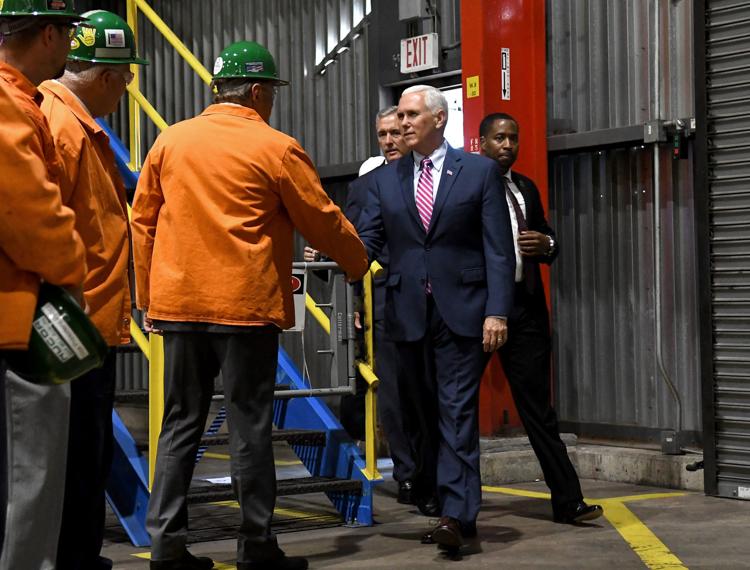 VP Mike Pence 2.JPG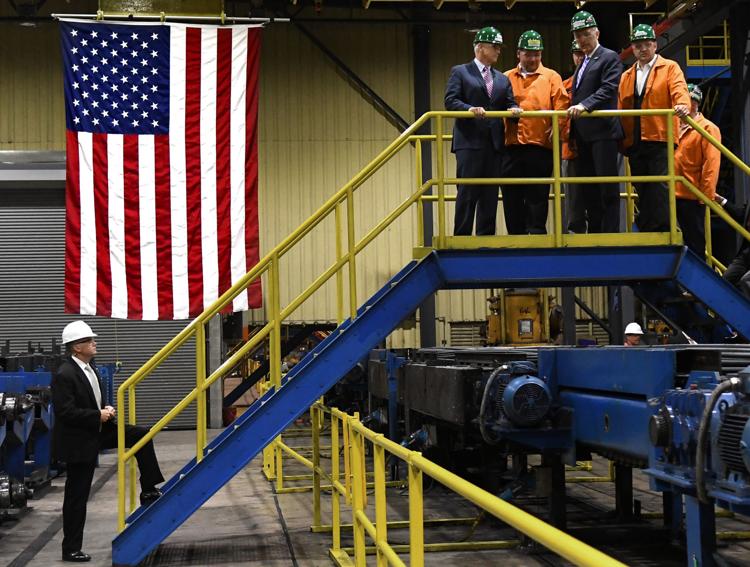 VP Mike Pence 3.JPG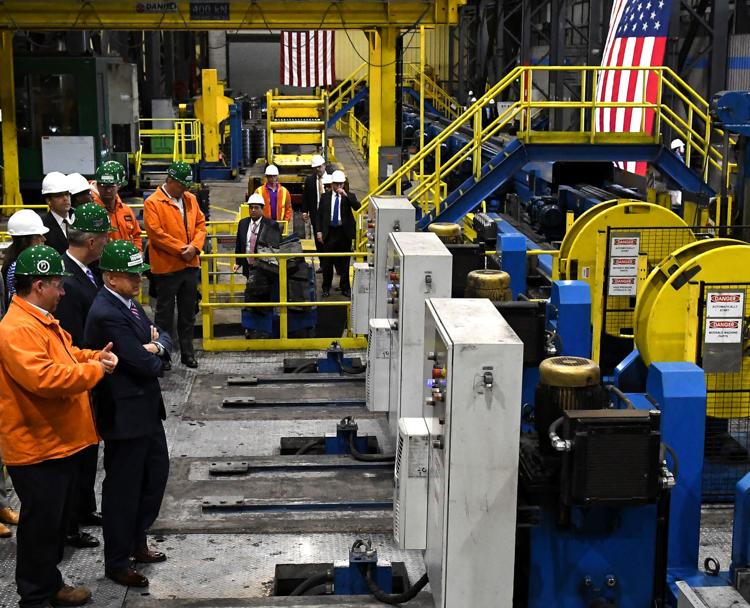 VP Mike Pence 4.JPG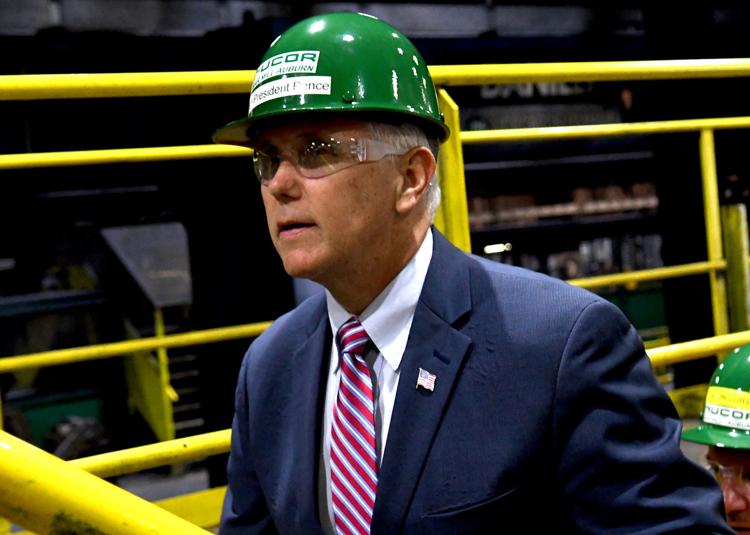 VP Mike Pence 5.JPG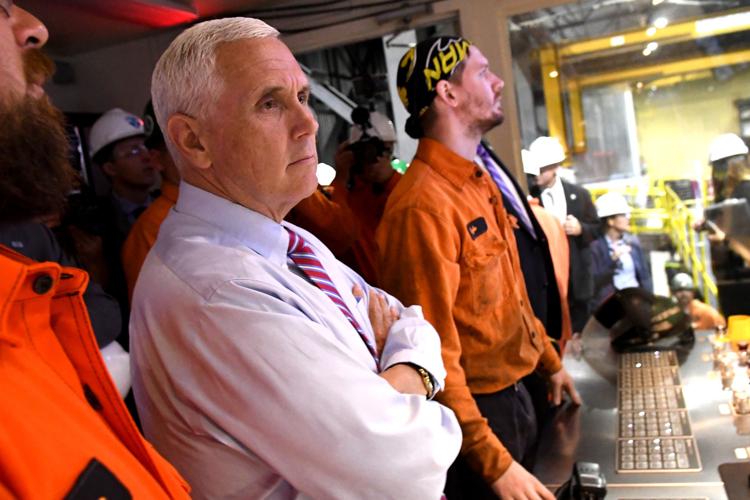 VP Mike Pence 6.JPG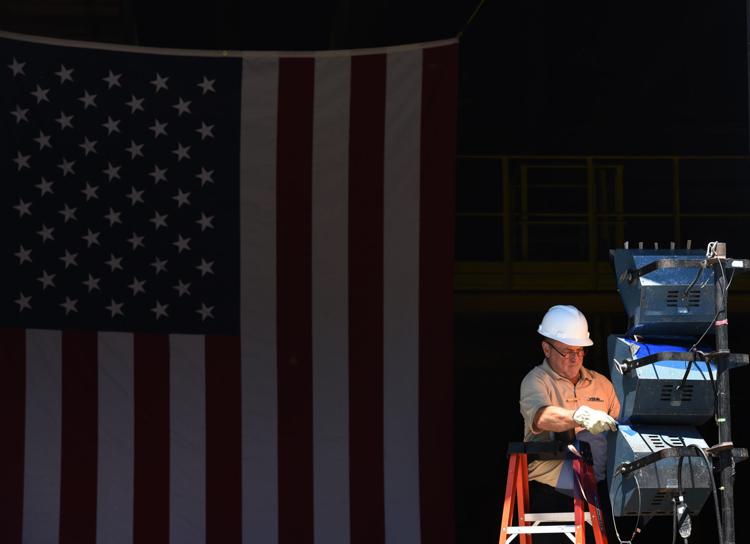 VP Mike Pence 7.JPG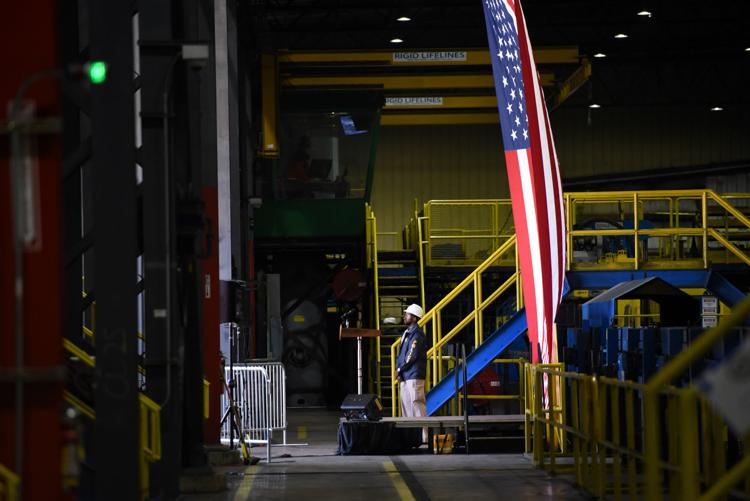 VP Mike Pence 8.JPG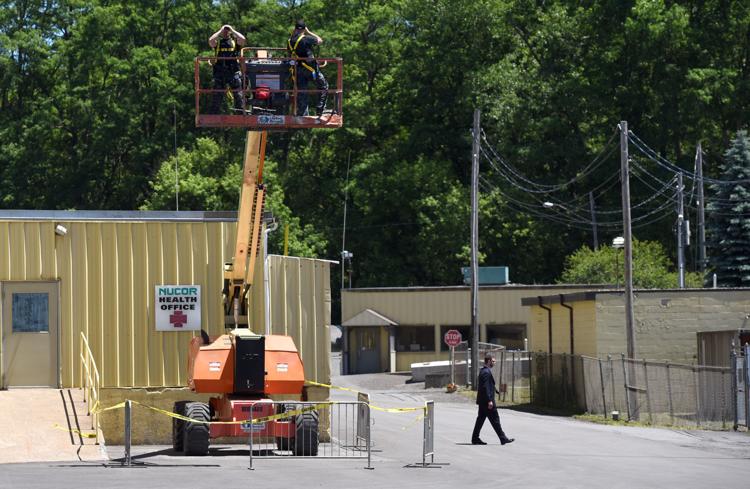 VP Mike Pence 9.JPG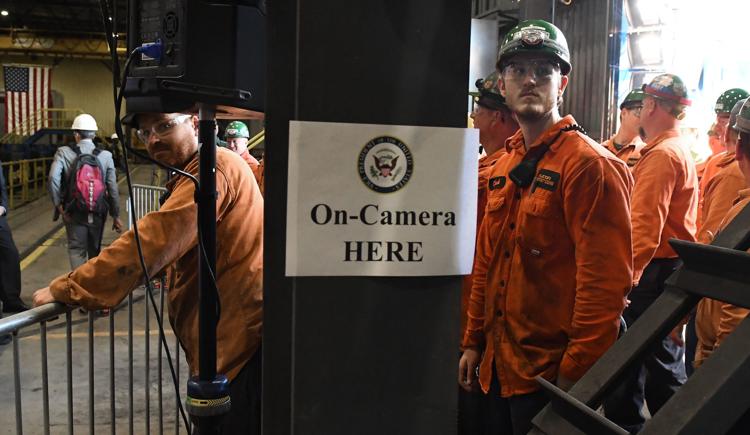 VP Mike Pence 10.JPG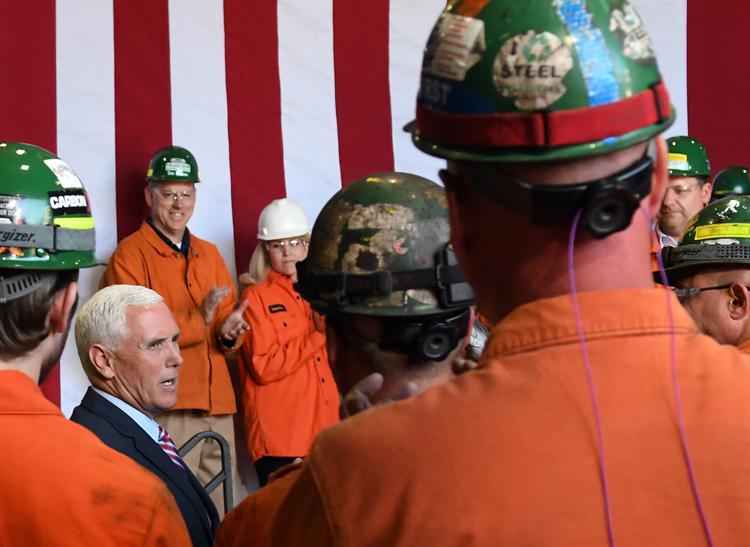 VP Mike Pence 11.JPG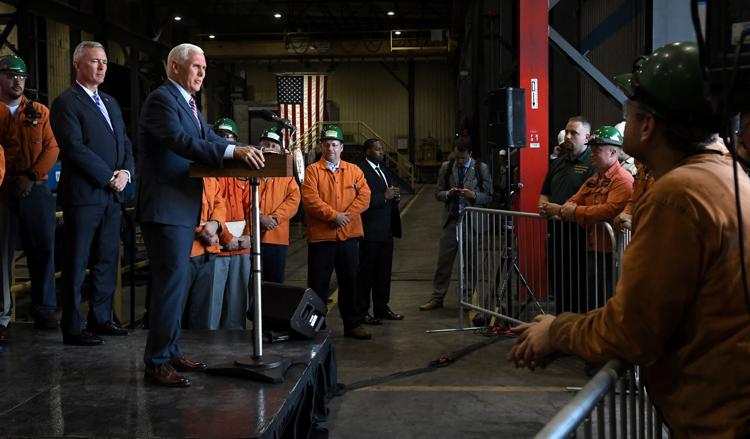 VP Mike Pence 12.JPG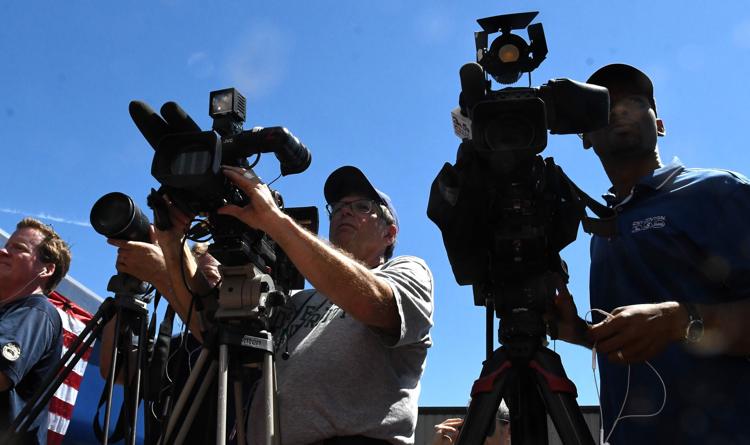 VP Mike Pence 13.JPG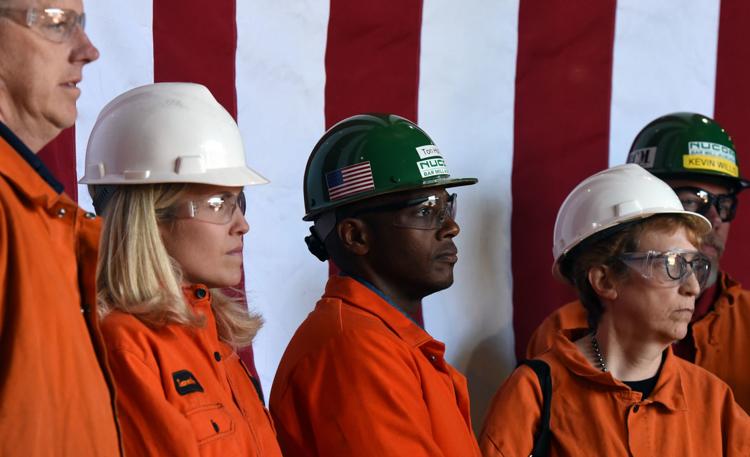 VP Mike Pence 14.JPG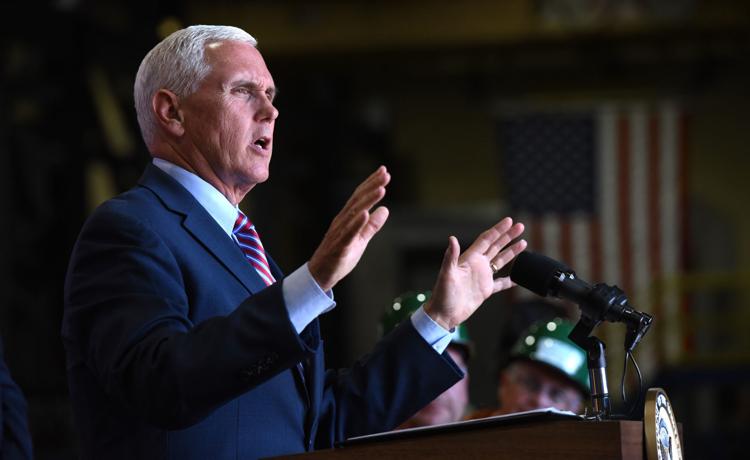 VP Mike Pence 15.JPG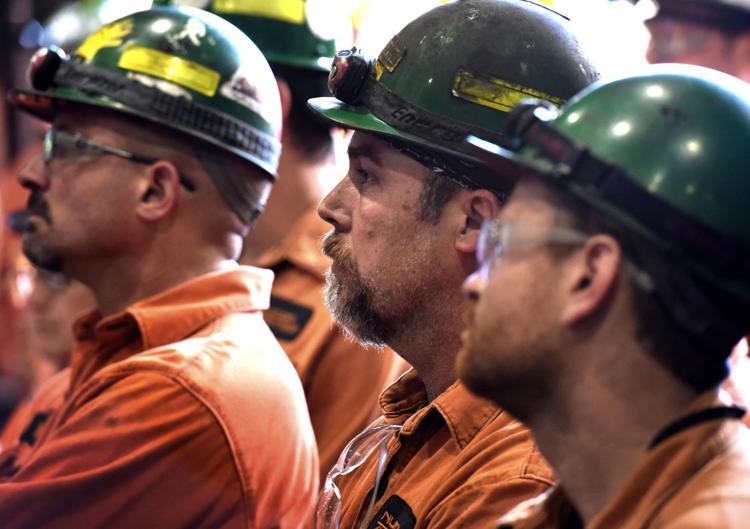 VP Mike Pence 16.JPG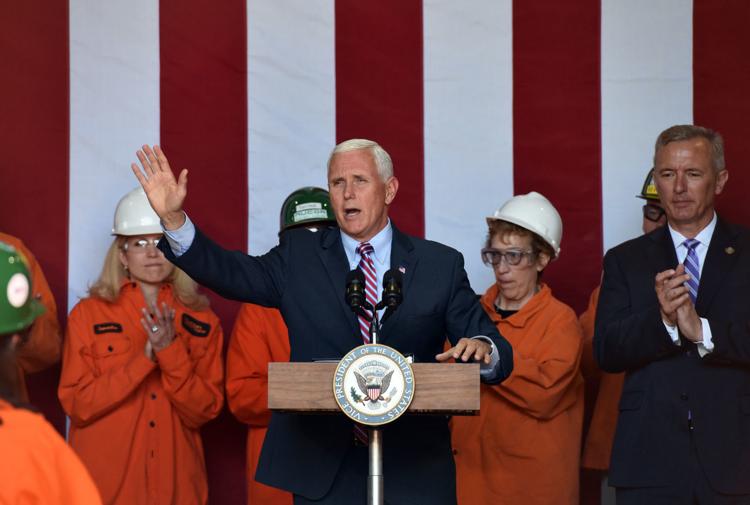 VP Mike Pence 17.JPG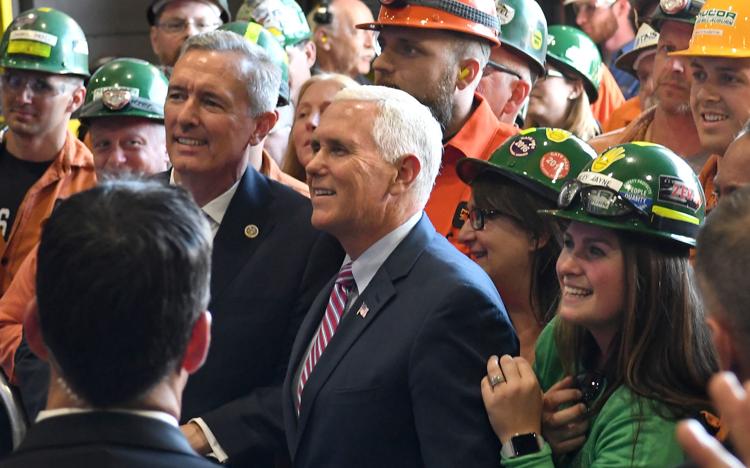 VP Mike Pence 18.JPG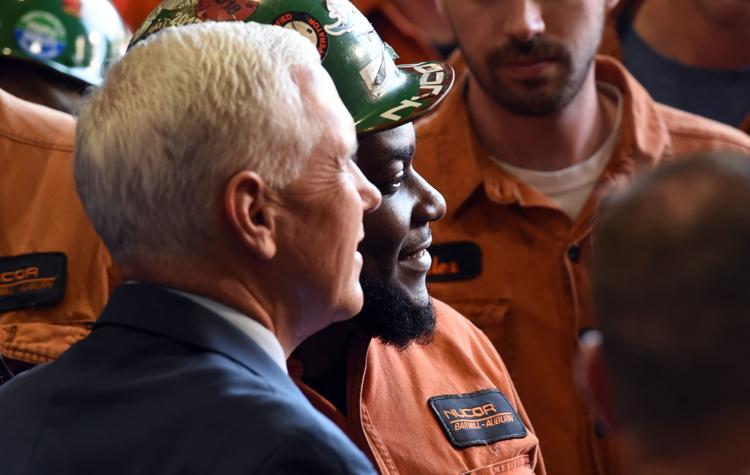 VP Mike Pence 22.JPG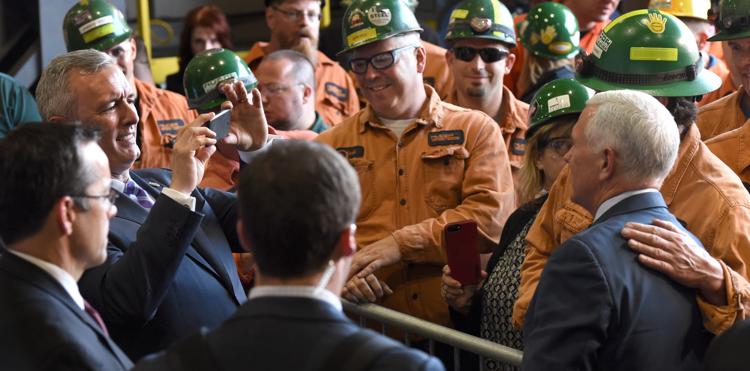 VP Mike Pence 21.JPG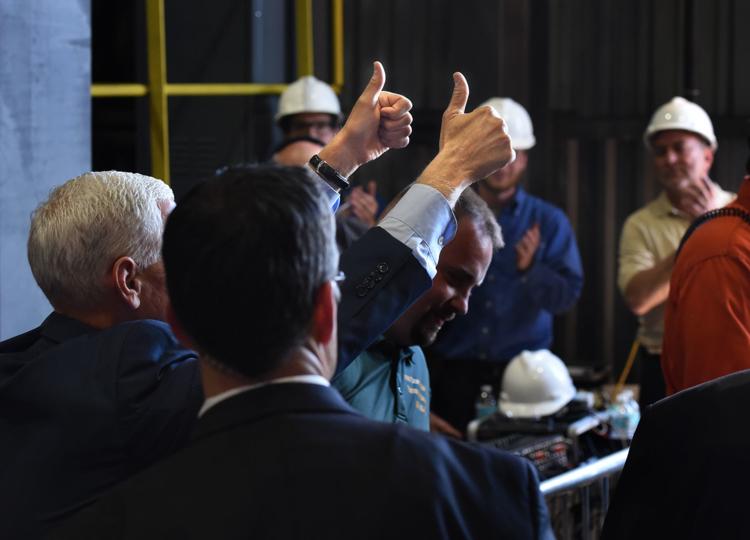 'I love Auburn': Cuomo announces city wins $10M grant for downtown projects
AUBURN — The third time is the charm. 
Gov. Andrew Cuomo visited Auburn Friday to announce that the city has won a $10 million grant in the third round of the state's Downtown Revitalization Initiative. The program, which launched in 2016, awards $100 million to 10 municipalities — one in each of the state's regional economic development councils. 
Auburn applied for the grant in 2016 and 2017, but lost to Cortland and Oswego in the past competitions. This year, the city was the Central New York Regional Economic Development Council's choice for the award. 
"I know that you have competed before, but I believe those attempts and those exercises actually made your plan," Cuomo told a capacity crowd at Auburn Public Theater. "You sat and you learned and you grow and you see the evolution of your downtown plan."
Gov. Andrew Cuomo's announcement at Auburn Public Theater on Friday, July 27, 2018, that the city of Auburn was the central New York winner in…
The city's proposal for the 2018 competition seeks to invest $44.3 million — the $10 million grant and private funds — into the downtown area. City officials conducted an outreach effort to develop the plan, which was titled "This Place Matters." 
Some of the projects outlined in the report include $1.5 million for improving the East Hill Family Medical Center, $1.2 million for a public safety facility, $1.1 million for an arts campus on the city's west end and $300,000 to expand Auburn Public Theater. 
The next phase for the city will be to develop a strategic investment plan. Up to $300,000 from the $10 million award will be used for the planning process, according to the governor's office. A local planning committee will spearhead the drafting of the strategic plan to determine how to best invest the state funding. 
Auburn's plan will be completed sometime next year. But for now, city officials are celebrating their victory. 
"This is a great day for Auburn and for the entire region," said Auburn Mayor Michael Quill. 
The event also gave Cuomo an opportunity to highlight his economic development record over the past eight years. He is seeking a third term as governor and is facing a primary challenge from fellow Democrat Cynthia Nixon. The Republican nominee is Dutchess County Executive Marc Molinaro.
Cuomo touted his focus on upstate New York. He said his administration has invested more than $36 billion in upstate projects since he took office in 2011. One of the initiatives that has provided money to upstate municipalities is the Downtown Revitalization Initiative. 
One reason why Cuomo created the competitive grant program is that young people are returning to New York. Younger residents, he explained, prefer living in or near downtown areas because of the close proximity to the arts scene, their employers and local restaurants. 
"That's what they like," Cuomo said. "They want a downtown that offers it all." 
Cuomo also offered praise of Auburn. It's a city that is quite different from when he last appeared at the Auburn Public Theater in 2010. When he campaigned for governor eight years ago, the State Street corridor was littered with vacant structures and the economic downturn was still being felt. 
In 2018, the city's downtown area is experiencing a renaissance. It's home to a thriving arts scene, two craft breweries and several bars and restaurants. 
Not far away from Auburn Public Theater, the $10 million Equal Rights Heritage Center is being constructed across from city hall. The new facility is scheduled to open this fall. 
"I love Auburn, Cuomo said. "I hope you don't take it for granted. It is a jewel. It really is a jewel." 
Newest NY casino: Resorts World Catskills opens in Sullivan County
The newest casino in New York, a $1.2 billion project in the Catskills, opened its doors Thursday. 
Resorts World Casino & Resort is the fourth state-approved casino to open since December 2016. There are three other commercial, non-Indian casinos in New York: del Lago Resort & Casino in Tyre, Seneca County; Rivers Casino & Resort in Schenectady; and Tioga Downs Casino in Nichols, Tioga County. 
The project was spearheaded by Empire Resorts, which also operates Monticello Casino & Raceway in Sullivan County. 
"Today marks an exciting new era for us," said Ryan Eller, president and CEO of Empire Resorts. 
The casino's 100,000-square-foot gaming floor has 2,151 slot machines, 150 table games and a poker room. There is 27,000 square feet of entertainment and meeting space at the venue. 
There are a handful of dining options for customers. Cellaio, a restaurant operated by celebrity chef Scott Conant, will offer an Italian-style steakhouse menu. Two Asian restaurants are located within the casino: Good Friends Market, which will offer Asian "grab-and-go" cuisine, and Lotus, a more upscale restaurant. 
Bar 360, Empire Lounge and The Doubletop Bar and Grill round out the casino's restaurant lineup. 
Resorts World Catskills has a hotel with 336 all-suite rooms. Another hotel with 324 rooms, an indoor water park and spa will open next year. A renovated golf course will be part of the final project.
The casino has 1,500 employees and will add 600 more when the entertainment venue, golf course and water park open next year. 
"Resorts World Casino will be a destination with a variety of gaming, entertainment and dining options for tourists near and far that will boost the region and the entire state," said Lt. Gov. Kathy Hochul, who attended the grand opening ceremony Thursday. 
Resorts World opens as there are questions about the long-term viability of the non-Indian casinos in New York. Del Lago, which opened in the Finger Lakes region last year, fell $100 million short of its revenue projections. Rivers and Tioga Downs also didn't meet revenue projections outlined in their gaming license applications. 
But officials are optimistic about the fate of Resorts World. State Sen. John Bonacic, who represents the Catskills, called the opening of the casino "an exciting new chapter" for the region. 
"Resorts World Catskills' casino resort campus is a true destination that will deliver untold opportunities for the Catskills and we're incredibly optimistic for its future," he said. 
Fact check: Did Schumer, like Trump, call for a military parade in 2014?
President Donald Trump wants a military parade. He wants an event that will showcase the strength of the United States armed forces. 
But is Trump's idea of a "military parade" similar to the idea floated by Senate Minority Leader Chuck Schumer in 2014? A few conservative media outlets would have you believe that's the case. 
The Daily Caller and other conservative news websites claimed Schumer, D-N.Y., called for a military parade four years ago. The Daily Caller's story leads with the paragraph, "Democrats attacked President Donald Trump for wanting a military parade this week, even though Democratic Sen. Chuck Schumer called for his own military parade back in 2014." 
Is it true that Schumer wanted a military parade in 2014? It's important to know the facts, which are overlooked in the Daily Caller story. 
Schumer's parade proposal
In April 2014, Schumer held a press conference to announce his proposal to hold a parade honoring Afghanistan and Iraq war veterans in New York City's "Canyon of Heroes," which hosted similar parades honoring Korean and Gulf War veterans in the 1990s. 
New York City also hosted a victory parade after World War II. 
A press release available on Schumer's website details his plan for a parade to honor Afghanistan and Iraq war veterans. 
"With the war in Afghanistan winding down, now is the time to keep with longstanding American tradition and kick off a campaign for the first New York City welcome home parade for troops that served in Iraq and Afghanistan," Schumer said in a statement. "In years past, we've honored our troops with a parade along the iconic 'Canyon of Heroes' route and those who served in these post-9/11 wars also deserve a hero's welcome — and New York is the only place to do that." 
Schumer's proposal received support from veterans groups, including Iraq and Afghanistan Veterans of America and the United War Veterans Council of New York. 
The announcement in 2014 was part of Schumer's push to encourage the Department of Defense to partner with New York City to plan the event. A parade was suggested in 2012, but defense officials said it was too early because military operations in Afghanistan weren't complete. 
Schumer's office said if the Department of Defense participated in a parade, the agency would provide "joint military color guards, military bands, troop formations, equipment and flyovers." 
What Trump wants
The Washington Post first reported about plans for a military parade. An anonymous source quoted in the story said, "The marching orders were: I want a parade like the one in France." 
The event Trump is referring to is the Bastille Day military parade. The French parade is held July 14. Thousands of soldiers march in the parade, which also features military vehicles, helicopters and other equipment. 
Trump attended the Bastille Day parade last year. In an exchange with reporters two months after the parade, he called it "one of the greatest parades I've ever seen." 
"It was two hours on the button, and it was military might, and I think a tremendous thing for France and for the spirit of France," he said. 
Plans are in the works for a military parade in Washington later this year, according to the Washington Post story. Specifics about the event are unknown, but it could feature military equipment — tanks, helicopters and more — and personnel. 
Based on what has been reported by multiple media outlets, Trump views a parade as an opportunity to showcase America's own military might. 
Conclusion
It is true that Trump wants a military parade. It's also true that Schumer, in 2014, wanted a military parade. But what's left out of the conservative media reports is why Schumer proposed a parade, and how it would differ from Trump's idea. 
Schumer wanted a parade to honor veterans who served in the Afghanistan and Iraq wars. He suggested a ticker-tape parade similar to those held in honor of veterans who served in past wars. The Daily Caller and other outlets buried those details in their reports or didn't mention them at all. 
Trump's reasoning for a parade is much different. He wants to showcase the U.S. military. This would be an exhibition. There would be soldiers marching down Pennsylvania Avenue, military hardware rolling down the street and aircraft flying overhead. 
That's why it's misleading to generalize and suggest that Schumer wanted a military parade just like Trump. Their visions of a parade are quite different. Schumer's proposal aimed to honor Afghanistan and Iraq war veterans. Trump's plan is a showcase. 
Marc Molinaro endorsed by Manhattan GOP in race for NY governor
The first New York City Republican committee to endorse Marc Molinaro for governor helped the front-runner for the GOP nomination to cross an important threshold. 
The Manhattan Republican Party's executive committee endorsed Molinaro, R-Red Hook, following a candidates screening Wednesday night. It is the 32nd GOP county chair or committee endorsement announced by Molinaro's campaign over the past week. 
With the Manhattan GOP's support, Molinaro now has endorsements representing 50.3 percent of the weighted vote at the convention. To win the nomination at the convention, a candidate must secure at least 50 percent of the vote. 
Dutchess County Executive Marc Molinaro has told Republican leaders he is a candidate for go…
It's possible that state committee members could support a candidate other than the individual endorsed by their county chair or committee. But voters traditionally are unified in their support of one candidate at the convention.
Andrea Catsimatidis, chairwoman of the Manhattan Republican Party, said Molinaro is the best candidate to challenge Democratic Gov. Andrew Cuomo. 
"This election is critical for New York state, we desperately need to strengthen our economy, create jobs and make New York more affordable," Catsimatidis said. "As a strong county executive, Marc has proven that he has what it takes to make New York great again." 
Molinaro's campaign announced another endorsement Thursday morning. The Otsego County Republican Party's executive committee endorsed the Dutchess County executive for governor. 
Joe Marmorato, vice chairman of the Otsego County Republican Committee, said Molinaro will "restore New York to the Empire State."
Molinaro emerged as the front-runner for the Republican nomination last week. He received several endorsements from county chairs across the state, including Erie County Republican Chairman Nick Langworthy and Suffolk County GOP Chairman John Jay LaValle. 
His closest competitor for the GOP gubernatorial nomination is state Sen. John DeFrancisco. DeFrancisco, R-DeWitt, has the support of 17 Republican county chairs representing 18.27 percent of the weighted vote. 
Joe Holland, an attorney and former Pataki administration official, is also in the race. He hasn't received any GOP county endorsements. 
The Republican convention will be held in May. The winner will likely face Cuomo, who is seeking a third term. 
Cuomo may have to fight for the Democratic nomination. Cynthia Nixon, an actress best known for her role on "Sex and the City," is exploring a run for governor. She would run in the Democratic primary against Cuomo. 
Terry Gipson, a Democrat and former state senator from Dutchess County, is already in the primary race. Ex-Syracuse Mayor Stephanie Miner may challenge Cuomo, too. 
Live election updates: Katko vs. Balter, other Cayuga County-area races
Follow The Citizen's live coverage of election night 2018. After the polls close at 9 p.m., we will share election results in this space, and we will have photos and other updates throughout the night. 
Ivanka Trump visits Syracuse, hears from Auburn, CNY leaders about P-TECH program
SYRACUSE — For the second time in three weeks, a prominent member of President Donald Trump's administration visited central New York to highlight economic initiatives and show support for incumbent Republican U.S. Rep. John Katko. 
Ivanka Trump, adviser to the president and first daughter, headlined an hour-long roundtable discussion Monday with central New York business and education leaders. The meeting was held at the Institute of Technology at Central in Syracuse. 
The high school is the site of a Pathways in Technology Early College High School program designed to prepare students for careers in computer information systems, engineering and other fields. Students who complete the six-year program earn a Regents high school diploma and an associate degree. 
The Syracuse P-TECH program is a partnership between the Manufacturers Association of Central New York and Onondaga Community College. The Auburn Enlarged City School District has its own P-TECH collaboration with Cayuga Community College. 
Trump, who said she is passionate about workforce development, views programs like P-TECH as a way to address a problem facing many employers: The lack of skilled workers to fill positions. 
"There are so many job opportunities, and many of those job opportunities don't require four-year degrees," she said. 
She touted two actions taken by the president to prioritize science, technology, engineering and math education: A memorandum calling for an increase in STEM funding and a separate memo directing Education Secretary Betsy DeVos to improve access to STEM education. 
There are other efforts Ivanka Trump supports, including increasing STEM access to women and expanding apprenticeship opportunities. However, she noted that one challenge facing employers is that there are vacant positions not being filled because people are unaware of the jobs. 
Randy Wolken, president and CEO of the Manufacturers Association of Central New York, acknowledged that's a problem for companies in the region. 
"We have a crisis right now," he said. "We don't have enough workers."
Among MACNY's membership, Wolken estimated that 5 to 10 percent of the positions are vacant at an average company. That's why he believes employers should invest and support programs like P-TECH, which can prepare workers to fill those jobs. 
Funding P-TECH is challenging, however. The Syracuse program relies on competitive grants administered by the state. It has been able to win four of those competitions, but a steady source of funding isn't available. 
Donna Formica, principal at the Institute of Technology at Central, revealed that the tuition costs for students in the program totaled $102,000. The school has $28,000 earmarked for books and $18,000 for transportation, she added. 
The need for additional funding is a concern shared by Auburn Superintendent Jeff Pirozzolo, who attended Trump's roundtable discussion. 
"They're fortunate here in the Syracuse City School District to get funding to create their own Pathways school," he said. "We'd love to do that in Auburn as well." 
The benefits of P-TECH were on display during Trump's conversation with panelists, which included three recent high school graduates. One of those students, Lilly La, graduated from the Institute of Technology in June. She has already earned 32 college credits by taking courses at Onondaga Community College. 
She plans to attend Syracuse University, where she will major in biology. 
"P-TECH has allowed me to participate in many opportunities that other high schools didn't offer," La said. 
It was Trump's second visit to a P-TECH school since her father took office in January 2017. In December, she toured a school in Norwalk, Connecticut. She called it an "eye-opening experience." 
She lauded Katko, R-Camillus, for his work in Congress. The two have interacted before. The Syracuse-area congressman attended a meeting in March where he outlined his proposal to establish a paid family leave program — a cause that's important to the first daughter. 
At Monday's roundtable discussion, Trump called Katko "a great champion for everyone in his district."
The event was the second of two stops in central New York for Trump. Before coming to Syracuse, she toured Suit-Kote in Cortland County with U.S. Rep. Claudia Tenney. 
There were protesters outside both venues. More than 100 people gathered near the Institute of Technology at Central to protest the Trump administration's policies. 
As she prepared to depart the Syracuse meeting, Ivanka Trump thanked attendees for providing feedback and answering her questions. 
"I've learned a lot," she said. "I'll take your suggestions back to Washington with me." 
NY fast-food workers get latest minimum wage increase
As a broader minimum wage increase for New York workers goes into effect Sunday, fast-food workers in the state will be getting a raise, too. 
For fast-food workers in New York City, the minimum wage will increase from $12 to $13.50 an hour. Fast-food employees in the rest of the state will get a $1 raise, from $10.75 to $11.75 an hour. 
Another minimum wage hike will be coming for New York workers Sunday. 
The hikes are part of a plan to gradually increase the minimum wage for fast-food workers to $15 an hour. This is the third increase for fast-food employees in New York since a state wage board recommended the pay raises in 2015. 
New York City fast-food workers will be paid $15 an hour beginning Dec. 31, 2018. The increase will be phased in over a longer period for workers in the rest of the state. 
For fast-food workers outside of New York City, the minimum wage will rise to $12.75 an hour on Dec. 31, 2018, $13.75 an hour on Dec. 31, 2019 and $14.50 an hour on Dec. 31, 2020. It will reach $15 an hour on July 1, 2021. 
According to the state Department of Labor, the minimum wage increase for fast-food workers applies to any employee whose job duties include customer service, cooking, food or drink preparation, delivery, security, stocking supplies or equipment, cleaning or routine maintenance. 
The fast food restaurants required to pay the minimum wage are also defined by the agency. An establishment is considered a fast food restaurant if it "offers limited service where customers order and pay before eating, including restaurants with tables but without full table service and places that only provide take-out service," according to the state Department of Labor. 
However, the minimum wage increases only apply to restaurants that are part of a chain of 30 or more locations nationwide. The minimum wage covers fast-food workers at more than 130 chains operating in New York, including Arby's, Burger King, Chick-fil-A, Dairy Queen, Domino's Pizza, KFC, McDonalds, Panera Bread, Pizza Hut, Starbucks, Subway, Taco Bell and Wendy's. 
The minimum wage rule also applies to local chains that operate at least 30 locations in New York. 
The statewide minimum wage will increase to $15 an hour for other workers, but on a different schedule than the one established for fast-food employees. 
Beginning Sunday, the state's minimum wage will increase to $13 an hour for employees at New York City businesses with at least 11 employees and $12 an hour for workers at New York City companies with no more than 10 employees. 
The minimum wage will rise to $11 an hour for workers in Nassau, Suffolk and Westchester counties and $10.40 an hour for employees in the rest of the state. 
'It's huge': First park rangers assigned to Harriet Tubman national park in Auburn
More than a year after the formal establishment of the Harriet Tubman National Historical Park, the first park rangers will be assigned to the Auburn landmark. 
Frank Barrows, superintendent of Fort Stanwix National Monument and project lead of the Tubman park, announced Tuesday that Jessica Bowes and Rufai Shardow will staff the Harriet Tubman Home property through September. 
Bowes, a museum technician at Fort Stanwix, is familiar with the Harriet Tubman Home. While pursuing her doctoral degree at Syracuse University, she was part of a team that conducted archaeological digs at the South Street site. 
Shardow has been a park ranger at New Bedford Whaling National Historical Park in Massachusetts since 2009. His expertise includes Frederick Douglass and the Underground Railroad. 
Barrows said Bowes and Shardow will assist the Harriet Tubman Home with building capacity and "further establish our National Park Service presence on the ground in Auburn." 
"Both bring extensive knowledge of Harriet Tubman and the Underground Railroad to the table," he said. 
The start date of Bowes and Shardow's assignment hasn't been set, but they will work at the Harriet Tubman Home five days a week during the summer. 
The addition of two park rangers will allow the Tubman home property to be open Sundays during the summer when visitation is usually higher. The site is usually open Tuesday through Saturday, but closed Sunday and Monday. 
Karen Hill, president and CEO of the Harriet Tubman Home, welcomes the park rangers' assistance. 
"It's huge," she said in a phone interview last week. "It's the first step in increasing our capacity. We will be able to welcome more visitors to the park. They'll have a great visitor experience. They will see the presence of the rangers." 
To prepare for their assignment, Barrows said the rangers began their orientation last week and met with Kate Clifford Larson, a Tubman biographer. 
Over the next few weeks, they will learn more about the resources at the Tubman home property and the Auburn area. 
"The presence of these park rangers will give us an opportunity to explore the many ways that our personnel can complement what is already being done on the site," Barrows said. 
The Tubman national park was created when legislation was approved by Congress and signed by then-President Barack Obama in 2014. The sites include Tubman's brick residence and the Home for the Aged on South Street. The Thompson Memorial A.M.E. Zion Church is also part of the park.